Samsung Galaxy's midlaner Crown was the biggest breakout player in the second half of 2016, carrying SSG to second place finish at the World Championship. But personally, Crown had my attention ever since he talked to Inven about how he looked to the legends of StarCraft: Brood War for inspiration.

At IEM Gyeonggi, I had a chance to talk to Crown about finishing second at Worlds, his transition from Brood War to LoL, SSG's goals headed into the new season. And of course, I asked him about Faker so I could get a solid quote for a headline.
*This interview has been edited and rearranged for clarity.
**This interview was conducted between the semifinals and grand finals of IEM Gyeonggi.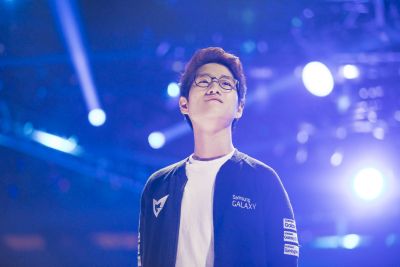 Photo: Riot Esports
Wax: During the summer, you had an interview with Inven talking about how you looked up to the Taekbaengleessang (Bisu, Stork, Flash, and Jaedong), the legends of StarCraft, and how you wanted to win multiple championships like them. At that time, you probably didn't expect Samsung to come so far. How do you feel now, after coming so close to winning worlds but falling just short?
Crown:
*Laughs.*
After that... I don't think I've ever felt happy since we finished in second place. I want to win a championship already so I can find happiness, which is why I'm continuing to play.
How did you feel after taking second place? Were you crushed, or were you satisfied with the huge amount of progress the team made in a short period of time?
At first I wanted to be satisfied with that, but the more I thought about it, there wasn't anything to take away from finishing in second. I kept thinking "why, why?"—it turns out you become sad as a person when you come in second place. So I told myself "screw it" and just kept playing the game, and I'm still playing now. I just couldn't be satisfied with finishing second.
Did those StarCraft legends ever contact you afterward?
A lot of people I know congratulated me after. The only one I knew was Stork, who was on Samsung Galaxy with me (Stork was a StarCraft II player/coach), but I haven't met the other three.
Your roots are in StarCraft: Brood War, which was famous for having a very harsh, tiered developmental system. Switching to LoL, where the road to becoming a pro is very different, did you look at the other pros and think "man, these kids aren't like me"?
That's something I feel a lot even now. LoL players, it feels like most of them don't have a goal? I do feel that they can't help it, because salaries are so high with foreign teams and all—the salaries are just so much higher than before. People are only looking for more money, better teams, and better rosters.
Me, since I was young, I dreamed while watching Brood War. Since a long time ago, I've always played with the definitive goal of becoming the best player. I feel that a lot of players don't have that goal.
StarCraft has become one of the few remaining individual level esports games. Was it hard switching over to a team oriented game?
It was extremely hard at first, and it's still hard now. In my head, for example, I'll have some idea in-game about 'if I do this, the opponent will do that, and then I'll do this." If it's one-versus-one, that's all I have to think about.
But in team games, even if I'm thinking about something, I have to consider my opponent, his jungle, his support, many people at once. And I can't just do that myself, I have to communicate while I'm playing as well, which is hard. These days it's getting better, it's gotten better.
I asked an LCS player once if he could earn the same amount of money playing a 1v1 game, would he prefer to play that over a team game. He said he'd prefer that, because he wants to be in sole control of his own fate. How about you?
For the same money, I think I'd play 1v1 games. I like 1v1 games, and I played them since a long time ago, so I still have a preference for them.
Samsung went through some rough times in the last couple of years. Did your experience as a StarCraft trainee (an infamously difficult job) help you persevere through those times?
Playing Brood War, in a way I didn't have any choice in switching to StarCraft 2. You could say I failed as a Brood War player—
You think you failed?
I consider it a failure.
Do you think you would have done well in Brood War if you had more time? Did you feel like you reached your limitations?
I wouldn't say I felt like I hit my limit. I started playing Brood War fairly late, and got into a team pretty quickly. Not long after I joined the team, maybe a year after, the team told us we're transitioning to StarCraft II. At first, we'd alternate between Brood War and StarCraft II, and then we'd play only StarCraft II. So I tried StarCraft II for the first time, and it really wasn't fun for me. It made me think, "why am I doing this? What I like is Brood War." I felt that way for a bit, and I told myself it was time to call it quits. If I had started earlier, and Brood War had gone on for a bit longer, I probably would have been a better player.
I asked Kongdoo head coach MC about this, but what do you think about talent vs. effort in LoL compared to StarCraft?
Whatever the sport, basketball, baseball, go—there's a lot of sports—I haven't lived that long yet, but from what I've heard, seen, and felt in my life, I think talent is the best.
For a competitor in anything, they all have talent. I think everyone realizes their talent at a different time. Some people have a different level of understanding when they start a game, and they realize their talent and keep working their way up from the very start. There others who are really bad at first, and make breakthroughs as they keep playing and realize their talent. And then there are those who no matter how much they play, even if they play for years, and play more than other people, they'll still be bad—those people will exist. Because of that, I think talent is the best.
You've said in other media that you're the "effort" type of pro, who makes up for deficiencies with how much you practice.
If I had to rate myself, which might be arrogant—and maybe I think this way because I want to believe it—but I'm the type of player who realizes his talent late because he worked hard. I'm just trusting in myself and continuing to work hard. If I stay on this road and follow it to the end, and I still end up at the bottom, below other players, I'll accept it as fate, the limitations of my talent. But there's still a long way to go down this road, so I'll have to see where it leads.
How do you feel then, when you see a player like Faker?
Back in the day, when I looked at players like Flash or Jaedong—who were the equivalents of Faker now—I was so envious of them. But when I look at Faker these days, personally I feel a bit sorry for him, I feel like he's not having fun. He's so exceptional as a midlaner—always #1, always a champion, winning every tournament he enters. I feel like it wouldn't be any fun.
He needs a rival? Like Flash and Jaedong were for each other?
Yeah, I feel like it wouldn't be fun. In my case, if I put it in my mind that there are players above me, who are my rivals, I work harder to I can beat them. It's fun to win against them, and it gives you a clear goal. I really like that kind of thing.
A lot of Korean players are receiving huge salaries to go China or North America. You were the main carry on the runner-up team at Worlds, so you must have received a lot of offers. Not just you, but the whole team must have received a lot of offers as well. How did you guys end up all deciding to stay?
It's true that foreign salaries are high, but Samsung also… On the outside, people seem to think Samsung is stingy, but Samsung is investing a lot right now, they're giving us top class treatment. There's no reason to leave, and I like the LCK.
I have a bit of experience living abroad, and it wasn't so great. Solo-queue, scrims and tournaments, they aren't fun when you're living overseas. So I remained because I like the LCK.
Given what you've seen at IEM Gyeonggi, what are your thoughts on the "gap is closing" meme?
I'm not sure about this tournament. When I first went to Worlds, I thought 'whoa they're pretty good,' but I don't get that feeling from this tournament. There were a lot of games where we were losing and made a lot of mistakes early, but it still didn't feel like we'd ever lose. Today was like that, too (Samsung had defeated Liquid a few hours earlier in the semifinals). I didn't see anything that would make me think the gap is closing.
What do you feel about the superteams being put together in LCK? How do you think Samsung will stand up to those teams?
We haven't practiced with other teams yet, so I can't say anything about superteams. But personally, I'm a bit afraid. They're such strong opponents. Maybe that's all just name value, or maybe it's all real. I won't know until I play them. But personally, I think this will be the hardest season.
The foreign community talks a lot of about roster continuity and teamwork. Does that actually matter a lot, playing with the same people for a long time? Or will a group of talented players thrown together always do well?
I don't really know much about it, but I think that as long as the players don't have an extremely bad relationship, it's obvious that a collection of good players are going to be a good team.
What are your goals headed in to the first LCK season of 2017?
I think next year will be hard, but you never know until you give it a shot, so I'll do my best. Whether we win or lose, we won't become overconfident. I'll practice hard so I can keep making forward progress. Even if we lose, and our results are bad, there's always next year. I'll stay the course, and work hard so I can eventually
*laughs*
become Faker's rival.
Do you have any final comments for foreign fans in particular?
Korea is a great place to live, but I do want to live abroad at some point. If there's an opportunity later, I would like to study English and live somewhere cool. I'm a bit envious of foreigners—though maybe some foreigners are envious of Korea—and I'm always thankful to them for cheering for me, my team, and Korean others teams. I'd love to see them again at next year's World Championship.
---
Check out Samsung Galaxy's Facebook page for news, photos, and shameless fanservice.

You can also follow the interviewer, Waxangel, on Twitter for StarCraft II or League of Legends news, depending on his mood.