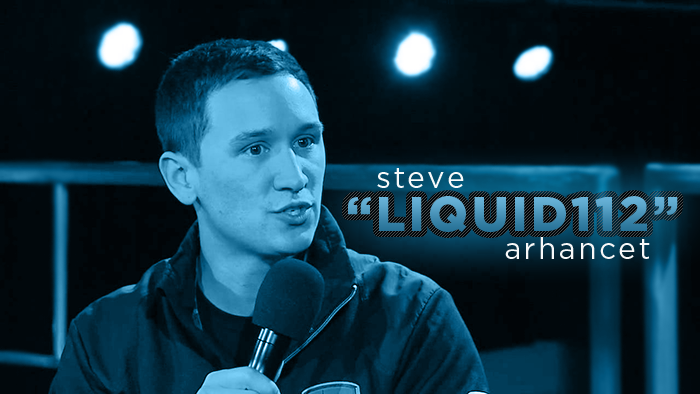 6 months have passed after merging Curse and Team Liquid into one esports power house. After a successful Spring Split, co-owner Steve "liquid112" Arhancet answered questions from the community regarding the merger, the secret to his super soft facial skin, who would defend Earth from LoL playing aliens, the various TL teams, and much more!
MoltenDeth
How do you feel about the match-ups this week since TSM and DIG are looking good? I am expecting a 2-0, but I know they will be well fought - win or lose.
We've had really rough scrims of late vs. TSM, our record is not great versus them. If you base it off just that I would say TSM has the advantage in our match. With that being said, TSM's teamfighting and rotations have not been as clean in LCS as they seem in scrims. I think the match is going to be close, we'll likely both have a decent early game and it's going to come down to how the mid-game is played. This is all assuming there isn't some odd-picks or team comp that either team may not be aware of. It's one of the first matches on the new patch, which means strategy in bans and picks plays a greater role.

Regarding DIG, I think we should come out with a win. Our laners are stronger in each position and we seem to have cleaner mid and late game teamfighting and rotations. As long as we don't mess up the bans and picks, we should be in a good position to win this match.
Mag1c
How are FeniX and Piglet feeling this split with their relationships within the team, adaptation to the NA lifestyle, language skills, etc.? Is there a noticeable improvement from last split?
Fenix and Piglet are doing great, it's night and day from when they first joined the team. I would say Fenix did a better job adjusting to joining the house when we were living in redondo beach last split. He was a little quiet, reserved - but a work horse. He's definitely opened up, he's more playful - a massive troll and a bit of the glue that holds the team together. He speaks decent english and understands more than he can speak. I can't speak for him, but from what I see he's really enjoying and synergizing w/ the team. For Piglet, his english has improved considerably, he understands quite a bit but is still a bit apprehensive on speaking when on camera or stream. In the house, he talks with the guys in english all the time. In all - there's a considerable improvement from last split.
Writers Block
Do you still keep in touch with the old team members? (Jacky, Voy, Saint,Cop) Are you all still on good terms?
- I saw Jacky the last time I was in NYC, he streams under our network and I keep in touch but he's been really busy with school
- I haven't seen Voy, I know he's been kicking ass on his stream with great numbers. Few twitter interactions here and there but nothing substantial
- I just had drinks with Saint last week, we try and hang out few times a month. He's living at the Coast house now.
- I see Cop at LCS, I try and get him to Duo with me but he always rejects me
Tytonic
Hey Steve long time fan here, just wanted to say how happy I am to be a Curse/Liquid fan it has been a rollercoaster ride of emotions but I'm so proud to see what the team is now and where they stand. I have no doubt in my mind that you guys will come out on top this split. With you as their leader gives me even more faith, I know a lot of people always pick favorite players and what not but you are one of my favorites to this day so I just wanted to say thank you Steve and I hope you have a wonderful day!
Thanks for being such a loyal fan of the team, we've definitely have had our ups and downs. We've got a great staff this year and the team is playing well. We still have a long way to go if we want to compete with the best in the world but we are committed and I see everyone working hard.
ptbl
Has the integration between Curse and Liquid been smooth? Has there been any bumps in the road? Oh, and when will Liquid get a Dota 2 team.
It's been relatively smooth, with any large merger between two companies it's going to require a lot of consideration to HR, Finance, Management and of course alignment on vision and planning. No large deal wouldn't be without hiccups but we are steadily moving along and I think we've accomplished quite a bit in such a short time. It's only been about 6 months and we've added numerous teams, signed additional sponsorships and now have some of the top competing players/teams in each of our respective eSports.
wei2coolman
What is your level of interaction with the players (not just league) on a daily level?
For the league guys (challenger and main team), there's usually a daily interaction (skype, social, gaming house, office, training, analyst, coaching staff, sponsorship events, etc.)

For the CSGO guys, there's some skype and social. I would like to play more but anytime I queue up with them I get smashed

For the starcraft guys, there's not too much - Victor has a much closer relationship with those players than I do. I used to play starcraft back in the day (Diamond), but I haven't followed the competitive scene as much as I do CSGO and League

For the smash guys, I chat with the players weekly - but not on a daily basis. Typically more around events and upcoming sponsorship plans.

For our Halo guys, there's not too much daily interaction - Caleb manages our team really closely. I've always been a big fan of halo.

Our Heroes team, Victor is really close to many of those players (some of them were ex-starcraft pro)

For our Hearthstone guys, I watch their matches all the time and closer with Savjz but our players are EU, don't get a chance to play with them from NA
Fusilero
1. If you still could, would you have kept a roster in Europe?
2. How did you go about picking up the former LMQ coach, was there any concerns of picking up a Chinese coach on an American/Korean team?
3. How much division of labor is there between you and Nazgul, do you get involved in the starcraft team or nazgul in the LoL team for example?
1. At the time, I had limited resources to properly manage a team in EU. I think now, we could manage it effectively but with the new riot rules this is not possible.

2. There were absolutely concerns regarding language barriers but the other benefits of having peter on the team outweighed those potential conflicts imo. We sent out a post for a coach, we received hundreds of applications, we had video interviews, narrowed it down, had a few interview with the team and then we had a test run in the house and then we made the offer to Peter.

3. There's a decent amount of separation on the work we do. We collaborate on key aspects of the business but also play to our strengths and by splitting up responsibilities we are able to get more done.
Heyoka
Do you ever use the fact you have a Wikipedia page and Victor does not to annoy him?
Can you talk a little about your experience in competitive Civ IV? I had no idea ESL ran events for that until I read it on said Wikipedia page an hour ago.
lol - we are working on Victor's. It takes a while and not easy process.

We used to play these events called the CCC. Basically they were 10-20 man teams, there were about 30 or so competitive teams in the world. It was like the olympics, with a ton of events over a weekend. 5v5 Ancient start seperated, 3v3 medi, occ (one city challenge) and a bunch of other events. You would sub in players into the events and accumulate points and the team with the most points from all the events would win. I played for a few teams, we always got smashed by the German team, but we would place top 3.
tyrozz079
When is the Nazgul vs. Liquid 1v1 Bo7 (Smash, sc2, League, csgo, halo, Heroes, HS) across the different games in which TL competes in? =)
In all seriousness thanks for the AMA and good luck in the future
I'm so down to do this
Liquid`Nazgul
At how many Starbucks locations do they know your first name?
Way too many, I've had my fair share of free coffee. They love me, lol.
URLateral
Chances of getting a Dota 2 team before TI?
Nearly zero, but not without effort. We made offers to multiple teams and tried to put together a few teams but with no success. We are committed to picking back up on it after TI
JonGalt
Aliens attack and challenge us humans to a bo7 in none other than League of Legends. You have all the world's players at your disposal, what team do you form to defend our planet?
Favorite movie, band/artist, food, game, book?
What is one thing that the esports industry DESPERATELY needs and why?
Love this, I would go with SKT. I probably wouldn't have time to get players to synergize so roster changes don't make sense and SKT is one of the best teams in the world atm.

Favorite movie is braveheart, just watched the jinx on hbo - that series was done really well. Jaw dropping.

I really like John legend and Ellie Gouilding

Favorite current game is league, past time game is spades and chess

Book, there's so many good ones. The best one of late is probably the hunger games series, read all three books over a weekend.

The biggest thing eSports needs is structure. In order for the industry to grow it needs a regulatory body to govern teams, players, events - because there are multiple developers they would all need to come together with all the other parties and agree. Difficult to say the least.
739
What cosmetics do you use, to maintain such a soft facial skin?
How does it feel to be the co-owner of such a big industry like Curse/TL is at the moment?
Any further plans for expansion like getting another team? TL.DotA2 maybe? Any hints?
This question actually came up in conversation. There's this 15 dollar bottle called retinol that's red and clear that I use everyday.

Feels great but I want to do more. I want my actions and the work I do with victor to make a bigger difference in an industry I love to much.

Yes, we have a handful of games planned. We are debating about vision and the future of TL - I think it will result in some exciting stuff.
URLateral
Why do you think the NA CS:GO scene is so far behind EU atm? And what are you guys doing to help fix that?
I think that the EU scene is more developed, a much larger user base and fan base. The players there take the game more seriously and have been playing in a dedicated fashion for longer. NA players are just now going 'full time' in csgo.

We are creating new scrim chats for players, trying to have a more routine schedule, there are new gaming houses for the players and adding staff (coaches/managers/analysts) for the teams. Will take time.
thewildvegetable
Are there any champions/compositions not commonly seen in the LCS that you want to see TL bring in for a surprise factor in a game?
Sona - Mid
Ashe Sona - Bot Lane
Aatrox into Ryze - Top Lane
Teemo - Mid
Karthus, Nocturne, Kill lane bot team comp

Would love to see these, there's some things to catch off guard but none of them are strong enough to be better than the broken meta atm. I think you get away with more off-picks when the meta is more balanced.
shdwfeather
Thanks for the AMA!
1. I think that player injury is a hugely underplayed problem in eSports right now, injury being a bad thing for both players and owners alike. Just at Hai's retirement, Helios' near-retirement (he said in an interview that he had very bad shoulder pain) and Bjerg. What are your thoughts about this issue?
2. You said that you guys used a sports psychologist from time to time. How useful was it? Do you guys still use his services?
3. Business Insider recently released a series of articles on Team Liquid. Were you happy with the quality/kind of articles that were released? Some seemed good, but others seemed slightly condescending in my opinion. Was it an overall positive outcome in your opinion?
1. I think it's a real issue and I hope that owners/managers/staff are more serious about player health. Our team luckily goes to the gym and stays active, which helps but not as much as focusing on exercises and taking the proper breaks from the PC after long sessions of practice. I think knowledge / education is the best place to start (focusing on educating players about what they can do to impact the sustainability of their career).

2. We used him and a few others, it was helpful for some - but not all. It became expensive and I don't think it was having the impact that we were looking for. It's about finding the right person and some of the sports psychology benefits take time. You also need to be receptive to it as a player, these things all have to kind of fall together to have an impact. We just reallocated resources.

3. I'm glad that Business Insider's content team is taking an interest in eSports and I'm glad that we were able to share our story of our industry. I think it's always good to get the word out there, I don't think the articles were bad. I think any issue was a lack of understanding of the space. I think as their reporters become more informed the future content will improve.
ShiftSeleCT
Hey Steve, I am sure I am not the only one to ask this but When will the store be getting the next round of liquid jackets? I would really love to get in on that! I love those jackets and would love to secure the fact for me to get one so if I can just know what date will they be live?
I'm not 100% sure but I know I helped approve an order for 1k jackets. Not sure what the date is though, but likely soon.
Mensol
Could you express LoL team players and staff with one word?
dedicated
krndandaman
Hi Steve!
1. Do you or the organization look for new talent off soloq? I know this is something SKT has done extensively as they are my favorite team in Korea. If so, how do you go about doing it?
2. What does a normal day as co-owner of TL look like for you?
3. How did you go about managing the 'crisis' of last split when TL was nearly relegated? As a fan I was very worried but I definitely respected how the management made clear steps to fix issues without resorting to rash and drastic measures. (ex. big roster changes, staff changes, etc.)
Thanks for the AMA!
1. Absolutely, always looking. Sometimes tough because there are so many smurfs. Solo q rank is like a pre-qualifier, then you need to find out about the person. What drives them, do they have the will to compete and train, how well do they take feedback and coaching.

2. There's a really good business insider article, type business insider and my name into google (on my HTC phone atm). Will give you walk through of a typical day in the life of.

3. It's a difficult question to answer, there is so much that was going on and how things were handled. In short, when players don't adhere to basic ingredients to a winning formula, then I'll find someone else who will make it happen. I hate doing it but sometimes a player will improve instantly, other times it takes losing something to know what you had.
If you missed out on this AMA, then be sure to register on LiquidLegends.net and keep up-to-date with the discussion on our forums!