Hi folks! We launched LiquidLegends.net over a month ago, and we've been hard at working hammering out bugs, implementing more features, and just generally building a premier community for all things League of Legends.
In case you missed our initial post, I wanted to rehash some of what we have to offer as well as introduce new features that we've brought online since we launched.
The Community
Above all else, Liquid traces its roots to a passionate community. In a world of Twitter, Reddit, and Twitch chat, us nostalgic fools still find solace in a good old fashioned forum. We would love to bring that to League of Legends, and we've built this site as not just another news and coverage site, but as a place where passionate fans of League of Legends can come together to discuss, debate, and participate. We sincerely hope you would join us and experience this amazing community for yourself.


Events Calendar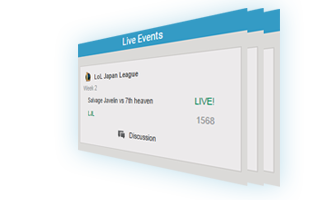 We have an intuitive, comprehensive calendar that aggregates major events and tournaments across regions, ranging from the popular LCS to the more obscure CBLoL and LoL Japan League among many others. For a one-stop shop survey all major regions as well as keeping up with up and coming scenes, our calendar is a great resource!
And the best part? Users have the ability to submit events that we've missed, as well as update the status of ongoing events in real time.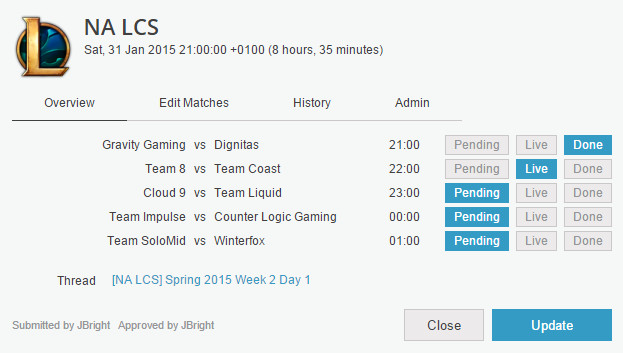 Event Discussion Threads
For those of you who want an active, forum-based discussion thread where you can trade insights, reactions, and analysis of ongoing pro games, come take a look at our Live Report/Discussion. Discussion Threads will be linked beneath our events calendar, and you can also browse them here. Hailing back from the days of Brood War, when streams weren't easily accessible, Team Liquid's LR threads have morphed into a cherished tradition for those who just want to discuss the games as they're going.
Player Streams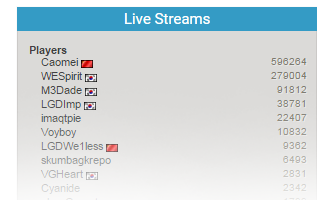 We've had this feature on launch, but we've made some major improvements. On top of LCS pros and popular western streamers, we also have all the Asian superstars. We have native stream integration for a variety of Asian streaming platforms like Azubu, Douyu, Zhanqi, and Huomao among others, with the streams of every single pro player from China and Korea added. You can get real-time updates on when they go live. Ever want to watch Spirit jungle while wearing a bear costume or Imp grind solo queue in a suit? We got you covered.
Coverage, Interviews, and Resources for Global Scenes
For those of you who want some insight into the rising stars of the Brazilian scene, background stories on the Japanese League, or even some more in-depth analysis of LMS, LPL, and GPL, I encourage you to come take a look at some of the quality work our staff and community members have produced on. Ranging from preview articles of IEM Taipei to transcribed and translated interviews with LPL players, we got it all!



In-Depth Freestyle Articles
Teamliquid has always prided itself on talented writers and insightful looks into a variety of topics, and LiquidLegends seeks to continue that tradition. From in-depth analysis of already-familiar topics (Boxing With God) to drawing attention on exciting new territory (Warrior Princess), we are constantly hard at work to bring you fresh and substantive articles
We've recently finished adding some talented contributors to our writing team, and you can start looking forward to more regular releases now that the administrative hiccups involved with a new site launch are behind us. Pieces released so far include a look back at Ryu's career, GE Tigers/Ender's Game fanfiction, and analysis of C9 and Najin among others.
Liquibets
If you're tired of trying to convince people of your superior knowledge of the esports scene, it's time to put your reputation on the line once and for all with Liquibets. Pick your winners for pro games in the LCS, LCK, and LPL, and prove your superiority once and for all! Finally, a way to get rewarded for calling that upset or staking your ground against a fledgling bandwagon is here. At the end of every season, awesome prizes and copious internet bragging points will be awarded to top finishers who managed to luck- er, skill their way into the top spots. Remember, you can change your mind up to an hour before each match starts, so plenty of time to do your research and torture yourself with flip-flopping indecision! You can find them here!