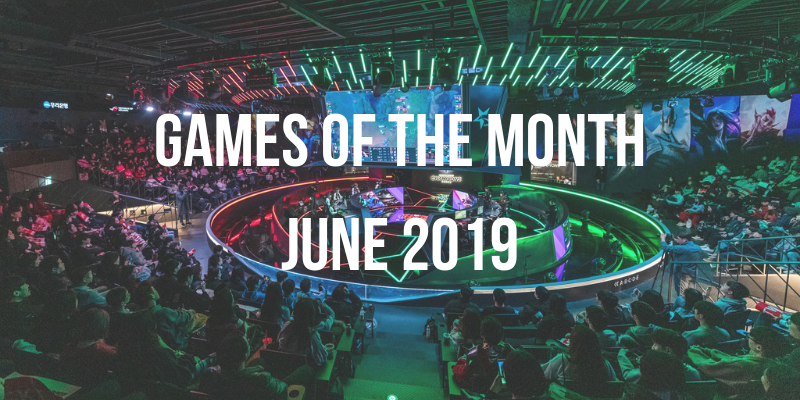 June marked the return of regional competition, and, as such, of many faces that we had not seen for a long time. The Mid-Season Invitational was, by all means, an amazing event, but, now, it was time for the grueling fight for a paramount objective — qualifying for the 2019 World Championship.

Some teams got back into action after a long enough offseason, well-rested and ready to fare up against those who had defeated them the previous split. Those who attended MSI, though, ended up at the brink of burnout, as they were given not much more than a week to prepare themselves for the start of the Summer split.

This, together with the source of information that MSI represented for all the teams that were not there, made for a thrilling month, full of upsets, slumps, sudden rises, and ups and downs. G2 Esports' European dream team ended up finding a solid rival they did not expect in Fnatic, Invictus Gaming saw themselves losing against what was supposed to be lesser opposition, SKT were involved in a losing streak that worried even their haters, and Team Liquid lost their status as an almost invincible squad in North America.

Lots of exciting matches, with nail-biting gameplay and unexpected outcomes, took place throughout this month. Rusty top-tier teams and revenge-hungry underdogs combined surprisingly well and ended up gifting us with a plethora of watch-worthy games. The following five are the ones we have chosen as the most remarkable of them all.

If you'd like to view the games without being spoilered, we've made a playlist for you to watch. Click here, then come back and read the analysis, and discuss the games!

Now, without further ado, let's get onto the list.


#1


LCK - Kingzone Dragon X vs DAMWON Gaming



The LCK has had a rocky start to the Summer split, with some big favourites struggling and teams rocketing up and down the standings. The DAMWON and Kingzone series, therefore, had suddenly become a more important game than fans had once thought. With Kingzone losing Pawn to injury before the split, many wondered if they could find the same success with their Spring substitute mid laner, Naehyun. In the first few weeks, Naehyun certainly exhibited a level far above what we had seen from him before; however, his matchup against DAMWON's rising star, Showmaker, would truly put his skills to the test.

Showmaker was kept quiet for the first two games of the series, but when the pressure was on, he showed that he'd grown over the break and was ready to take DAMWON to the next level. The early game seemed favorable for Kingzone, as Cuzz was able to punish Canyon's amusingly aggressive Karthus, but an ambitious play on the tier-two turret in the top lane saw the game turned on its head. DAMWON's stars, Nuguri and Showmaker strutted their stuff, as Showmaker danced around the team fight on Akali, turning around a 2v5 to find four kills.

From then on it seemed as though we'd entered the Matrix, as Showmaker exhibited Neo-esque dodging abilities to KZ to shreds, ending the game with a massive 10/0/7 scoreline. With the series win secured, DAMWON stamped themselves as a team to look out for, as in their second split in the LCK, they look far more comfortable in the heat of battle.


#2


LEC - G2 Esports vs Fnatic



Just as both teams started to unveil their level-one strategies, LEC shoutcaster, Medic unwillingly predicted exactly how the rest of the match was going to look like. "This will not be a minor fight, this will not be a boxing match, this is a war," he said. Little did he know that he was entirely right.

Since the draft phase, both Fnatic and G2 had shown their willingness to turn their face-to-face match-up into the most surprising battle LEC followers had ever seen since the league's inception. After all, they were the two dominant teams in the region, the two that had always faced each other with greatness at stake. At least, they had to put up a show.

When Fnatic locked in Karma and Pyke for the bot lane, turning Hylissang into their very particular marksman for the game, casters and fans alike went wild. A few moments later, when former Fnatic midlaner Caps, now on the other side of the rift, picked one of his best champions throughout last year, Akali, fulfilling a promise he had made while streaming a few days before, cheers went even louder inside the studio.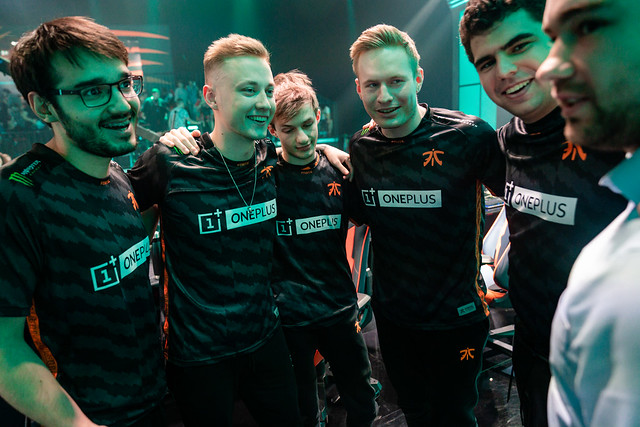 Once in the match, Caps decided to swap to the top lane to lane against Bwipo's Renekton. This decision, however, did not end up paying dividends for the Danish prodigy, as Broxah insisted on ganking him repeatedly, living him in an incredibly disadvantageous situation. Fnatic went back, as they have been doing throughout the whole split, to its 2018 iteration, as Hylissang rotated all around the map to create proactive plays together with the jungler.

Ten minutes into the game, it seemed all Fnatic's. G2, however, definitely know how to fight once the midgame comes around, and, thanks to individual outplays and on-point reactions, the game started to become more interesting. Would G2, after all, be able to turn it all around? Would the invincible kings defeat the underdogs in the end, remaining undefeated and granting them their first loss of the season? Finally, Fnatic answered these questions with a simple 'no'.

Eventually, G2 stayed for too long in the mid lane trying to take advantage of Fnatic momentary 1-2-2 distribution. Rekkles and co. were able to rotate soon enough, and ended up securing a delayed ace. From there, they went on to close what had been a back-and-forward, incredibly close match with relative ease. At one point in the game, Medic said another very telling sentence: "These are the two best teams in the league, and we are seeing a showcase of mechanical League of Legends." That day, Medic was seemingly always right.


#3


LCS - Team Liquid vs Optic Gaming


Heading into the third week of the LCS Summer split, the standings were quite surprising as Optic, a team which had struggled in Spring, found themselves at the top of the ladder. They still played around their star mid laner, Crown, but it was their individual play that saw the most marked difference. Meteos seemed far more comfortable playing with the Korean mid laner, and the bot lane synergy of Arrow and Big was growing with every game. As such, their matchup against Team Liquid, who'd started off slowly following their 2nd place MSI finish, would be a chance for them to test their mettle against the yardstick of the LCS.

The game started well enough for Optic, despite a CS deficit in the top lane and the loss of an infernal dragon, they remained relatively on par with Team Liquid. Continuing to play around Crown, who this time picked up the Emperor of the Sands, Azir, they picked up kills off the back of the excellent crowd control provided by Sejuani and Nautilus. While they were beaten on map control and side lane pressure, when it came to team fights around objectives, Optic kept picking up advantages, leading them to an easy Baron take.

However, an ill-fated team fight in the bot side jungle led to a loss of pressure, and when the next Baron came along, Xmithie showed why he was feared when it came to 50/50 Barons as he stole the Baron to seize back control for Team Liquid. From then on, Team Liquid flexed their prowess at pushing leads, as they successfully sieged down both mid and bot lane inhibitors and used that advantage to bait Optic into a fight around Elder Dragon before rotating up with their super minions and ending the game.


#4


LPL - Invictus Gaming vs Victory5


Invictus Gaming were the LPL Spring Champions, a team full of legendary players who did not hesitate when it came to winning, at least within the Chinese region. Victory5, for their part, were a middle-of-the-pack team. They could cause some upsets here and there, of course, but, overall, they should have been cannon fodder for Rookie and his teammates.

At the time, the Korean prodigy had not yet left China to take care of a family issue. The only irregularity in Invictus Gaming's roster, thus, was the presence of Lucas in lieu of veteran support, Baolan. When it came to their rivals, V5's midlaner, Windy, who came all the way from China's developmental league, replaced Mole for the first time in the whole split. How well he could perform was entirely up in the air, as he had already played with them as a top laner, but had never played his main role at such a high level.

Initially, Invictus Gaming should have been the favorites by a large margin. They were dealing with problems within the line-up, as they had already faltered against LNG Esports just a few days prior. However, fans thought, that was no excuse. If Invictus Gaming lost this series, they were in real trouble. Little did they know, though, about what was going to end up happening on Summoner's Rift.

By the end of the series, Victory5 was dubbed "a better version of iG," and, having a look at how things had gone, it was completely justified. Invictus Gaming like to fight— they trust their individual talent, are a proactive team, and engage in five-versus-five situations regardless of the consequences of it going wrong. That day, Victory5 did all those things as well. However, they did them better.

In the first game, Windy demonstrated why he is a Yasuo main. Pulling out outplays all over the map, he managed to give V5's bot lane, consisting of the Sona and Tahm Kench combo, a more-than-meaningful advantage. iG started coming back in the midgame, but a disastrous baron play led to the underdogs sealing the victory in the first map.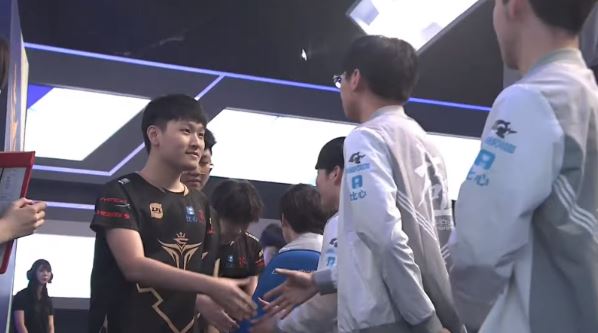 In game two, the idea was basically the same. Windy was given a Yasuo once again, and, once again, he played fantastically. Together with Gragas in the jungle, and Orianna down in the bot lane, the team fight combo could not be better, but, this time, the game went the other way around. It was Victory5 who, after losing the early-game lead, began to crawl back into the game. iG, however, had their eyes on the Nexus, and they ended up forcing the decider.

It was the last game of the series. Victory5 bullied TheShy's Neeko during the first few minutes of the game. They had discovered that he always threw the clone backward instead of forward to bait the enemy, so they did not fall into the trap. In the process, however, they left the bot lane unattended, which, coming into the midgame, promised to cause a backlash. Nevertheless, y4 knew that he just had to stay alive with Xayah early into team fights in order to end up sweeping them. That is precisely what he did, and, thus, he secured the series win for Victory5.

All three games were showcases of high-level League of Legends, fast-paced, nail-biting, and, most importantly, incredibly meaningful for both teams. After the series, Invictus Gaming had to stop and think about how they wanted to do things moving forward. Otherwise, they could very well keep losing. Victory5, for their part, realized their amazing potential, which has since been showcased in 2-0 sweeps against Vici, OMG, and a hard-fought loss to FPX, the league's current best team. Overall, a must-watch series, both for entertainment and for the sake of love.



#5


Rift Rivals - Team Liquid vs G2 Esports


After playing each other on the first day of the NA/EU Rift Rivals tournament, Team Liquid and G2 again clashed in a repeat of their MSI encounter. This time, however, we would not see quite the imaginative drafts as both teams went into the game playing standard. With NA trailing EU 0-2 in the relay Bo5, all of North America's hopes lay with Team Liquid to give NA a chance to claim the Rift Rivals trophy.

The early game action was all centered around mid lane, as both teams picked strong mid-jg duos, with TL going for the increasingly popular Gragas-Yasuo combo, while G2 picked the tried and tested Leblanc and Rek'sai combination. While G2 seemed to have the upper hand in the early ganks, Jensen and Xmithie managed to turn it around on them and at the same time, Impact found his own advantage in the top lane as Wunder overstepped on Irelia.

The next 15 minutes saw the infamous 'Craps' emerge, as Jensen continually punished Caps' overaggressive play. It would have been a clean win for Team Liquid, if not for G2's ability to punish small mistakes which emerged in Team Liquid's play when sieging for turrets. However, the sheer gold lead amounted in the mid-game meant that when TL finally simply grouped up and played around the Gragas-Yasuo combo, G2 were unable to stand against it and TL would grab NA's first, and in the end, only win in the final. Despite the failures of Team SoloMid and Cloud9, Team Liquid could at least hold their heads up high and bring back a renewed confidence with them to the LCS as they look to make it four LCS titles in a row.