Choose a Tab Above
SK Telecom T1: Born Winners
Griffin: Building a New Empire
Versus: The Head to Head Showdown
Griffin has done it once again, with their second top-2 finish in as many splits. This time however they dominated the split — 3-way ties be damned. Yet in some ways, it is less impressive than 2018 summer. While last year's LCK lineup boasted All-Star rosters like Kingzone Dragon X, KT Rolster, the Afreeca Freecs, and even the 2017 world champion Gen.G roster, this year's league has been weaker overall. With teams like DAMWON and SANDBOX Gaming promoted to the first division of Korean League of Legends, the LCK has embraced a more aggressive style, counter to the vision-centric playstyle of years past.

And this suits Griffin just fine.
Perpetual Dominance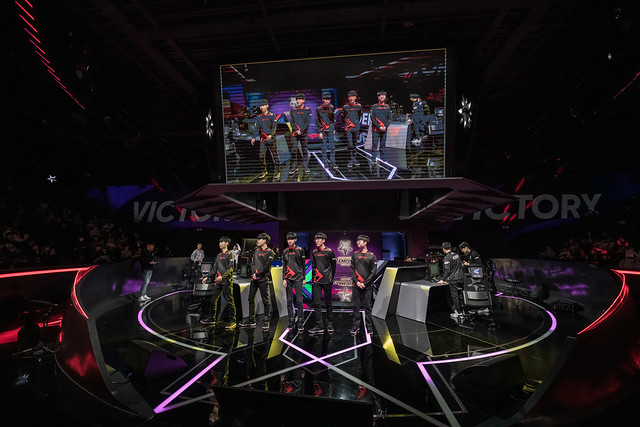 The split has — in some ways — been more impressive for Griffin. Their ability to continually dominate opponents in different ways has consistently impressed over the split. Points of excitement - such as Chovy's 100 KDA mark - and their impressive win streak (maintained until week eight!) were continual talking points across the spring split. Griffin only dropped eight games across their 18 series, maintaining a 79% win ratio. Crucially, they also kept a 4-1 record against their finals opponents, SK Telecom T1. Although they did drop the one loss in the most recent Best of 3, Griffin was still able to clinch the series in week seven.
The Prodigal Son
In their wins, Griffin has always made Chovy look like a star. The first player to reach — and maintain, albeit for a short time — a 100 KDA score was both individually impressive and set up by his team to carry. Tarzan's immaculate control of the jungle during their win streak contributed to such an impressive performance by the new 'Midlane Kingdom' challenger. Chovy's performance on champions like Galio and Lissandra dovetails nicely with his more carry-centric performances on Zoe, Akali, and Irelia. The fact that such a young, aggressive player is able to flourish on Griffin is a testament to both his skill and Griffin's environment, which facilitates talent like his.
The Jungle, Born Again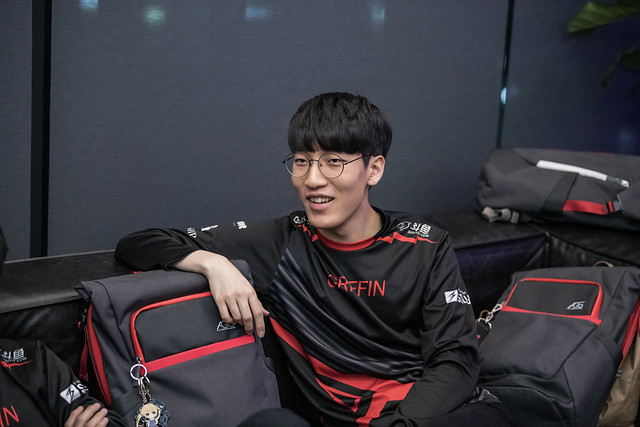 Much like Faker's historic dominance alongside Bengi, Chovy also has an incredibly smart jungler behind him. Tarzan's dominance, however, is much more pronounced than Bengi's was, in the past. Where Bengi would provide vision and assistance for Faker to pressure oppressively, Chovy and Tarzan have a more symbiotic relationship. Chovy's pressure allows Tarzan to invade aggressively, and the champions he has maintained throughout spring — Lissandra and Galio, as well as Zoe and the odd Leblanc or Sion — allow him to quickly rotate to save Tarzan from fights that he may find himself in. Tarzan has been somewhat advantaged in that some of the other aggressive junglers in the LCK — like UmTi, Peanut or Haru for example — are now substitute players (or heavily slumping for most of the split, in Peanut's case). This has given Tarzan the ability to dominate the jungle with his own brand of 'tempered aggression' — he prepares his aggressive plays ahead of time.

Whatever the final result may be, Griffin have undoubtedly proved that they are able to scrap with the best teams in LCK 2019, and are able to outlast, outthink, or outplay the entire region — even when the odds seem stacked against them. This time, Griffin is left as the final bosses of the LCK, and if they can take it all, they will cement their position as the new kings of Korean League of Legends.
Speak to any SKT fan and they'll lament over the failures of 2018. After three consecutive Worlds appearances, the best LoL organisation was sent crashing back to Earth. First, they were bundled out in the first round of playoffs in Spring and then missed out on playoffs altogether in Summer. For a team where winning is an expectation, not a desire, this was unacceptable.

Most would agree that their unwillingness to spend money to improve their roster's shortcomings was the biggest factor in their failures in 2018. In 2019, however, they've pulled out the cheque book. With only Faker remaining from their starting roster, SKT built the super team to match all super teams. Mata from KT Rolster, Clid from JD Gaming, Teddy from Jin Air Green Wings, and Khan from KingZone Dragon X. The excitement for this roster, therefore, exceeded even that of KT Rolster's superteam formed in 2017. And just like the rosters of old, winning the LCK wasn't the goal, it was the minimum requirement.
The Unkillable Demon King Bleeds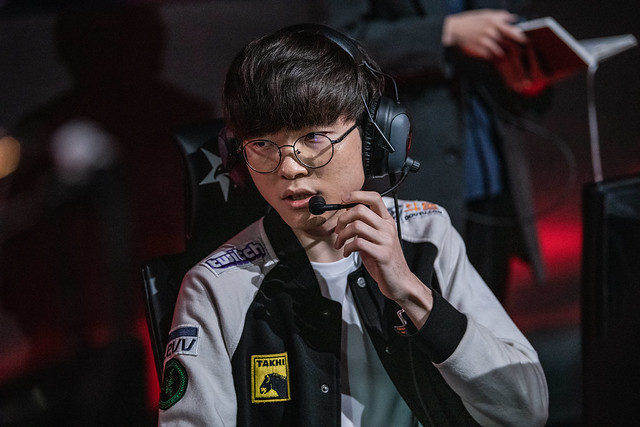 The only player remaining from their unsuccessful 2018 voyage, Faker was probably the one most affected by their struggles. For so long considered infallible by his opposition, we saw the unkillable demon king truly bleed for the first time. Sure in 2014 he had struggled with his team, but we never saw it affect Faker's self-belief. In 2018, however, Faker had confidence issues and ceded his starting spot to Pirean.

In 2019, the headlines were all dedicated to another mid laner. Chovy's exploits on Griffin saw many give him the title of best mid laner in the LCK and if we're honest, he probably deserved it. Faker's peak level of play leaves his opponents glued to the floor, and makes it seem as if he glides across the rift at a pace unmatched. He's slowly progressed towards his peak level of play but even in their victory over Kingzone, he produced some boneheaded plays that threatened to swing the balance of the series away from SKT. As SKT's general, Faker's been given the soldiers he needs to win the title, whether he can lead them to victory, however, is another question.
The Teddy Bear Bites Back
For so long, Teddy has toiled on a Jin Air roster as their only source of attack. It seemed as if he was destined to live a life full of 'sadplane.jpg', and with time, even his most staunch defenders seemed to lose interest in his cause. So when Teddy joined SKT he received far less fanfare than SKT's other new recruits. Perhaps some had forgotten his deadly AD Carry play but he was determined to make them remember.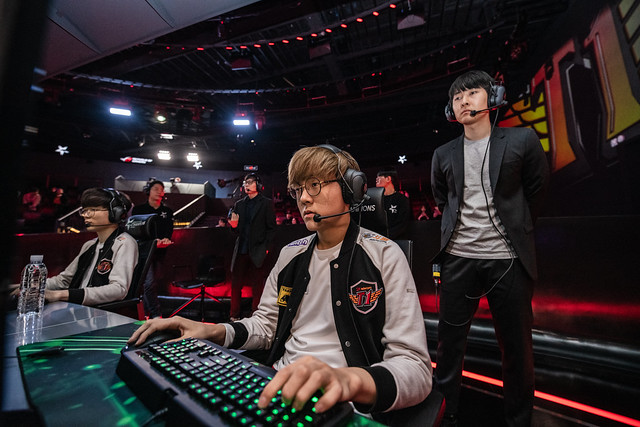 Regardless of the champion, be it Kalista or Ezreal, Xayah or Varus, there is one constant. Come team fights, Teddy is going to be positioning perfectly, outputting the maximum amount of damage possible. Teddy has been the primary carry for many of SK Telecom's compositions and he's fulfilled that role perfectly. For Teddy, SKT is a chance for him to prove that he wasn't a big fish in a small pond, only looking good due to his comparatively weak teammates. And so, even on a stacked roster like SKT, he still shines brightly. Teddy's paid his dues and he's come to collect his first LCK trophy.

Despite placing second in the regular season, SKT comes into the series as quiet favourites. They've been slowly improving as a team over the season and their superior team play against Kingzone in the semifinal was the reason for their 3-0 victory. For SKT, it was always a matter of sooner rather than later, and now that their team play has been shored up, their individual strengths can truly shine. They've learnt their lessons from their losses to Griffin, and they're ready to prove that the Old Gods will still reign over this new era of the LCK.
In this final we have a fight between the last representative of the Old Gods and the New. In one corner we have SK Telecom T1, a team that's been around since 2013 and won every title possible. In the other, we have Griffin, representing the new players coming in from Challengers Korea with confidence and no fear of their far more experienced opponents.

This will, of course, also be the last time Faker and co. fly under the SK Telecom banner, as the team will rebrand to T1, a partnership brand between American and Korean Telecommunications companies, Comcast and SK Telecom. Can they end their final split with a victory or will last year's heartbreak push Griffin towards their maiden LCK championship?
Top Lane Brawlers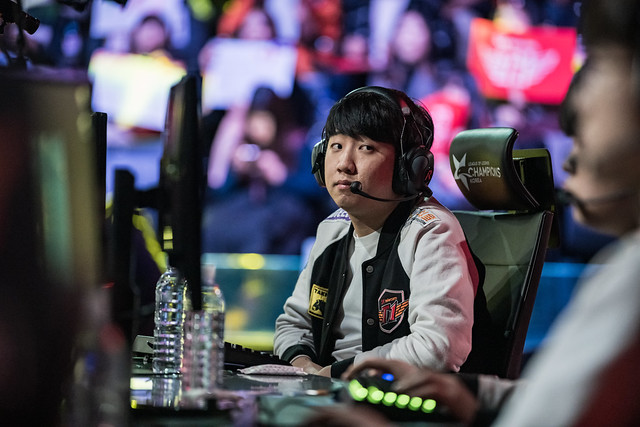 For many analysts and pundits alike, Griffin's top laner Sword appears to be the weak link. Yet, Sword's highs have been of a similar level to Chovy. Levelling up from last year, Griffin's top laner has played more carries, more frequently, and to a better level. Sword's role in the final, however, will be to take on Khan, a player well-known for playing to, and even exceeding, his limits. After an underwhelming end on Kingzone Dragon X, Khan moved to SK Telecom with the goal of winning a championship. For a superstar like Khan, winning is the only goal. While Khan's stalwart Jayce has been a formidable force this season, he shares that dominant pick with Sword.

Both Fiora and Vladimir are of note in this series - they have become 'pocket picks' for Khan this season. Sword, on the other hand, has eschewed both champions, playing Urgot and Sion much more frequently, as well as bringing out his pair of pocket picks - Ryze and Yorick. While Sword appears to be Griffin's 'role player', his lane is also much more stable than Khan's, who has given up a total of 7 more deaths across the season than Sword. It is interesting to note that Sword's laning stats (CS, Gold, and XP differences) are all within a few percentage points of Khan - indicating Sword perhaps isn't the liability he initially appears. With fighters like Yorick, Jayce, and Urgot, the top lane brawl between Khan and Sword is likely to be a measured fight - at least before the players start feeling desperate.
Rumble In The Jungle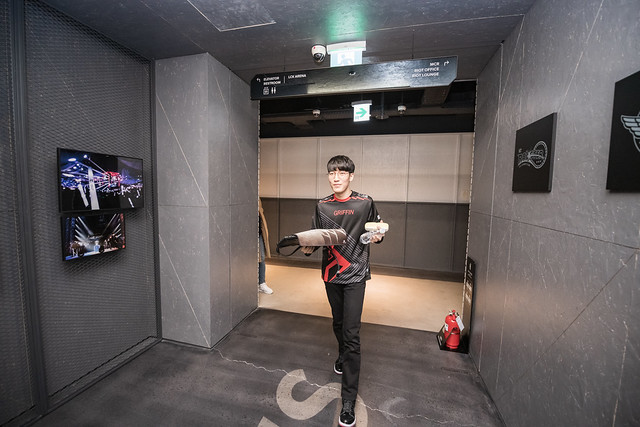 This Final represents a bit of a changing of the guard when it comes to junglers. For so many years, the LCK jungle pool has been characterised as methodical, vision-oriented and supportive. Over the years we've seen that play perfected by players like DanDy, Bengi, Ambition, and Score. That all came crashing down at 2018 Worlds, where the other regions punished Korea's unwillingness to adapt to the stripping back of vision from the game.

With players like OnFleek, Clid, Canyon, and Tarzan, the LCK has finally moved away from their old style of play and these two junglers are the ones that best optimise the new aggressive age of the LCK jungle. They do, however, have some differences. Their champion pools share some common threads but Clid is far more reliant on his signature Lee Sin pick. Meanwhile, Tarzan exceeds his opponent in terms of champion pool depth but he's most comfortable on farm heavy champions like Nocturne which seem to be drifting out of the meta in favour of skirmish champions like Rek'sai.

Tarzan is most certainly Griffin's linchpin. If he's playing well they're unstoppable. However, if you can contain his impact then Griffin go from unbeatable gods to mere mortals. That's the task on Clid's hands and the most important thing for him is to get a comfortable matchup in the draft. Because if Tarzan is given free rein over the map chaos will ensue.
Fighting Over The Throne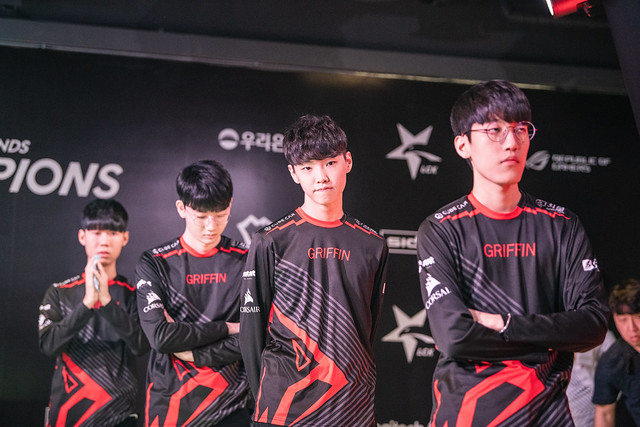 For Faker, Chovy represents the new wave of mid laners vying for the throne of undisputed best mid laner in the LCK that he's held for so long. But unlike in previous years, this time Faker comes in as the challenger. In their first matchup this year, Chovy looked to be a cut above. His synergy with Tarzan far surpassed Faker's own synergy with Clid and Faker failed to stop Chovy from reaching his famous 100 KDA.

Their second matchup was far closer, as both of them got punches in and even though Griffin won, Faker came within inches of pulling off another incredible carry performance on Azir. We can only hope to witness a Faker Leblanc vs Chovy Akali matchup, as both players hold unbeaten records on their favorite assassins this split.

And so heading into these Finals we're unsure as to who will claim the throne. Chovy may have started off on the front foot but now he looks vulnerable. Can he maintain his advantage over Faker, or will the Unkillable Demon King rise once more?
Differing Methods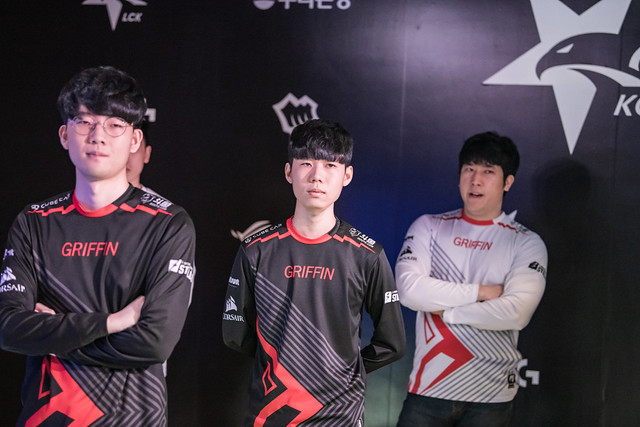 It is always difficult to accurately assess bottom lane pairings, so we're discussing both players in this section. Viper and Lehends have proven to be a stable and occasionally explosive bottom lane pairing, and have continued to build on their synergy from 2018. Where Viper was once the mage bottom lane player, he has shown that he is capable of playing AD Carries to the same level of his more esteemed opponents. His Lucian and Kalista picks have allowed he and Lehends to play much more aggressively, and his Kaisa, Vayne, and Neeko picks have allowed him to rapidly rip through teams towards the later stages of the game. Meanwhile, Lehends has been able to continually excel on both engage and peel-type champions, with his Galio, Morgana, and pocket Shen allowing his understanding of the role to shine.

Of course, across from these two relative rookies are two of the most spectacular bottom lane players in the LCK - Teddy and Mata. Teddy has been able to showcase his fantastic mechanics alongside Mata, a longtime top-3 Korean support. The duo's play in the semifinals against KingZone Dragon X highlighted the alternate situation - Teddy's two utterly dominant victories on his Varus highlighted how much of a quality player he really is. Mata has overwhelmingly preferred the Tahm Kench this split, and its high banrate against SKT likely has influenced the 16 Ezreal picks across the season. Mata's Braum and Alistar have also been very impressive, with his laning and team fighting being standout examples.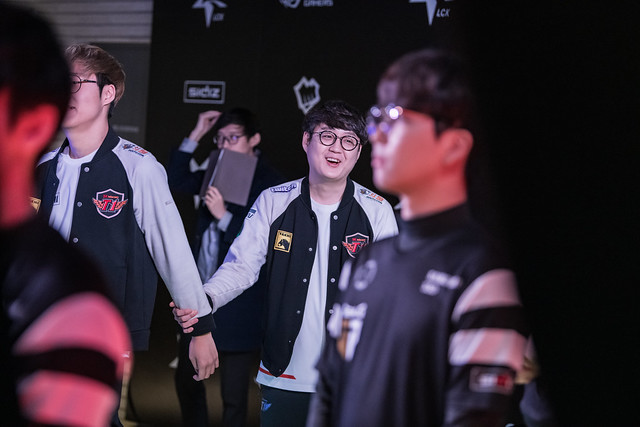 These Duo lanes are essentially a horn-locking of styles, with both duo lanes looking to play as aggressively as possible, and often to their mechanical limits. Both Teddy and Viper are mechanical masterminds, and the matchup of Lehends and Mata is likely the all-star support matchup this split. Where Viper and Lehends often eke out advantages in lane (Viper averages almost 400 gold ahead at 15 minutes) Teddy and Mata often don't attain quite the same leads — although Teddy puts out on average 100 more damage per minute. Both bottom lanes have extremely defined talents, with Griffin being exceptional at garnering and pushing leads, while SK Telecom's bottom lane often excels in the mid-to-late game, with Teddy's teamfighting and Mata's decisive engages allowing the Korean powerhouse to take games to the 30+ minute mark.

Each of these bottom lanes can be considered the perfect example of their own team — Griffin translates early dominance into quick wins, while SK Telecom prefers to play with an eye towards midgame and when the clock hits 20 minutes, look for Teddy to sprinkle his magic through team fights around Baron.

Staff Predictions
AdsMoFo: SKT 3-2

Zac Watson: GRF 3-1

Greel: GRF 3-1

Megaladontus: SKT 3-0

Clockwork: SKT 3-1

LuckyNeck: SKT 3-2