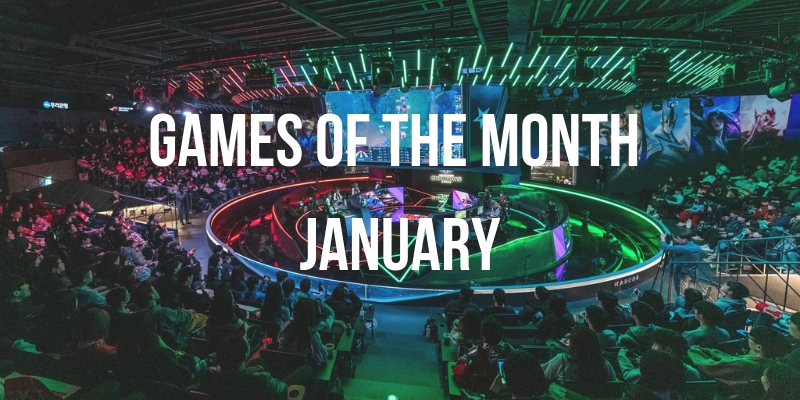 We're only a month into the competitive season and already we've witnessed some fantastic games. As the new competitive season began, all the unbelievable roster moves that fans had been shocked by during the offseason were put to the test, and the enormous amounts of hype that they implied finally became tangible.

To start out the year, the CBLoL successfully reflected the enthusiasm of fans around the world, reaching incredibly high viewing peaks. But that was no more than the beginning. The LPL would showcase new promising teams, while the LCK would unpredictably be dominated by the newcomers whose grasp of the meta far surpassed the veteran teams. The LEC would surprise everyone, as the World Finalists, Fnatic, were annihilated by all of their opponents as G2, a team with a former mid laner in the AD Carry position, would rule over the league.

January has been a wild ride, and League of Legends fans who may not have been able to keep in touch with the scene throughout its course will find it difficult to understand why jungle Karthus, Redemption Olaf, or bot lane Cassiopeia are now such contested picks within higher level competition.

In order to prevent you from feeling confused, or to otherwise remind you of how much of an impact this month has made in every fan´s heart moving forward, we are bringing you the Top 5 best games of January 2019. If you'd like to view the games without being spoilered, we've made a playlist for you to watch. Click here, then come back and read the analysis discuss the games!

Now, without further ado, let´s get onto the list.


GOTM


Honorable Mentions

IG vs TOP

Topsport Gaming appeared as the ones chosen to dethrone Invictus Gaming coming into the new year. Some argued that Zhuo "Knight" Ding could easily rival the likes of Song "Rookie" Eui-Jin in the mid lane, while others relied on TOP´s impressing performance throughout the 2018 Demacia Cup for stating that they had what it took to defeat the current world champions.

However, Gao "Ning" Zhen-Ning started out the year in good form with an amazing performance on Kayn, as Invictus Gaming demonstrated that they weren't about to relinquish their title as the best team in the world yet.

SKT vs Griffin

The recently formed Korean "dream team" in SK Telecom T1 squared off against Griffin, the former Challengers Korea squad that had so far decimated all of its adversaries, in what seemed to be the most exciting match-up of the month in the newly Riot-produced League Championship Korea.

Fans and haters alike wondered whether SKT´s experienced lineup would be able to withstand Griffin's dominant playstyle and prowess in team fights. What came next was a bit of a letdown, however, as Griffin completely crushed their opponents in a tremendously one-sided series to take home the victory and continue with their seemingly unstoppable streak of 18 undefeated matches.


#1


LPL - FunPlus Phoenix vs Suning Gaming


In our game of the month, we were given a first look at the future of the LPL, and boy did it not disappoint. FunPlus Phoenix and Suning Gaming boasted 3–0 and 4–0 records respectively before the start of the match, which placed them at the top of the LPL standings. These teams did not just offer a battle between what could be two of the next LPL finalists, though, since their match-up also implied being able to witness what is probably one of the most interesting stylistic battles that exist in League of Legends as of today.

In the case of FPX, they were a team that had been regarded as overly skirmish-oriented throughout 2018, a year in which they were not able to perform to expectations at all. However, it has been the addition of Doinb, a mid-laner that had been famous for promoting that exact same way of playing the game, which has led to the team finally functioning as a unit in order to take that playstyle to the next level.

On the other hand, Suning had utilized the offseason to obtain the services of former Flash Wolves' duo Maple and Swordart, as well as the talented veteran AD Carry, Smlz. With Smlz being famous for a weaker laning phase, but superior team fighting and late game positioning, the approach that veteran shot-caller Swordart decided to take was more reliant on Maple to carry the weight of the team in the early game until the AD Carry's moment finally arrived.

The match played out according to its premises, delivering three amazing games in which each team's strengths and weaknesses could be seen at every moment. With games one and three following more traditional standards, though, it was game two that turned out to be a traditional Chinese 'fiesta', with kills happening all around the map. Finally, FPX ended up taking the victory as their star mid laner DoinB dominated the map, thus asserting FPX's dominance as the best team in the LPL as we head into the Lunar New Year Holiday break.

Perhaps, the only blight on this game was the illness cloud that hung over Maple and H4cker, as Maple was subbed out for game two and H4cker was not seen in the entire series. For that reason, we're not entirely convinced that FPX is the superior team just yet, and a finals matchup may just be what's needed to separate these two heavyweights once and for all.


#2


LCK - Sandbox vs DAMWON (Game 3)


The two newest additions to the LCK faced off in the third week of the competition. Sandbox was still undefeated with a 4-0 record, and Damwon came in with a more discreet 2-2, having shown promising gameplay in their first appearances. SB took the first game, and Damwon answered convincingly in the following one. Everything was ready for a fiery conclusion to the set, and this game would end up being our recommended game.

The last game of the series featured two very different team compositions. While Damwon wanted to make the game go long in order to scale with the likes of Vladimir and Ezreal, Sandbox was compelled to make something happen with much more early game oriented picks like Kalista, Jayce, and Zoe. To accomplish this, SB drafts three winning lanes and Onfleek's signature Lee Sin.

Damwon was weathering the storm quite nicely by not falling too far behind against a far superior early game composition, but they were just not equipped to fight on the map for a while. Knowing this, Sandbox took advantage and started pressuring, claiming an early rift herald and every dragon past the first one. Nerves were beginning to build up, and both teams were making unforced errors, but as the timer advanced, Damwon were looking stronger and Sandbox needed to make something happen before their opponent's team fighting composition would overpower them. So they make the call; having complete vision control over the Baron area, they were able to finish Baron only losing one member. However, the reply didn't take long to come, "If you are bold, we are bolder," said DWG while five-man diving between two towers.

It's far from over, and that won't be the only Baron this game. Damwon and Vladimir are getting stronger every second. Make sure to watch this very even game if you want to see what it takes to defuse this ticking time bomb of a champion.


#3


LPL - Invictus Gaming vs JD Gaming (Game 2)


For Invictus Gaming it was business as usual in the LPL Regular season, once again dominating with three series wins in a row. And while those who watched Worlds may have expected the carry performances to come from their lauded solo laners, Rookie and TheShy, it was, in fact, Ning, a player who'd often been criticised as a week link for the team, who'd been the most commanding in their victories. His performances on Kayn and Zac, two of his all-time favorites, gained him five of the possible six MVPs in their start to the regular season.

For their part, JD Gaming was struggling after having lost Clid to SK Telecom T1 during the offseason, as although they had replaced him with up and coming talent in Korean jungler, Flawless, and Vietnamese star, Levi, it had not turned out positively for the team. Neither Flawless nor Levi had gelled with the team and it seemed like they were in for a tough time against an in-form Ning.

With the only positive points from JD so far being the consistent performance of their top laner, Zoom, the series was deemed to play out as a one-sided affair. After losing the first game of the series, however, Flawless unexpectedly went on hero duty for the following two encounters. Somehow forgetting about his upsetting most recent performances, he showed how talented he actually was, by continually ganking his lanes and obtaining early game pressure. He ended up boasting a 6.2 KDA with KhaZix and Gragas as he led his team to victory.

This upset marked a significant point in Invictus Gaming's history, as it ended their streak of undefeated regular season matches at 16, and served as a proof that even the Gods of the LPL regular season can bleed. While we don't know what JD's destiny will be moving forward, nor if this loss will impact Invictus Gaming's consistency for the remainder of the season, what we do know is that this was an entertaining series from beginning to end that is well worth watching.


#4


LEC - Origen vs G2 Esports


Much like the first day back in school after a long holiday, we couldn't wait to see our fellow European classmates again. We've got classmates old and new, and some returning friends as well. Origen is back from wherever they were, and for some reason, G2's come back with a fresh emo punk haircut. Either way, we've waved goodbye to the EU LCS and welcomed the LEC with welcome arms; and the games have not disappointed.

On day two of the first week, OG and G2 faced and boy, have they changed since last we saw them. On one hand, we have the new iteration of Origen, building their lineup balancing well-known veterans alongside younger talent with room to grow. On the other, in the most talked about move of the offseason, G2 moved Perkz to the bottom lane carry role in order to fit in Worlds finalist, Caps, in the mid lane.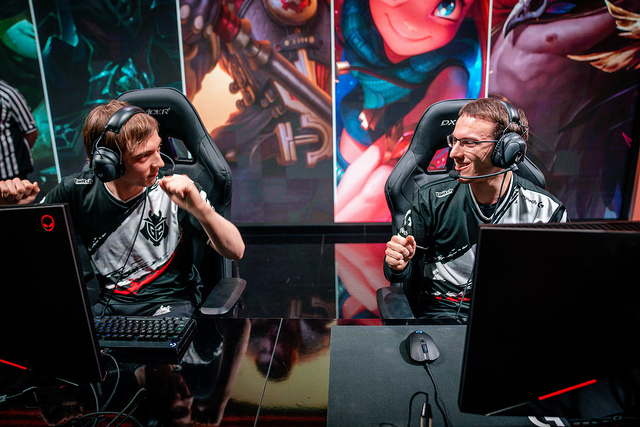 Starting in the draft phase, G2 came with a new proposition for Season 9 and showcased the incredible flex ability of its roster of champions. In the beginning, things were fairly even and the only action happening was in the bottom lane, where OG attempted to get their risky Draven pick rolling with a cash in on his Adoration stacks. But don't worry, it's only the calm before the storm. Soon after the 15-minute mark, G2 decided that enough is enough and started grouping and pressuring objectives with their mid-game oriented poke composition. And once they pressed the go button they were intent on closing the game out quickly. Their composition had a ridiculous ability to one shot enemies with poke coming from both Zoe and Jayce, followed by Karthus' Requiem to punish even the smallest mistake coming from the Origen side. Finding a good engage seemed impossible for Origen as they were constantly below half HP and their Nexus fell shortly after.

If you like drafts where teams make the opponent guess until the end, disgusting poke compositions or you are just a fan of a good old Requiem show, make sure you don't miss this one.


#5
LCK - Griffin vs DAMWON (Game 2)

After a disappointing end to their summer season and a consolation victory in the KeSPA Cup, Griffin comes to the new LCK season as the team to beat, striving to make sure that 2019 is the Year of the Griffin. One of the challengers will be Damwon, a new team to the league and like Griffin a squad composed mainly of very talented rookies eager to prove their strength.

You've probably seen an Olaf build Redemption in your games in the last few weeks and here's the source to your agony. In this series, Griffin's jungler Tarzan had something special prepared; a cheap item, on a very short cooldown thanks to 'Ingenious Hunter' rune, that amplifies Olaf's already high skirmishing power in the earlier stages of the midgame. In the following days, some of the western junglers gave the build a try, to... varying levels of success.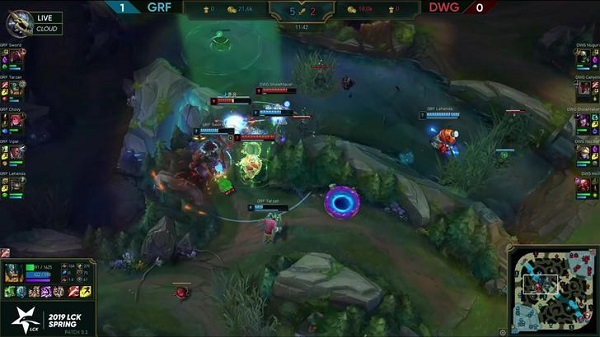 Following a fairly even first match by Griffin's lofty standards, where they came out on top in a 40-minute game, they closed the series in a very different fashion. Our featured game is a textbook snowball by one of the top teams in the world.

With an early gank as the Olaf against the Syndra, Tarzan set his mid laner for success, as Chovy's deadly Zoe picked up a double kill. When Nocturne reached level six, Damwon tried to make a play on Zoe before she got out of hand, but with a timely counter gank, the attempt was easily punished by Griffin. That's when the Chovy show started. Damwon was unable to stop the 'Aspect of Twilight' as she took over the game and skyrocketed the young mid laner's KDA.

One can legitimately wonder if this game could have been won without an ADC after such a display from the Olaf/Zoe duo. If, after watching this match you feel disgusted and decide to hit up Riot's balance team, go ahead, I guess I can neither stop nor blame you. But before you head into solo queue determined to pull out Redemption Olaf, take a minute to remember that this is Tarzan, 'King of the Jungle', we're talking about here.