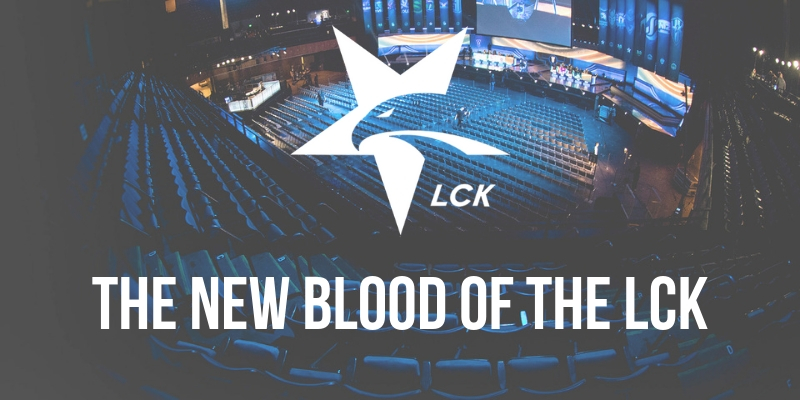 The LCK is back! After the region's failure at the World Championship it was time for a change. We've said our goodbyes to old favorites like Ambition, GorillA, and Bang; and now the new blood has rocketed to the top, while the old guard has fallen by the wayside. This statement holds for all of the legacy LCK organisations except for the greatest — SK Telecom T1, whose aggressive roster moves resulted in a team whose roster rivals the KT Superteam from the past two seasons. And even they, with their roster of champion veterans, found themselves unable to match the unbridled aggression of the new wave, falling to Sandbox in the second week of LCK.

DAMWON, Griffin, Sandbox, and Hanwha Life have all impressed, with Griffin and Sandbox holding 4-0 records, and Hanwha and DAMWON going 2-2, with their only losses coming to fellow newcomers and SK Telecom T1. All four of these teams have come to prove one thing. It's a young man's game in the 2019 LCK Spring split.
Aggression Dominates The Stage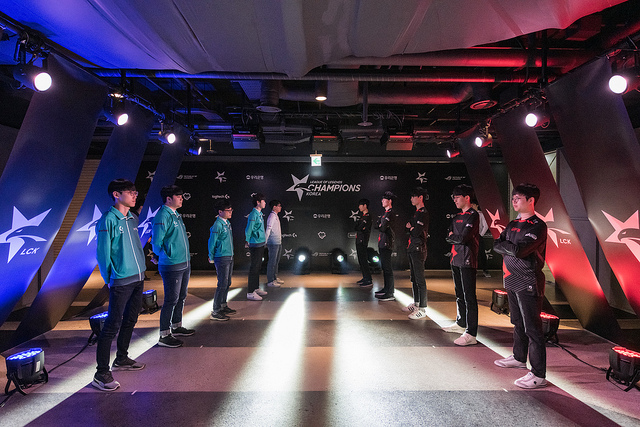 With the new blood charging into the LCK, a new playstyle has tagged along. Gone are the cautious, vision-centric hallmarks of the Korean League. In its place are ferocious aggression and remarkably impressive team fighting. In the summer of 2018, we were treated to a taste of this with Griffin's arrival on the stage. Tarzan, Chovy, and Viper wrought havoc on the stage with unorthodox picks like Viper's Vladimir — undefeated in the regular season — and Chovy's masterfully piloted Zoe. Tarzan's uncompromising control of the jungle saw him dominate even legends of the jungle — like Score or Peanut.

While Griffin just missed out on completing their royal road, their rise hinted at something lying just beneath the surface of LCK, in the depths of Challengers Korea. With the arrival of two new teams to the LCK, a total of eight brand new players have been welcomed to the highest level, and many of them have already proved to be exciting players to watch.

In a way, DAMWON Gaming's mid laner, Showmaker, is the perfect embodiment of the new league — a former Katarina one trick — has consistently held a high rank on the Korean Solo Queue Ladder, and is a famously aggressive player. Showmaker is brand new to the league and has already made an impression — going up against Bdd and Fly, who are both experienced players, and has held his own. Boasting a total 44.0 KDA across the first four games of the split, Showmaker had only died once. Now, he's sitting at a much more pedestrian 5.08, but Showmaker's first two series were a sight to behold.

Similarly, his teammate Canyon has entered the league with a great deal of enthusiasm. The owner of the infamous JUGKING account in Korean Solo Queue, Canyon's identity was finally revealed near the end of the year, and since then the anticipation was building for his arrival in the LCK. While Canyon didn't boast an impressive performance quite like Showmaker, his ability to go toe-to-toe with both Peanut and Score — two jungle legends in the LCK — was undoubtedly impressive. Both Canyon and Showmaker showcased a small part of their potential and undoubtedly solidified Damwon Gaming as a solid contender for the top of the LCK. While they've fallen to SKT and Griffin since then, they've shown enough to tell us that they can grow to greater heights and exceed all expectations in 2019.
The Wise Ones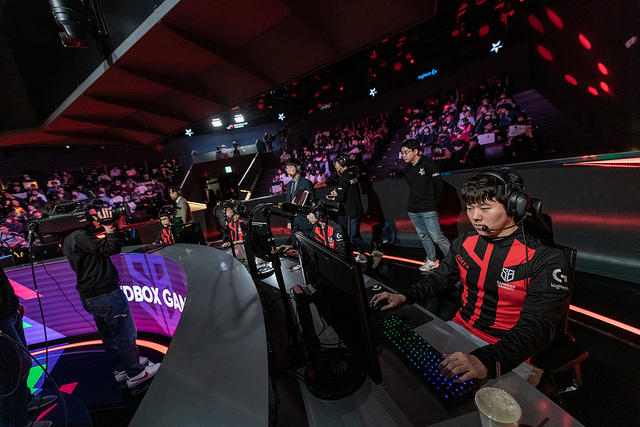 Alongside all of these newer, younger talents like Viper and Chovy (18 and 17 respectively) are players who are just now getting their chance to shine as the old guard make way for the new. Meanwhile, players like Lehends and Joker have been around for several years, and yet both of them have yet to play a full year in the highest level of competitive League of Legends, the LCK. Both Summit and OnFleek, Joker's teammates from Sandbox Gaming, are making their LCK debuts - while Summit played for Afreeca in 2017 in the 2017 KeSPA cup, he has only made his league debut this year. All four of these players are 20 or older, and in Joker's case, he has become the oldest player in the league - beating out even "old man" Score by about six months.

While these players are older — in Joker's case around ten years older — than players like Chovy, they are undoubtedly good enough to be in the LCK. Each of these players highlights the unique situation the LCK is in currently - while many new players are entering the league, there is still room for much older players if they have the drive to match their youthful teammates. There is also an apparent case for redemption for some players - in Summit's case, he debuted for Afreeca and then spent another year in the background before rising again as part of Team Battlecomics (now Sandbox Gaming). Nuclear returned from a decidedly mediocre stint on H2K and his previous team SBENU and became DAMWON's starting AD carry. Even Thal's addition to Hanwha Life is another example of a 'road to redemption' story, considering his less than stellar performance on SK Telecom T1.

Now, with all that being said, these are the five players who've already begun to develop into the most exciting prospects the LCK has seen in years.
Tarzan - The King of the Jungle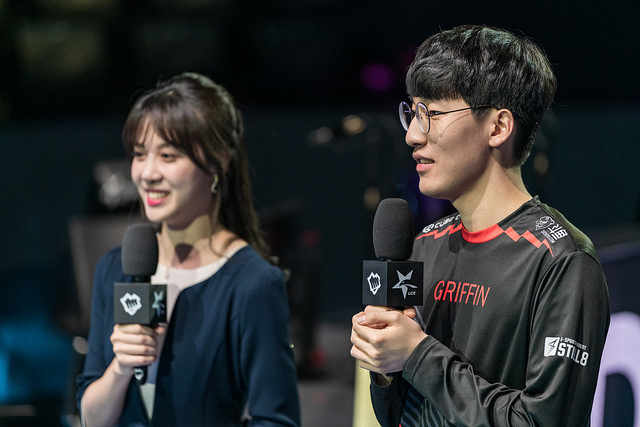 Griffin's jungler is perhaps the one 'super player' of the newest talent to watch this season. His play last year against top-tier veterans like Score, Peanut, and Ambition made them look like rookies, and his ability to play both aggressive and defensive styles allowed him to show off his combination of intelligent pathing and impressive mechanics. Tarzan's performances in 2018 Summer and the KeSPA cup showcased his mastery of the Jungle, against all manner of opponents from expert to still amateur status, and he dominated them all. Tarzan has already won MVP in all four games of Griffin's week one matches, and despite it being very early in the season there are already whispers that he may just be the best player in the world.
Chovy - The New Unkillable Demon King?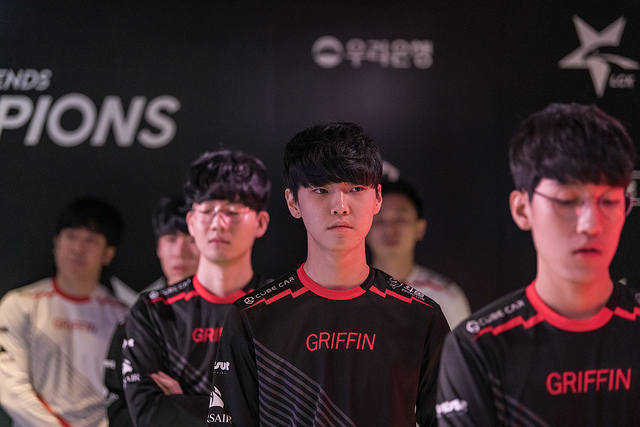 Unlike many rookie players, Chovy hasn't fallen to second-year syndrome, showing an even better performance in 2019. Leading the league with a phenomenal 84.0 KDA, Chovy has been deathless in the first four series he has played this year. Although Griffin also has fantastic players in other positions — like Viper and Tarzan — Chovy has performed fantastically thus far. One of the youngest players in the league, even among the newcomers, Chovy is still 17, and his fantastic play given only one competitive split so far is incredible. His performance is impressive given the three different styles he has played thus far as well - the tanky frontline with Galio and Sion, the impressively agile Akali, and the long-range pokemaster Zoe. Chovy's Zoe was the champion to watch from him last season, and he will likely put up impressive numbers this season as he attempts to crush his opposition on The Aspect Of Twilight.


Canyon - JUGKING Revealed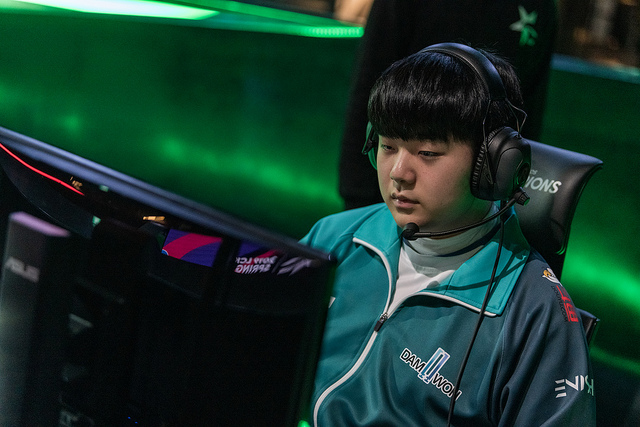 The JUGKING Herald has arrived in the LCK, and his great performances on DAMWON as part of their first two series have left little doubt that he is a great player. The rather low K/DA values hide a player that was able to outpath Score and Peanut in several instances, and was able to keep pace over the course of several games. Canyon's position as the substitute jungler changed over the break between the LCK promotion Tournament and the KeSPA cup, and this was likely due to his impressive performance in scrims or Solo queue. For DAMWON to match Griffin's historic run from last year, they'll need Canyon to develop into a player of the level of Tarzan. Whether he's capable of doing that is yet to be seen.
OnFleek - What's in a name?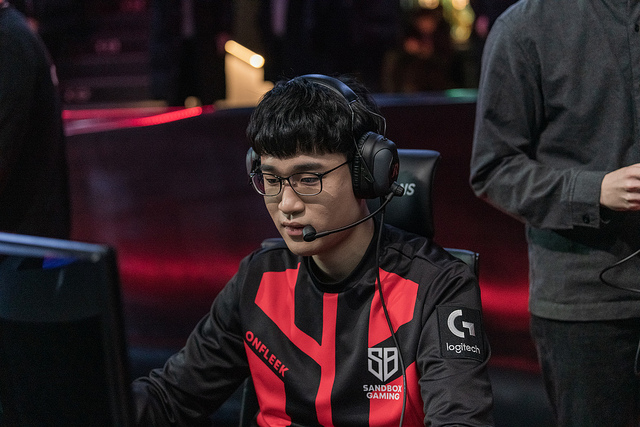 Sandbox Gaming's starting jungler will share the role with Crush over the year but has already managed victories over former LCK champions in Peanut and Cuzz. Another jungler with a high solo queue ranking, he follows a similarly aggressive style to players like Peanut, he finds himself most comfortable on aggressive junglers like Kha'Zix, Camille, Lee Sin, and Nocturne. For OnFleek his task isn't only to surpass the old guard but also his fellow newcomers in Canyon and Tarzan. Considering his team's relative level compared to his compatriots, he'll have to grow even further to lead his team to a successful rookie split.
Viper - The Head of the Spear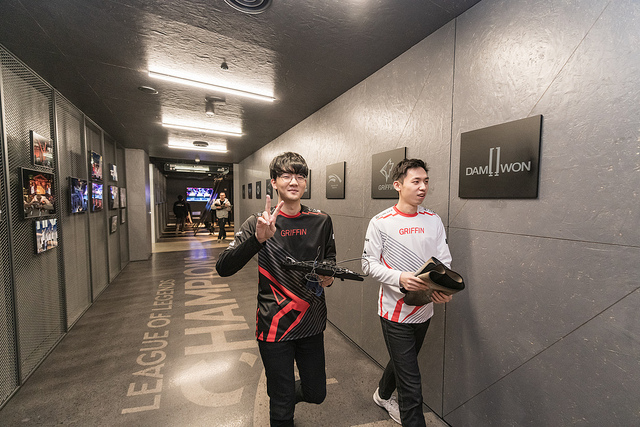 The LCK's resident 'Awesome Dude' bottom laner has returned for another scary season and has already whipped out his terrifying Vladimir pick twice. The oft-praised versatile bottom laner also debuted both Jayce, and Cassiopeia picks during the KeSPA Cup and had impressive performances on both. Viper's skills on traditional AD Carries have been impressive throughout his career as well, and he will likely look to dominate on those traditional champions as well. With both PraY and Bang gone, Viper has even fewer high-profile bottom laners to contend with and will look to assert himself as both the most versatile and most dominant bottom laner in the league.
Conclusion
Ever since Season 3, Korea has enjoyed an untouchable period of dominance. There were years when they had not only the best team in the world but also the second and third best teams. Even the Korean Exodus in Season 5 could not strip them of their crown. Now, however, evolution is needed. Korea can't stand still any longer, and in this new era, teams like DAMWON, Griffin, and Sandbox stand ready to return Korea to the summit of LoL.
Enjoy These Articles?
We will continue to bring exclusive coverage so why don't you register on LiquidLegends.net and keep up-to-date with the discussion on our forums!