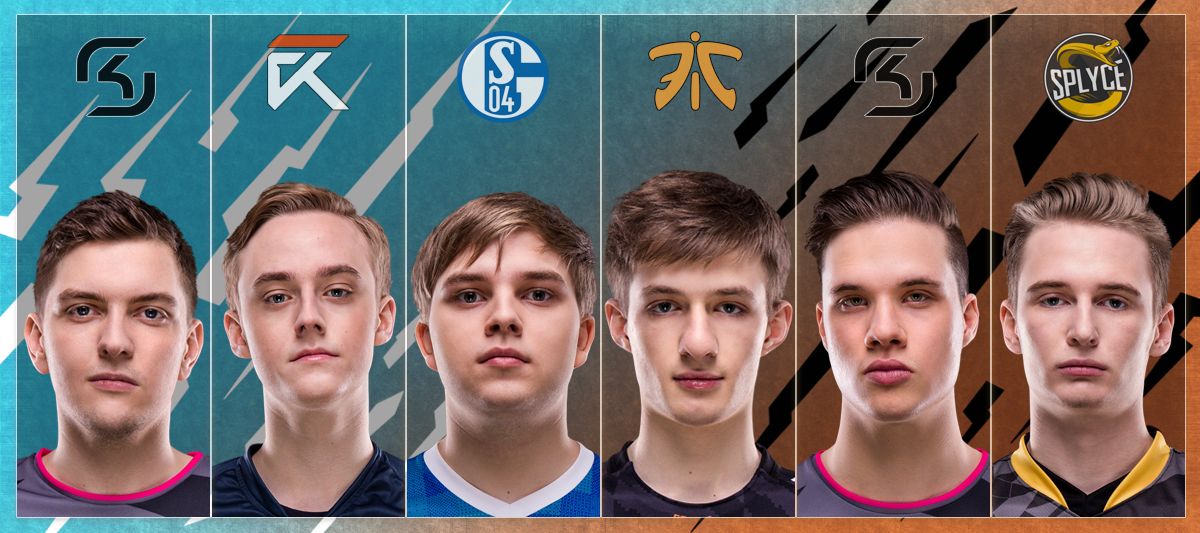 Europe. The continent of dreams, diversity, unity, history and above of all: hope. A land of mythical beasts and unforgettable tales, with each passing year weaving yet more stories and talents for the masses to awe.

Forged in this crucible of harsh competition are Europe's finest.

While many have moved abroad to seek greener pastures; like a proverbial phoenix, the region rises, again and again, continually rejuvenating the realm of what it has lost. 2019 is no exception. In our previous piece, we've said our goodbyes to the EU LCS and its departing stalwarts. Now, it's time for the welcoming of the League of Legends European Championship (LEC) and its new generation.

Compared to the past six years of EULCS, 2019 is the year of change, where the LEC takes the helm as the new brand of Europe's top competitive league. Teams old and new will go all-in for a chance to etch their name in the Hall of Champions dominated by Fnatic and G2 logos. To climb the mountain to glory, many of them had to build (or rebuild) from scratch thus leaving us with a great deal of established players who sadly didn't make it in, but also plenty of noteworthy rookies getting rewarded for their efforts. We're here to give you a guide to new faces who will be joining us in Spring 2019.

Six rookies stand ready to turn heads, and despite conflicting opinions, we think they're going to reshape the EULCS we knew into the LEC that will be. Just as the LCK is experiencing the possible dawn of a new era with Griffin and DAMWON, the new generation is poised to set Europe alight. This is their chance to redefine their region, and ours to watch them.
What's In The Name? Abbedagge (Schalke 04)

Abbedagge. Abbedagge. Abbe- Ok, you get the point. Or do you? Abbedagge's name was derived from the sound the villager unit makes in the legacy RTS title Age of Empires. The chance you've heard of it are probably low, partly because not everyone has played Age of Empir-
Mega: You've never played Age of Empires???
Clock: I didn't, fight me.
Mega: Plebian. WOLOLO!
Despite his LEC rookie status, Abbedagge was a hair away from qualifying for Worlds in 2018. The young German was a Royal Bandit in Turkey, but couldn't steal first place from SuperMassive even after a dominating Summer Split, losing in a heartbreaking series that sealed their fate for 2018. So maybe many of you will think of him as "the rookie with a funny name", but things wouldn't be the same had he made an appearance on the international stage.

Abbedagge is somewhat of a journeyman player. Like his mid lane adversary, Humanoid, Abbedagge has competed at the very top level across Europe's regional tournaments (on teams like Euronics Gaming and Vitality Academy) and on multiple TCL teams, most recently playing for the Royal Bandits. This means even as a 'rookie' to the LEC he has no shortage of experience when it comes to playing in high-level competitions.

Calculated, consistent and reliable, Abbedagge is a rock in the mid lane. When all else fails, he doesn't. He isn't necessarily flashy and is very economical on his summoner spell usage, but he isn't wholly risk averse either. If he spots an opportunity to make a big play for the benefit of his team, Abbedagge doesn't hesitate.

Usually adhering to meta picks, the German midlaner traditionally favours mages in his arsenal of picks: Zoe (a real terror in his hands), Ryze, and Leblanc are some of the few choice picks. But don't sleep on him, he also has a couple of aces up his sleeve like Lulu and Talon, making him almost as versatile as the famed "Champion Ocean" of Nukeduck (who, coincidentally, played for Schalke in 2018 too).
Calculated, consistent and reliable, Abbedagge is a rock in the midlane. When all else fails, he doesn't.
A positive upside of Schalke's pickup is that the current iteration of the German powerhouse very much traces Royal Bandits' approach to the game: Odoamne's capability to play carries, Memento's aggressive but calculated style, and the bot lane of Upset and IgNar put on their carry pants. Abbedage just needs to continue what he did for two splits, and we know that nothing empowers a player, especially a rookie, more than comfort. For this reason, Schalke's bet on the young German duo might pay dividends. With a robust team of backroom staff and coaches, we have no doubt Abbedagge will have his breakout split just like Caps and Jiizuké did in the past couple of years, repaying Schalke for extending their trust in him to carry on their legacy in blue and white.
Why Should I Be Hyped?
One game that highlights the strength of Abbedagge's playstyle is game one of the semifinals of TCL Summer 2018 against Dark Passage. Against another rising star in Humanoid, the loss to Dark Passage in the regular season was still an open wound. Busting out his Ryze, Abbedagge would proceed to help his team systematically dismantle his adversaries. His immaculate positioning, timely Realm Warps, and sheer damage output sealed the all-important morale-boosting first game. Remember to breathe when you see his extremely ballsy flash into the Rift Herald pit!


Shot At A New Crown: Crownshot (SK Gaming)

Spanish powerhouse MAD Lions have rightly been associated with sheer dominance in 2018. Crownshot and the Lions affirmed their status as one of the best — if not the best — team in all 13 European Regional Leagues (ERL) by dominating the competition. Now in 2019, SK Gaming has handed him the keys to a new throne room. His journey for a new crown begins in earnest. We know what you might think, 20 years old might sound like an advanced age for an LEC rookie. In comparison, Korean and Chinese teams are having a wild influx of 17-year-old challengers. This is due to Crownshot competing around Europe's top regional competitions for some time now, slowly improving over the course of his travels to the ADC we see today.

Longtime ADC for French team LDLC, the Slovenian marksman competed at the highest level and brought LDLC several first-place finishes before spending the whole of 2018 with Spanish kings, MAD Lions. What a transfer it proved to be. Crownshot and the Spanish Pride won everything: Superliga Orange twice, the recent Iberian Cup, Summer EU Masters, and other minor tournaments. The only competition he didn't assert himself as the best was EU Masters Spring, where he was stopped in his tracks by none other than the legendary Forg1ven.

Standing in the hall of Europe's finest, two prominent traits stand out greatly to us: his consistency and reliability. Regarded as a very safe and well-rounded marksman, Crownshot has shown on many occasions he is not afraid to sacrifice his life or champions in the pick/ban phase for his team to accrue a more tangible advantage. Due to his former support Falco's tendency to roam, Crownshot has had to play independently in lane. It's due to his calculated and consistent style of play that has kept the bot lane steady throughout the year. The way Crownshot plays occasionally reminds us of Rekkles in his early days, and his champion pool reflects that too, with Ezreal and Tristana his most favoured picks.

Nonetheless, he is certainly not shy in bringing out picks like Varus (his most played champion in 2018), Xayah, and even Kai'Sa when his team needs him to hard carry. With his wealth of competitive experience, teams will certainly not take him lightly once the season begins. Coach Araneae and other staff members have expressed Crownshot to be a pleasant individual who is hardworking, patient and selfless, vital traits for any new team. Now he is on a voyage once again to stranger lands for conquest. Can SK Gaming reap the same rewards?
Why Should I Be Hyped?
LVP Summer was an odd time for MAD Lions. Despite being the defending champions, the Lions dropped many games throughout the regular season. In this game vs ASUS ROG ARMY, the Lions didn't have the best of early games to say the least, with their solo lanes getting set behind and solo killed. In their darkest hour, Mr Reliable donned the crown and aimed for hearts of the ARMY...till they all fell down, like toy soldiers.


The Kingmaker: Selfmade (SK Gaming)

"ELLLL NINEEEE!" Sounds familiar? Selfmade was once part of the infamous and controversial group Low 9 (L9). The group consisted of players who were known for their toxicity and ELO boosting among other things. He has since distanced himself from them to focus on his competitive career and never looked back. Winning nearly everything the European Regional Leagues had to offer in 2018, now at long last, the hottest prospect from Poland is ready to invade the LEC jungle.

A solo queue prodigy, you might be familiar with seeing him play — and sometimes dominate on — his famous Lee Sin and Nidalee. Starting his career in Spain with basketball affiliated club ThunderX3 Baskonia, the Polish youngster made a name for himself and was picked up by MAD Lions thereafter. Finishing second place only once in the LVP in 2017 and not being able to win the EU Masters Spring are the only blemishes on his record.

Throughout his time playing in Spain, Selfmade has grown a lot. From solo queue carry to an aggressive Chessmaster on stage, Selfmade is exactly what his IGN suggests: a jungler who dictates the pace of the game through his own decision making. Be sure to guard your Barons when he is around! What he brings from solo-queue is his unquenchable thirst to attempt aggressive plays, be it early invades, early ganks, solo kills or turret dives, Selfmade will not hesitate one bit to pounce.

Other than his notoriously deadly Lee Sin and Nidalee, Selfmade's champion pool consists of primarily tanks, such as Sejuani, Gragas (a favourite of his), and occasionally Zac. From time to time he doesn't mind busting out carry picks such as Taliyah and Graves to round out his profile as a scary jungler to deal with. Watch him bring out his Full AP Gragas from time to time if he thinks the situation allows it!

Frequently coupled with the rest of the MAD Lions crew and specifically with his mid laner Nemesis, the coordination he has shown to be capable of is something that could probably rival former LCS teams. SK Gaming will undoubtedly be looking for Selfmade to achieve the same if not greater synergy with Korean mid laner Pirean, it remains to be seen, however, if their partnership will reach the same heights.
From solo queue carry to an aggressive chessmaster on stage.
The LEC is filled with many talented junglers. From the current king of control, Broxah, to his experienced and explosive compatriot, Jankos, and other promising prospects such as Mowgli and Caedrel. The competition will be stiff...and Selfmade is no stranger to that. If anything, he will relish it. He was born in the most competitive region in the ERL and molded by it. Sticking with former teammates Werlyb and Crownshot from MAD Lions, Selfmade will be looking to start the LEC how he finished in Spain: self-made.
Why Should I Be Hyped?
For Dragons E.C, Game 2 in the quarterfinals of the Iberian Cup must have felt horrible to play, as they watched the enemy Taliyah dismantle them from the first gank, taunting them with elimination. For Selfmade, the Taliyah in question, it was just Monday. With a perfect blend of aggression, map awareness, objective priority and team play, Selfmade's Taliyah was everywhere. Before Dragons could realise it the game was over, buried under Selfmade's earthshaking path to Iberian Cup glory.


Union of the Snakes: Humanoid (Splyce)

As a region, Europe has always been most famous for producing talent for one lane in particular: the mid lane. The established talent list is, and the burgeoning regional leagues are set to shine even more spotlights on rising talents. Humanoid is one such talent. Among the transfers within the maelstrom of activity during the offseason, his transfer to Splyce was relatively quiet. Those within the scene, however, know he's ready for the big stage.

A homegrown talent of the CZSK Regional League, he was a solid starter for the dominating Czech team of eSuba. With him being the crux in the mid lane they won almost every single Czech tournament, crushing those who dared challenge them. During the past year, Humanoid had stints with MAD Lions, Millennium and even Dark Passage, taking them from the bottom of the league to a very impressive top-4 finish against heavyweight names such as Frozen, Abbedagge, and GBM. However, the true colours of this player have blossomed only after he set foot in Poland. Over the course of his three months with Illuminar Gaming, he placed second in Liga Esportowa and collected the major trophies of ESLMP Summer, as well as the highly coveted Ultraliga. He now gazes upon the LEC, ready to do battle in the snake pit.

As a long time player within the Czech scene, Humanoid brings a flavour most common within the Eastern European leagues: aggression. Flash for him is but a tool to secure more kills. While his champion pool favours primarily mages such as Cassiopeia (no wonder Splyce wanted him!), Azir, and Ryze, he has shown terrifying proficiency on much more aggressive picks such as Irelia and Aatrox. Despite drawing a lot of pressure, Humanoid loves to engage in mechanics-heavy trades in any matchup whenever possible, sometimes overextending and sacrificing himself. Even if he's set behind, the Czech wonder boy is a master of keeping tabs on his CS, often holding even or ahead of his lane opponent. Look for him in the side lanes later on, as he'll either be split pushing with impunity or stalking his next victim.

The departure of Nisqy left a huge void in Splyce. He saw them through the harsher times and was many times their avenging angel. However, they might have found the perfect replacement in Humanoid as he shares an uncannily similar champion pool with Nisqy. Humanoid won't have it easy coming directly into the realm of EU mids, but perhaps he might be able to gel the fastest due to the aforementioned advantage. Only time will tell if he will fit Splyce's system. Among all rookies of 2019, he probably has the largest room for improvement, and with Peter Dun back at the helm for the amber serpents, he will be sure to help sharpen the fangs of Humanoid. LEC beware, the snake is coiled and ready to strike.
Why Should I Be Hyped?
In Week 6 of TCL Summer, the spotlight was once again on the mid lane rivalry between Abbedagge and Humanoid. The Royal Bandits had the right idea: gank Humanoid as many times humanly possible, punish his aggression, don't let him scale (pun intended). It worked twice. Infuriated that he had been so clumsy, Humanoid decided he had enough. And in the 16th minute, he got his opening. One by one the Bandits fell like domino tiles, unable to match the fury of his shuffling Azir. Standing atop a pile of his broken foes, Humanoid succeeded in turning around the game for Dark Passage, paving their road to another vital victory.


Eternal Second No More: Jeskla (exceL Esports)

Ah, Sweden. Home to beautiful landscapes, IKEA, and a treasure trove of talented players waiting for their chance to make their mark. Jeskla now enters the arena riding the coattails of Hjarnan and Rekkles, both ADCs who've achieved remarkable results on the Worlds stage. No pressure then for this young marksmen?

When you compete at the highest level in the ERL, everyone knows there's a simple but harsh rule: either you are consistently the best, or you won't get scouted by LEC teams. Few teams have experienced this more roughly than the Movistar Riders, whom Jeskla played for in 2018. The team took him under its wing after MAD Lions replaced him with none other than Crownshot, his soon-to-be rival.

Despite being a promising team overall, the Riders have had a very tumultuous year. After settling for second place in Superliga Orange Spring, they exited EU Masters Spring early. Despite firmly placing first in the regular season, they lost a heartbreaking semifinal against their rivals MAD Lions in Summer and were unable to attend the EU Masters Summer. Watching the Lions win the EU Masters Summer as well leaves a bitter taste, as Jeskla had to see his rival, Crownshot, accomplish what he could not during his tenure with the Lions.

And yet throughout the season, the Riders could always rely on the young prodigy to show up. He's an explosive player when he sees an opening, which is sometimes at odds with his champion pool, as he tends to favour scaling bot lane champions such as Caitlyn, Kai'sa, and Tristana. His pocket Kog'Maw hints at a positioning-heavy ADC style, which he can play, he just prefers to be in your face. Opportunistic and aggressive in nature, Jeskla isn't afraid to dive into the thick of things. Be it in lane or in team fights, his high risk, high reward style often paid huge dividends for the Riders. And if you think it's only Rekkles' Tristana that makes the clock stop ticking, well, rewatch Superliga Orange Summer Semifinals and tell me how time stasis feels! As the League community would say succinctly, "Swedish ADCs man…"

Jeskla now joins a new league in a team armed with talent both fresh and old, but his purpose remains the same: to finally surpass Crownshot and SK Gaming. With the wounds of 2018 still fresh, the young Swede will undoubtedly be looking for a spot of vengeance. Will he once again play second fiddle or will he finally break the crown?
Why Should I Be Hyped?
Remember when we said Rekkles was not the only Tristana player who could dazzle the audience? Well, here it is. In game four of the Superliga Semifinal, the MAD Lions held a firm lead going into 34 minutes, looking to close out the game. The Riders, needing a big play, desperately engaged and just when all hope seemed lost…

Well, Ibai probably summed it up much better than we ever could. Quoting the great man himself:
"BAM BAM BAM BAM! TRIIIIIIIIIIIIIPLE PARA JESKLA!!!"
Pillars of Glory: Nemesis (FNATIC)

By now everyone and their grandmother would have caught wind of the name 'Nemesis.' He stands as one of the most talked about transfers in the LEC, and his dominance in the year of 2018 with the MAD Lions has finally landed him a spot with the emperors of Europe, Fnatic. We all know how hard the task that lies ahead for the young Slovenian is. Trailing a Worlds finalist's performance in Caps isn't going to be easy, and the faithful army of orange and black will probably be harsh in making comparisons.

Because, to put it simply, Nemesis will never be Caps.

He won't be the confident airhead who yearns to make tons of mechanical outplays, he won't be the one man popping off and paving the way to victory through mid, he won't be poach- well, we don't know this yet. However, one thing is consistent with the comparison: they are both extremely dominant, confident players in their preferred styles. Not even Larssen from the Ninjas in Pyjamas, reputedly one of the best mid laners coming from the regional leagues, could topple the cool and controlled Nemesis in the EU Masters Summer finals. In the year of 2018, where the MAD Lions won nearly everything, Nemesis stood tall, being their pillar of hope and stability. Fnatic now hopes to nurture him into their pillar of glory.
Because, to put it simply, Nemesis will never be Caps
Be it a bad matchup or an early game full of ganks, his safety is flawless, and his lane has never been a liability. The true strength of Nemesis is not just his very high mechanical ceiling; it's his ability to adapt and play what is required for the team. Need a hard carry? No problem. Meta favours mages now? Sure. Gold funneling is back? Taric it is then. His champion pool is enormous, ranging from more supportive picks like Lulu to mages like Azir and assassins like Akali. Look out for his Galio in particular, with many teams falling to his play on the colossus. His flexibility in picks and style make him a very dangerous opponent to prepare for and deal with. Despite his mostly safe and controlled playstyle, if he senses weakness. Nemesis is unafraid to pounce, easily dispatching lesser opposition with ruthless efficiency, be it in lane or team fights.

Nemesis is reputed to be an extremely diligent and meticulous learner by his former coach Araneae, and this could be a much-needed quality when paired with an experienced and selfless jungler like Broxah. His new Danish partner in crime could replace — and possibly improve upon — the remarkable synergy the Slovenian midlaner built with his former teammate Selfmade, unlocking both his talent and Fnatic's multi-menace playstyle.
Nemesis stands on the shoulders of mid lane giants such as Caps, Febiven and xPeke. He is surrounded by the pillars of history and glory, flanked by their many titles in Fnatic's bulging trophy cabinet. To be on Fnatic is to the best, and it's now up to him to ascend the steps to the throne and carve his name into the legacy of LEC titans.

Remember the name: Nemesis.
Why Should I Be Hyped?
"Well, this Nemesis guy isn't doing that much," you might be thinking after the standard laning phase against Gentside's mid laner Saken. His Galio just farms, and even gets caught a couple of times while Gentside slowly conquers the map. But hold your horses and just wait for the two clutch plays that completely reverse the destiny of the match in front of the Baron pit. Moments like these are why Nemesis is standing alongside four Worlds finalists coming into 2019.


Conclusion
Ten teams, nine weeks, six new upstarts, two days remaining, and one dream. Since the inception of EU LCS, never before have we seen such a large influx of highly skilled rookies and they will be hungry for victory. Indeed, all six of them have displayed countless times on the Rift why their skills should be respected; now it's up to them to make everything become reality and immortalise their names into the annals of Europe.

Their dream and their climb begin this Friday at 5 PM CET, as they start their journey in what will no doubt be the most outstanding year in Europe's history. We are ready, they are ready.

Are you?
Enjoy These Articles?
We will continue to bring exclusive coverage so why don't you register on LiquidLegends.net and keep up-to-date with the discussion on our forums!