In 2018, the unthinkable happened. Korea was dethroned as the best league in the world. In every international event last year they were matched and exceeded by the LPL. First came MSI, where RNG defeated Kingzone Dragon X. Then came Rift Rivals and the 2018 Asian Games, where again Korea came up short against China. The final nail in the coffin came at Worlds where for the first time since Season 2, there was no Korean team in the final. Korea's five-year stand at the pinnacle of LoL had come to an end.


For the 2019 LCK Spring Split, we see a wholly revamped LCK. Gone are the old names of glory like Ambition, Wolf, Bang, PraY and GorillA. Now is the time for the new talent to rise up and claim the league for their own. Read on as we rank the ten teams battling it out for the Spring Championship and the task of returning Korea to the summit.


#1


Griffin - Last Year's Bridesmaid, This Year's Champion?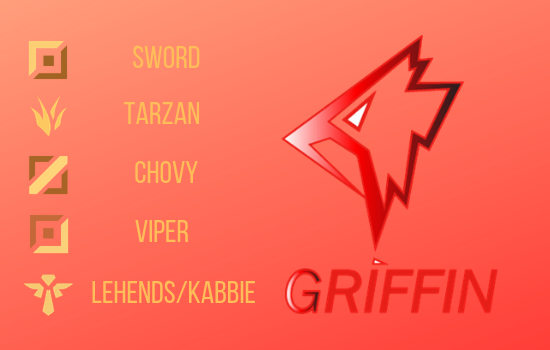 Where they'll succeed:

Griffin is probably the most exciting team in the LCK. They play a fast-paced game that's well suited towards the meta heading into the split and they've managed to retain a young roster that still has room to grow. Top that off with a coach who simply oozes charisma and leadership qualities in cvMax -- his infamous "If you are playing the game with a bomb tied to your neck like in the movie 'Saw', would you have made that play?" quote comes to mind -- and you've got a team that comes into the split ready to make amends for their heartbreaking loss in the 2018 Summer Final.

They're not lacking in the star power department either. At the recent KesPa cup tournament both Tarzan and Lehends showed that they're simply a cut above their competition, with Tarzan toying with his opponents on off-meta picks. Lehends is one of the players I look forward to watching play most. He makes the incredible seem effortless, and his synergy with Tarzan exceeds that of any support-jungle duo in the league.

Where they'll fail:

Griffin's biggest concern will have to be the teams that can match and even exceed their players on a mechanical level. It's not as if they're head and shoulders above the competition on paper. And while they'll most likely have the best synergy early in the season due to their lack of significant roster changes, the longer the season progresses the slimmer that advantage will become.


#2


Afreeca Freecs- Freecish Drive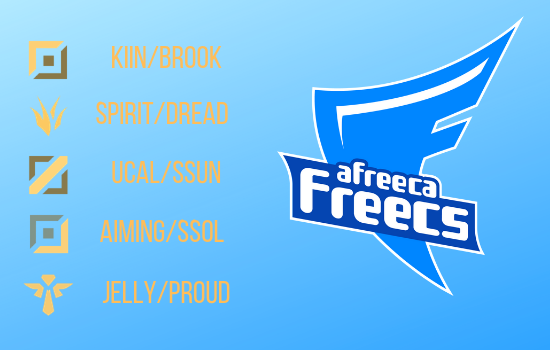 Where they'll succeed:

Speak to anyone about Afreeca and the first thing they'll mention is their determination and drive. In terms of the sheer number of hours put into the game, Afreeca stands head and shoulders above their opposition. With their ten-man roster, they're one of the teams that mainly scrim in-house, fine-tuning their play under the supervision of their head coach, iloveoov.

Last year the Freecs looked threatening in the LCK, placing second in Spring and third in Summer, but they never became a firm favorite to take the title. This year, the changes have rolled in and the Freecs look to have gone up another level. They've retained the services of last year's breakout star, Kiin, while adding former KT Rolster mid laner, Ucal. This means that in terms of raw carry potential, Afreeca stands right up there with the rest of the league's heavyweights. Their core of young talent including Kiin, Ucal, and Aiming means they've got players who still have the potential to grow to become even stronger. And by the looks of it, they have the necessary drive to do just that.

Where they'll fail:

For Afreeca Freecs, the question marks in the jungle remain. Spirit's previous season was by no means poor; however, he lacked the consistency to challenge the top junglers like Score and Tarzan. With the addition of Dread (formerly known as Twinkle), they've got a young player who will keep Spirit motivated and challenge for the top spot, but there'll be pressure on either of them to deliver the necessary level of play to allow their superstars to flourish.

For avid followers of Afreeca, Aiming's name will be one that brings both good and bad memories. There was a time in 2018 when he was challenging Kramer for the top spot; however, a series of controversies meant he was removed from the active roster, and his rise came to a crashing halt. In 2018, there's no Kramer for him to overcome and he'll have first dibs on the starting AD Carry role. He'll also be in a position where he's not necessarily going to be the primary carry. Instead, he'll be asked to be auxiliary support for the main weapons of Kiin and Ucal, and it's going to be interesting to see if he can provide that consistent performance without many resources.


#3


SK Telecom T1 - The Kings of League Return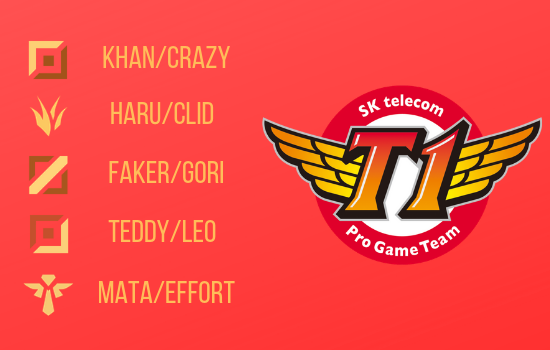 Where they'll succeed:

On paper, few if any can challenge the raw star power that SKT bring to the table. This team was made to win the LCK title, and go beyond that by recrowning SKT as the best team in the world.

Khan comes off a bit of an underwhelming 2018 compared to his big debut LCK season. He showed glimpses of his best, but it seemed like his all-conquering aura that matched that of Faker's past had dissipated. Other top laners no longer feared him and his confidence was nowhere near as high as it had been in 2017. This year, he'll be on a mission to regain his title as the best top laner in the world, and he's joined just the team to do just that. Some may not be aware of just how influential Clid's acquisition may be. On his day, he might just be the best jungler in the World. His high-pressure approach to the jungle will be a stark contrast to former SKT jungler, Blank, and he'll look to partner with Faker to form a crushing mid-jungle duo. Teddy and Mata have the potential to be a flawless bot lane duo that rivals Mata's previous pairing with Deft.

And all this has been said without even mentioning Faker. The best League of Legends player to grace the professional stage had a year to forget last year, and he seemed to be battling demons as he wondered if he was still able to reach the heights of his previous years. The man who had it all faced the worst year of his career, not only regarding team play but individual play as well. For Faker, that's unforgivable. He holds himself to such a high standard and has such talent that it seems impossible for him not to return to his pinnacle in 2019.

Where they'll fail:

Look back on the best SKT teams, and there's a clear recurring pattern. When they succeed, it's all surrounding a supportive jungler. For 2019, SKT has well and truly looked to evolve beyond their previous style of play; however, history is against them. The last time they brought in an offensive jungler was Peanut, and that experiment never quite succeeded. If they're to win the LCK, they're going to need to prove they can indeed play a style that they've never really been able to play. Furthermore, the SKT brand is one that expects victory against any and all opponents. That could result in an environment where if things go wrong, the pressure could quickly rise, and a player like Khan has never really excelled in such an environment.


#4


KT Rolster - Super Team No More?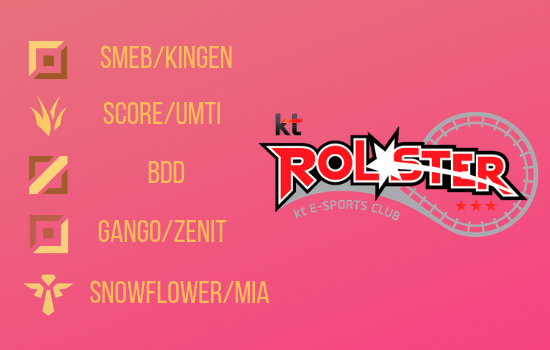 Where they'll succeed:

The best news for KT fans is the fact that they retained their top-jungle duo of Smeb and Score and despite losing Ucal, replaced him with someone who is about as close to a straight swap as you can get. Bdd's move to KT will ensure that they're not weakened in the mid lane and he teams up with Score and Smeb to create the most formidable top side in the league. On their day, the trio of Smeb, Score, and Bdd can manhandle any opposition and its these three players that KT will look to in the big games.

The superlatives simply don't measure up to Score. He's been the best jungler in the LCK for two years now, but with a new wave of talent led by players like Canyon, Clid, and Tarzan, he'll have his work cut out for him. Despite that, he's always been known as the ultimate foil, able to dull even the most offensive jungler's blade; and for the immediate future, I don't see that changing.

Where they'll fail:

The biggest questions will be raised around the KT Rolster bot lane. Both the players are returning to Korea after successful years abroad, with Gango coming from the LJL, and SnowFlower coming from the TCL. Most fans will remember SnowFlower for his dominating play with Thresh on Jin Air, and he comes back tasked with leading a player who's never played in the toughest league in the world. The bot lane duo of Gango and Snowflower won't be tasked with hard carrying games, but they remain a potential weakness that other teams will target.


#5


DAMWON GAMING - All Aboard the hype train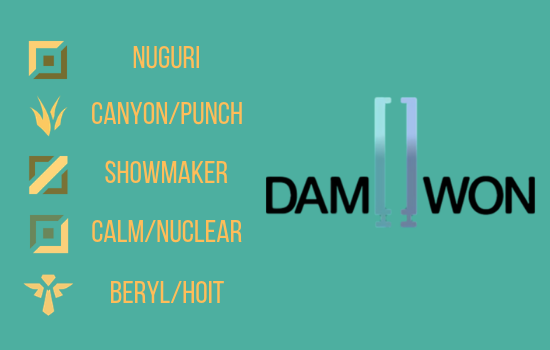 Where they'll succeed:

Ever since DAMWON clinched their spot in the LCK, they've been hyped up as the next Griffin. With a jungler who's made the top-10 in Korean solo queue his own and an impressive rookie mid laner, it's easy to see why the parallels have been drawn to Griffin. Pair that up with the talk of their scrim results with Worlds teams, and you've initiated a fully fledged hype train.

For DAMWON, it's that mid-jungle duo that will determine how far they can go. Canyon's high pressure, mid-focused approach is in line with the progression of the rest of the league's junglers. The name ShowMaker is quite apt for DAMWON's mid laner. With Canyon at his back, he's willing to play aggressively and take trades with his opposing mid laner. His Syndra and Zoe are two of his signature picks that can make movie-long highlight montages, and he's able to play a wide range of champion styles.

Where they'll fail:

While DAMWON did manage to take out SKT at the KeSPA Cup, some doubts still remain for their credentials as a genuine threat for the championship. With so many strong teams, Canyon and ShowMaker won't have the same freedom to reign over their opponents as they did in Challengers Korea. For DAMWON to truly become a threat, players like Nuclear and Nuguri will have to develop beyond what we've seen from them so far, and it's not entirely clear if they're capable of stepping up to the next level.


#6


Gen.G - Focus On Improve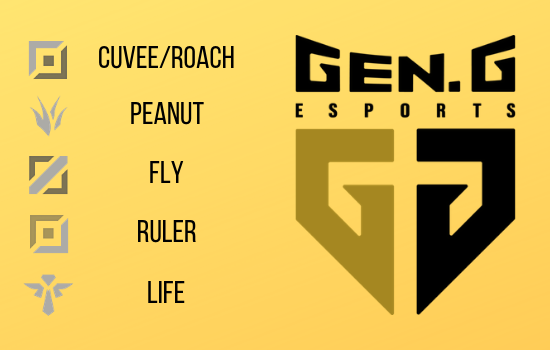 Where they'll succeed:

After their failure to get out of the group stage at Worlds it was clear something needed to change. Ambition's retirement meant Gen.G were ready to move on from the roster they'd inherited from Samsung Galaxy. Despite that, the main focus of the roster remains the same. Ruler's duo with CoreJJ meant he was able to become one of the best ADCs in the world and he'll look to create a similar partnership with Life.

On Kingzone, Peanut regained his freedom to play his "battleward" style and was one of the best junglers in Spring. His form did falter a bit in Summer but on a new team he'll have plenty to prove, as he matches up against an LCK that's chock-full of junglers with styles similar to his own.

Where they'll fail:

Gen.G is one of the most difficult teams to place. On paper, they've got all the necessary components to be a credible threat in the league, but they're also one of the most inconsistent teams. On his day, CuVee matches up against the best top laners in the league but his lows make him look like one of the worst top laners in the LCK. The biggest enemy of Gen.G won't be their opposition but instead the strength of their mentality. If things go awry, they quickly lose their way; as shown by their shock exit in the group stage at Worlds. If they maintain a positive mentality, however, they'll challenge the best in the league.


#7


Kingzone Dragon X - Back to the Basics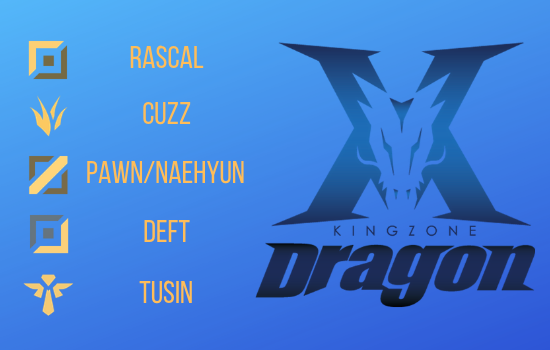 Where they'll succeed:

After losing all five of their starting roster from 2018, Kingzone looks like an entirely new team heading into the upcoming split. By bringing in Deft and TusiN, they've signalled a big change in style as they focus around their new bot lane. Both Deft and TusiN bring a lot of experience and quality to the table. Alongside Mata, Deft became one of the strongest laning ADCs in the league and that looks to continue in his partnership with TusiN.

Where they'll fail:

While their bot lane does bring a hefty amount carry potential to the table, its the rest of the roster that brings up question marks. Health issues meant Pawn was unable to fight Ucal off for the starting spot at KT and with so many star mid laners coming up in the league it seems unlikely that even a now healthy Pawn can measure up to them. The top side is made up of Kingzone's former substitutes in Rascal and Cuzz. Of the two, Cuzz has tended to show better performances, however, the last time Cuzz was a starting jungler, the Korean jungler stocks were looking a lot thinner than they are now.

Then we've got Deft and TusiN, the two stars of the roster. Neither are infallible, with both of them showing cracks in their gameplay in high-pressure situations. And with so much riding on their performance, there'll be plenty of pressure on them if things don't go to plan.


#8


Hanwha Life Esports - Missing the Killer Edge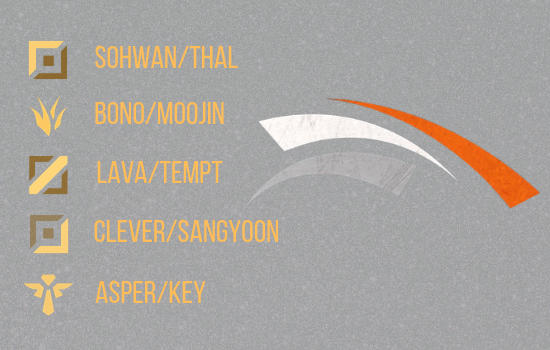 Where they'll succeed:

Hanwha Life enters the new season with a team that's not drastically different from last year but with additions that expand their capability slightly. The bot duo of Sangyoon and Key will remain the focus of the roster; however, the additions of Moojin and Thal mean they can play to the top side if the situation arises. Moojin, in particular, is one to keep an eye out for. After a successful domestic season with the Flash Wolves, Moojin was one of the most impressive players for the Flash Wolves at Worlds despite their disappointing end result. If he can continue his growth at Hanwha, he might just be a dark horse for the buy of the split.

Where they'll fail:

Hanwha Life have been the benchmark for average for a while now. Two straight sixth-place finishes last year (one under the ROX Tigers brand) meant they were just out of contention for the playoffs. They've made upgrades to their top side, but they seem to still be lacking that killer edge. Other teams have also improved, and the relative level of the league is so high that without that spark, Hanwha seems consigned to another split out of playoffs contention.


#9


SANDBOX Gaming - Welcome to the big leagues, kid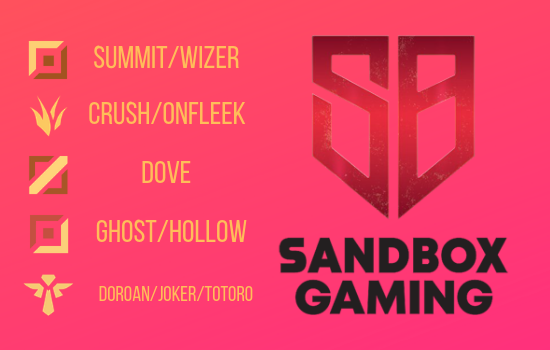 Where they'll succeed:

Alongside DAMWON, Sandbox is the newest team to join the LCK. Under the Team BattleComics brand, this team surprised most by even making the promotion tournament, and then went on to comfortably beat MVP and become the tenth team in the LCK. Most of the hype surrounding the team would have to be for their jungler OnFleek. At the promotion tournament, he went godlike on Olaf against DAMWON, and he showed his capability to carry his team with his gank focused playstyle. He'll need to continue to grow against more capable opponents in the LCK for Sandbox to stand a chance.

Where they'll fail:

Simply put, Sandbox lacks the quality to challenge the bigger teams in the league regularly. In another season, they'd maybe be able to challenge the mid-tier teams but even the mid-tier teams this year have incredibly strong rosters. For Sandbox to rival them, they'll need to grow far beyond their current level. Otherwise, it could end up being a long season for the new kids on the block.


#10


Jin Air Green Wings - Insert SadPlane.JPG Here

Where they'll succeed:

In terms of playstyle, it's likely that Jin Air won't change too much despite their sweeping roster changes. Stitch comes to Jin Air after a stint in the LMS with G-Rex, and he's likely to be the focal point for the team. Whether he can match up to the rest of the ADCs in the league, is another question yet to be answered.

Where they'll fail:

Last year, Jin Air struggled with an inarguably superior roster. They've lost their biggest star in Teddy, who quite honestly carried Jin Air in most of their wins over the past two years. Most of Jin Air's starting roster are players we've seen fail to perform in the LCK, so unless Stitch has been retconned as a Disney prince, there'll be no fairytale run for Jin Air and a whole lot of 'sadplane.jpg' in the future for the Jin Air faithful.