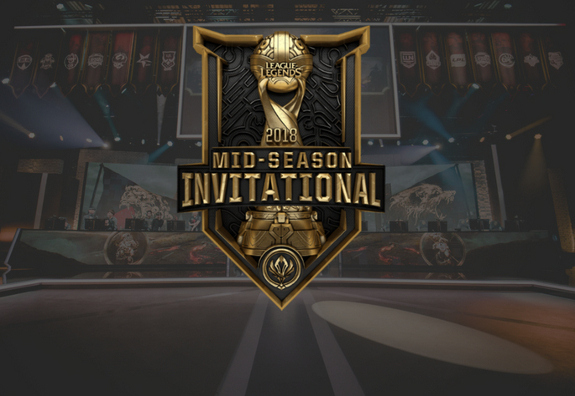 With a full split under our belts, we head to Europe for the first major International event of the year. The Mid-Season Invitational stands as the halfway mark for the year. Here, the best teams from every region come to battle for supremacy in what sets the benchmark for the rest of the year. Will Kingzone demonstrate that Korea remains the best region in the World? Or will an Uzi-led Royal Never Give Up claim their first international silverware? All will be revealed on the Berlin stage.
King-Zone Dragon X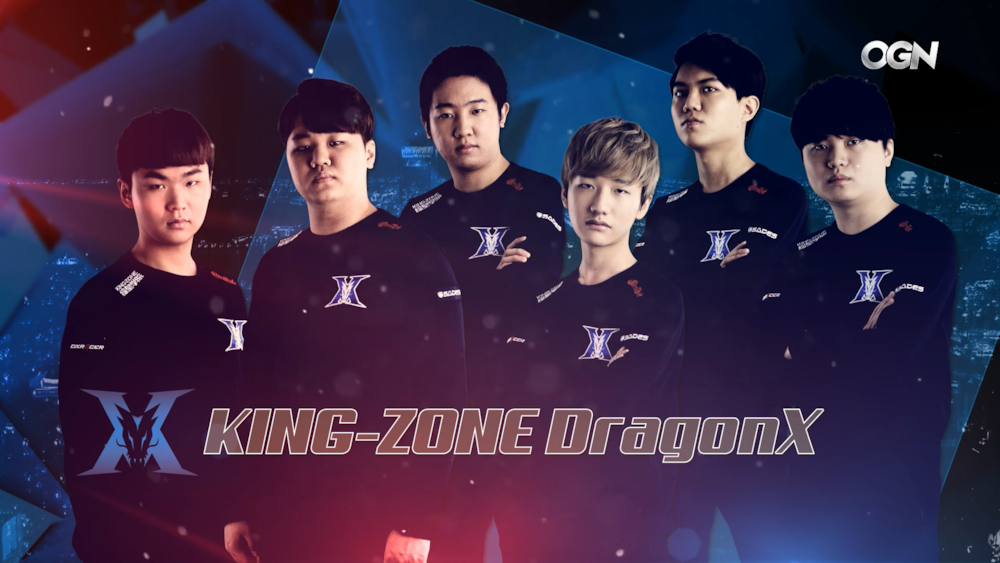 Kingzone Dragon X are the favorites to win MSI.

This statement holds not even an ounce of controversy. The hottest team in Korea for 2018 so far, Kingzone Dragon X have claimed their first title of the year in Korea Champions Spring. With a star-studded lineup, the roster has dominated the entire season, only dropping seven games across the season (including three without their starting 5.) Although they looked out of sorts in their first game of the final, Kingzone proceeded to blitz the Afreeca Freecs in the next three games to clinch the victory - and the second finals victory in a row for five members of the six-man roster.

Kingzone used their 2018 Spring Season to refine their playstyle. Emphasising their strong sidelanes, the team used superstar MVP mid laner Gwak "Bdd" Bo-seong and fan favorite Jungler Han "Peanut" Wang-ho to exert immense pressure. On picks like Ryze, Taliyah, Galio, and Sion, Bdd delivered impressive performances consistently throughout the regular season. Working in tandem with Bdd, Peanut delivered impressive, controlling performances on both carries like Kha'zix and Nidalee, and tanks like Sejuani, Olaf, and Skarner. Peanut's widening of his champion pool in Spring was reassuring and has been facilitated by Kingzone's excellent team play.

In the bottom lane, Kim "PraY" Jong-in and Kang "Gorilla" Beom-hyeon have been as stable as ever. Statistically, PraY's brightest points come in assists - with 208 across the regular season. Pray and Gorilla's ability to control the bottom lane results in massive advantages for Kingzone. Pray's high assist count also indicates that they play a style which allows their top laner to have an immense contribution to their team.

Kim "Khan" Dong-ha, the starting Top laner for Kingzone Dragon X, is quite arguably the best top laner in the world currently. Carrying the game on champions like Gangplank, Gnar, Jayce, and Camille, Khan's only tank champion for the regular season was Sion. Two games of the tankier, scaling-focused Cho'Gath in the finals against Afreeca came as a surprise.

The finals performance for Kingzone Dragon X indicates two things - one, that they are the most dominant team in Korea (as expected.) The second is that they are able to adapt reasonably quickly, and are not pigeonholed into relying on Khan to win his lane. The new global focus on Kai'Sa as a priority pick was reflected in Kingzone's four picks in a row of Kai'Sa remarkably early. The two Cho'gath games serve as an indication of Khan's ability to frontline for his team - something we may see more of at MSI.
Player Spotlight: Khan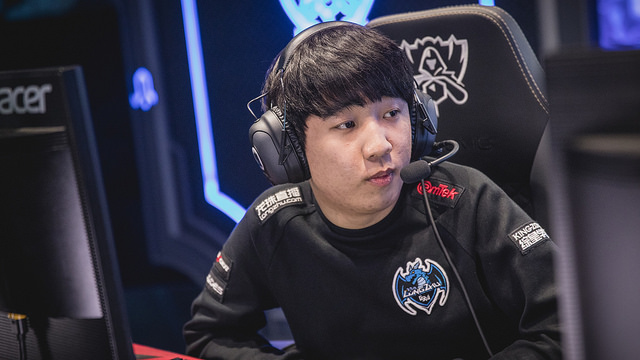 Without a doubt, all eyes should be on Khan. While Kingzone is stacked with talent in every other role, Khan is the star of Kingzone Dragon X. Khan historically has been able to play whatever he wants, regardless of the meta, because of his ability to play carry champions. Khan's Jayce, for example, was banned six times and picked once out of the eight games he played at the World Championship. Khan's ability to pressure the top lane without falling to repeated ganks or jungle pressure in Spring 2018 has set him above the rest of the top lane pool in the LCK.

However, the meta has changed. While Khan was able to treat viewers to a game of Jayce in the fourth game of the final, his showing was not as crisp as usual. The current bottom lane and AD Carry focus means that more frequently, teams pick tanky champions for the top lane. This can be both a blessing and a curse, and Khan will be looking to demonstrate his ability to take over the lane on many different types of champions.

Khan's laning mechanics and performance are superb. Regularly demolishing top-tier competition like Kiin and Smeb in the LCK, Khan will once again be let loose to dominate the top lane on the world stage. His flashy, pentakill-earning Riven and ever-reliable Jayce will be waiting in the wheelhouse of Kingzone, ready to surprise and entertain. Regardless of the opponent that he will face, Kingzone's Khan of the top lane will be looking to dominate MSI 2018.
A Crack in the Dragon's Armor?
Kingzone's first game of the finals is a chink in an otherwise stellar season for the team, and one teams can look to expose further. The unusual Zoe/Gnar/Kai'Sa combination resulted in a draft with a relatively small amount of waveclear, and one that is unable to deal with Baron Pushes due to its relatively low range. This team was a direct change from the usual Kingzone focus on champions like Taliyah, Ryze, and Galio - champions that can push and roam from the early stages of the game. The Zoe performance from Bdd was relatively good, but deprived of their familiar, proactive tools and at a disadvantage in scaling, Kingzone handed Afreeca an uncharacteristic win, right from the draft.
Kingzone's emphasis on roaming champions can be expected, and accounted for in both draft phase and pick/ban - Galio's priority has lowered somewhat recently, with the addition of Sion and Banner of Command's rising popularity. As Bdd will look to roam, pressuring mid hard with a strong mid-jungle duo will likely indirectly relieve pressure on the sidelanes. A removal of Taliyah and Sion, two champions that Bdd has shown mastery on (and one a flex pick for Khan) would be the best draft situation for an opponent of Kingzone. Forcing the team into a situation where they have to or stay in their own lanes for the early game is the best possible way to set a team up for victory against the reigning Korean champions.

Regardless of the preparation, pick and ban, and strategy any other team brings to MSI 2018, Kingzone Dragon X comes in as the clear favorites. As a team with mechanically stellar players in every role, teams will be hard pressed to match them in mechanical skill across the board, let alone strategic understanding of the game. It is up to the rest of the world to find the cracks in the armor, lest Kingzone Dragon X become the new Korean overlords.
Royal Never Give Up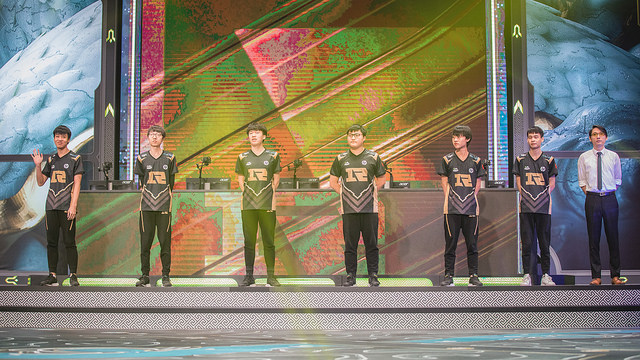 Royal Never Give Up's road to MSI hasn't been as comfortable as that of many of their peers in the group stage. After a stellar performance at 2017 Worlds where they went agonizingly close to a place in the Final, RNG looked to consolidate their roster by bringing in a talent from across the Taiwan Strait. Former Flash Wolves Jungler, Hung "Karsa" Hau-Hsuan, was undoubtedly a superstar in his own right but many questioned if he was the necessary purchase to take RNG to the next level. His aggressive playstyle was much like RNG's starting jungler, Liu "MLXG" Shi-Yu, and in the early weeks, his performances seemed to pale in comparison to MLXG's. The reason for this could've been pointed out as RNG's inability and perhaps their unwillingness to play around Karsa's play style; seemingly revealing that their purchase was a misguided attempt at expanding the team's playstyle with a player who could not accommodate this expansion.

Despite their early teething problems, and the resting of their star AD Carry, Jian "Uzi" Zi-Hao, Royal Never Give Up went 2-0 in the first week of the LPL, taking down Invictus Gaming and TOP Gaming. However, the celebrations were short-lived, as they went 0-2 the following week, demonstrating inconsistency issues that would plague them for much of the regular season. In fact, they'd have to wait until the fourth week of the LPL to pick up another series win, as Karsa seemed to finally stamp his mark on the team with dominant performances on Rengar and Kha'zix leading the team to victory against Bilibili Gaming.

This week also marked the return of Uzi to starting lineup. After revealing his struggle with wrist injuries over much of his career, Uzi decided to take a break for the early parts of the lengthy LPL season. But it seemed as if his team could no longer do without their spearhead and in his returning game he picked up MVP honors, going 5/0/4 on his trademark Kog'maw pick.
Uzi's return sparked a resurgence for RNG as they went the next three weeks without dropping a set as they headed into the final weeks in ominous form. And then, with a flip of a switch, the old inconsistent RNG returned. Demoralising defeats to JDG and a seemingly unbeatable Invictus Gaming were bad enough, but it was their second loss at the hands of a floundering LGD that had many hovering their pencils over RNG's name, wondering if they should cross their names out of the title race. Luckily, two wins over Rogue Warriors and TOP Gaming kept RNG's faithful fans dreaming of an LPL title, as they rolled into the playoffs as the third-place team in their group.

At playoffs, the Royal Never Give Up that was promised finally arrived. Here, Uzi and Xiaohu stepped up to the plate and hit it out of the park again and again as they took down any and all opposition. Their first game against a struggling Team WE wasn't quite the statement game one would've hoped for, as only an almighty throw from WE gave RNG the win. However, once they were given a foothold, they refused to let go, dispatching WE in a more convincing fashion afterward. They then took down Snake in a more convincing fashion, with Xiaohu proving to be the difference maker, with his Swain performances racking him up MVP honors on two occasions.

Next up came their biggest challenge yet. An Invictus Gaming team looking to claim their own piece of history as one of the most dominant LPL teams in recent history stood between RNG and their fifth straight Final appearance. In a seesawing affair, it was Uzi's Kai'sa that stood tall, with a combined KDA of 33/5/12 across three games. In the fifth and deciding game, Xiaohu once again stepped up with a dominating Sion performance to seal RNG's place in the final, facing off against arch-rivals EDG.

It seemed like two similar teams facing up against each other in the final. Both teams faced inconsistencies and extended periods of time without their starting players, EDG with Clearlove and RNG with Uzi. In what would be their third Grand Final match up against each other it was EDG that struck first, taking the first game in a convincing fashion. However, RNG was not to be denied as Uzi demonstrated his transformation from a selfish player to one willing to put the team in front of him, playing Ashe in a supportive role in game two. Then he took the change to remind everyone just how dominant he could be when giving the resources as he crushed EDG on his most comfortable "protect the puppy" strategy, going 7-0-2 on Kog'maw. This time, there'd be no denying Uzi and RNG, after three straight second-place finishes, they'd clinch their second LPL title and a spot at MSI.
Player Spotlight: Uzi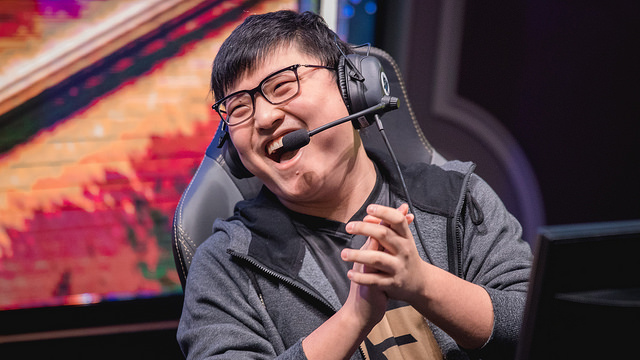 Finally, Uzi's shadows have been vanquished. The man who'd been proclaimed one of the best in the world stood with a trophy case filled with runner-up rings. It had been one of the great travesties in League of Legends esports. For so long, Uzi has been haunted by his failures. Some out of his control but others products of a player who'd been placed as the figurehead of his teams since he was only sixteen years old.

Plenty of people have highlighted his once bratty and overbearing personality, such as the time he almost refused to go to the 2016 World Championship due to a falling out between him and other players on Star Horn Royal Club. Others have mentioned his inflexibility in playstyle as another aspect that held him back from achieving the titles that would place him in the pantheon of the all-time greats.

Regardless, Uzi has slowly but surely plucked away at his imperfections, both as a player and as a person. Now 21 years old, the player that is headed for the Berlin stage is a far different man from the teenager we first saw capture imaginations at the Season 3 Worlds. He's become more mature, a player who stands not only as the spearhead of his team's in-game attack but also a pillar of emotional support for his team.

He's a player who's just as comfortable playing the old strategies that brought him much success as he is playing a more supportive role, demonstrated by his choice of Ashe in the LPL Final. When it comes to raw star power, very few in the World can match up against RNG's Uzi. And now after banishing the second place curse that seemed to hang over his head, he's got his eyes set on his first International tournament silverware to pair up with his LPL title
Past Inconsistencies and Puzzling Choices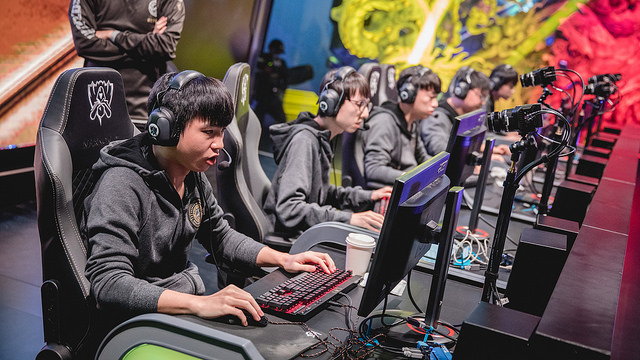 While Royal Never Give Up's playoffs performances were solid in their own right, we can't forget their propensity for switching off from time to time. Against the best in the world and on the international stage, any return to their regular season inconsistencies could see them bundled out earlier than they'd hoped. For RNG to live up to their fan's and their own expectations, they'll need to be on the ball at all times.

Something that will be sure to raise eyebrows is the choice of bringing Karsa as their choice of substitute over their top lane substitute, Zz1tai. During the playoffs it was Zz1tai who had the greater impact as a substitute, being swapped in and out with Letme on a regular basis. While Karsa and MLXG both have similar roles on the team, Zz1tai opens up the option of playing more aggressive top laners. After their willingness to play Zz1tai consistently in the playoffs, it seems puzzling to choose Karsa over him. However, with a meta focused heavily around the ADC, perhaps RNG decided that having a backup to an emotional player like MLXG was better than a more flexible roster.

For some, Royal Never Give Up remains the team that stole Invictus Gaming's rightful spot at MSI. No doubt, these thoughts may be stuck in the heads of RNG's players and LPL fans alike, who may wonder if they are truly the best LPL team. For them to cast these thoughts aside, a strong performance at MSI is necessary, and only a place in the final will sate them.