Choose a Tab Above
KingZone Dragon X: Undeniable Favorites
Afreeca Freecs: Wildcard No More
Versus: Head-to-Head and Predictions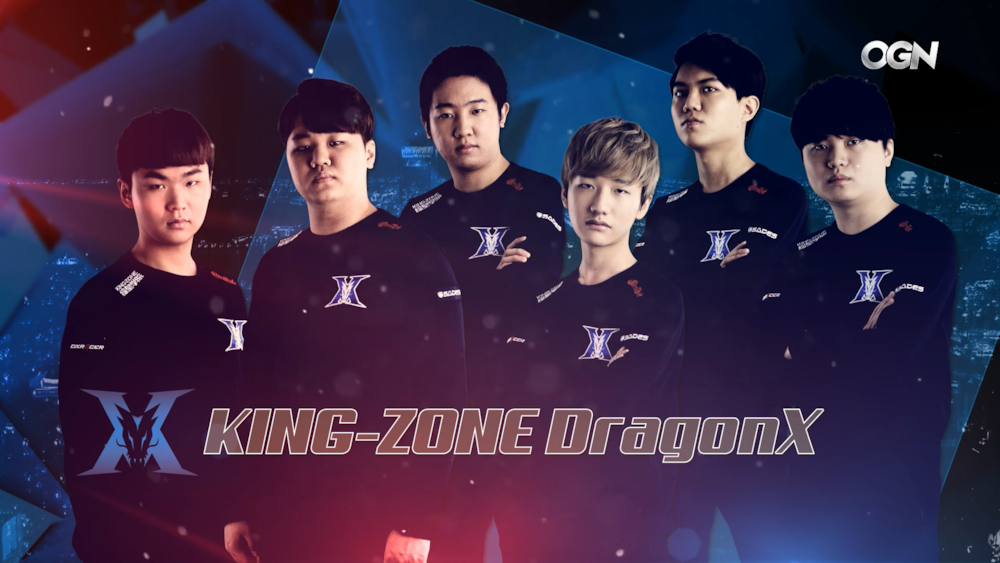 Going into the 2017 World Championship, Longzhu Gaming was the team to watch. The disaster that was 2017 Spring Longzhu was a distant memory, and the team known for bulldozing SK Telecom in the Summer LCK Final was expected to dominate the tournament.
After being swept by eventual winners Samsung Galaxy 3-0, the team sought to fix their clearest issue - their inexperienced jungler - by picking up another veteran voice.

Surprisingly, that veteran has come in the form of superstar SK Telecom and another former ROX Tiger, Han "Peanut" Wang-ho. Peanut - who has now made the LCK finals five times in a row - has far more experience and authority than Moon "Cuzz" Woo-chan. Peanut's experience on SK Telecom T1, ROX Tigers, and Najin e-mFire mean he is currently in his fourth year of play - and a far cry from the risky 'battleward' style he practiced as part of the ROX Tigers.
The Final Boss
Acquired by Kingzone in January, the former Longzhu Gaming roster became Kingzone Dragon X in a complete roster transition to the new organization. Bolstered by their new jungler, Kingzone tore through the participants of the spring split, dropping only 2 out of their 18 sets in the first few weeks. Since then, the team has functioned like clockwork - only dropping 7 games in total across the split - to achieve a staggering 83% win rate.

Kingzone has worked tirelessly to refine their identity as a multi-carry team. In the top lane, Kim "Khan" Dong-ha has continued to dominate on lane-dominant and hard-carry champions like Gnar and Gangplank, respectively. As Khan dominates the top side, picks like Ryze, Taliyah, Galio, and Sion have given mid laner Gwak "Bdd" Bo-seong the ability to shove lanes and move to assist him.
Much like how KSV inherited the 2017 World Champions in Samsung Galaxy, Kingzone Dragon X took ownership of a team with huge potential. Unlike KSV, however, Kingzone brought in a new player in Peanut and had continued to evolve and refine their talented team. A more experienced jungler in Peanut has bolstered any worries that the team may have. Flashy plays have dominated Kingzone's games - with players like Khan, Peanut, and Bdd this comes as no surprise - and fantastic highlights like Khan's pentakill on Riven against the ROX Tigers have served as indicators that the team has been no less impressive across the new year.

Kingzone's strength was evidenced by the presence of two members in the top 5 MVP rankings. Both Peanut and eventual winner Bdd boasted incredible performances over the split, on a roster with Khan, Kim "PraY" Jong-in, and Kang "GorillA" Beom-hyeon - all superstar players in their own right.
Unbridled Aggression
Due to their direct seeding into the grand final as part of finishing first in the regular season, Kingzone Dragon X have been afforded the luxury of being able to hide their strategies, their picks, and their overall game plan. Players like Peanut and Khan are likely practicing their aggressive, dominating champions like Lee Sin and Riven. A team like Kingzone thrives on being able to destroy their opposition across the series, and could very well opt for a hyper-aggressive pick ban in game one in order to test the waters. Should they go for a strategy as over the top as this, crushing Afreeca in game one may also mean crushing their spirit to play on in the series.
If they are able to raise the trophy, Kingzone Dragon X will become the first Korean representative not called SK Telecom T1 to represent Korea at MSI, and likely attend as the favorites to win the tournament. The team lies patiently in wait - once again a sleeping dragon - and even though they have played no broadcast games in two weeks, will be clear favorites to take it all.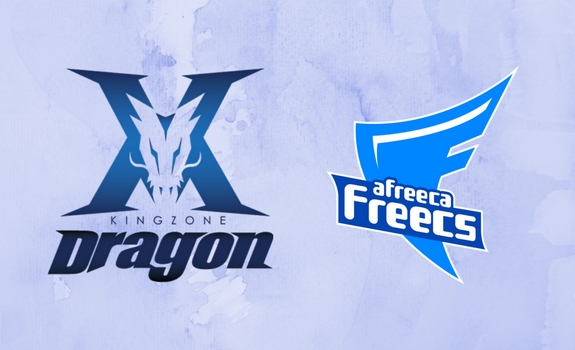 For most of this year, Afreeca has hovered around the top 4 without ever really pressing their case as a proper threat to the title. And with good reason. For a couple of splits now, Afreeca have just made up the numbers in the finals. This year, however, we've seen a more focused and determined Afreeca. Meanwhile, Longzhu comes off the back of a disappointing Worlds campaign and then were thrust into a new organization in Kingzone with one goal in mind; to prove to everyone that they were the best team in the world. That all starts with victory in the Spring Final.
The Top side: Fight Fire with Fire
For the entire split, Afreeca Freecs' Kiin has faced comparisons to Kingzone's Khan. Those comparisons seem fair considering both of these players have an affinity towards playing carry champions. But for Kiin, these comparisons seem premature. He's constantly gone on record about how he doesn't see himself as a match for Khan, and these Finals serve as the perfect stage for him to finally prove his worth.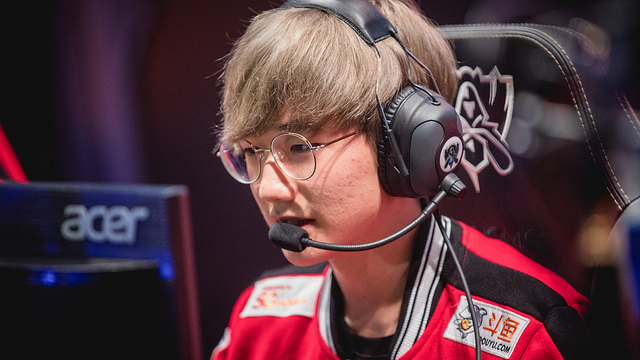 Khan's dominance of the competition has continued into Spring but what's really helped him continue to grow is his pairing with Peanut. Peanut's time on SK Telecom was topsy-turvy, to say the least. SKT never truly managed to integrate Peanut into their system in the year he spent there, and yet Kingzone have managed to set him up for success in less than a split. It helps, of course, that he's paired up with his former ROX teammates in Pray and GorillA.

The duo of Peanut and Khan is a formidable one. Two aggressive, very mechanical players, who are given any resources they're asked for by their team. It's near impossible to combat. For Afreeca to beat them, they'll need to hand over more resources to the top side and fight fire with fire. And even then, victory against Khan and Peanut isn't assured.
Mid Lane: Kuro Vs. The Replacement
Bdd has found himself in a curious position on Kingzone Dragon X. The young prodigy's debut on CJ Entus -- alongside his opponent Kramer no less -- was severely underwhelming. On both Longzhu and now Kingzone, however, he has developed into Korea's newest superstar mid laner.

Bdd is now on a roster that has echoes of the old fan favorite, the 2016 ROX Tigers. With the core of the 2016 ROX lineup around him, BDD finds himself in the same role as Kuro once did. Bdd provides assistance and coverage to his top laner and jungler, much like 2016 Kuro did.
On the other side of the rift is a new Kuro, forged in the battles of the 2017 and 2018 Afreeca Freecs. Kuro has grown immensely on a new team where he's given the space to have a starring role. Corki, Kassadin, Azir, and Anivia are just some of the champions Kuro has been able to demonstrate his prowess on. While Kuro has still shown up on team-centric, versatile champions like Karma and Taliyah, Kuro's play on more gold-hungry, hard carry champions has been refreshing to see.

As a key pressure point for both teams, expect champions like Taliyah and Galio to be hotly contested between Bdd and Kuro. As players that often roam with their junglers to pressure the side lanes, both players have a strong team play focus as part of their team's win conditions. Kuro's surprise Banner of Command rush on Karma may make an appearance - as a way to nullify Bdd's roaming ability.
Bot lane: PraYrillA vs. KrasiN - Fight to the Death
Pray and Gorilla have been superstars of Korean League of Legends since their time as part of the NaJin organization. While they were on different teams, both players exhibited extreme skill both regionally and internationally. Their pairing on KOO Tigers resulted in three years of Korean bot lane dominance - with both of them being consistently top-tier in their role.

Kramer and TusiN, on the other hand, could be considered the up-and-coming challenger to the duo affectionately known as 'PraYrillA.' In three splits, Kramer and TusiN have developed immensely. Kramer has grown into a stable, reliable, and gold-efficient carry in the bottom lane. Conversely, TusiN's aggressiveness and ability to initiate fights has been astonishing. TusiN's playmaking ability has been shown most clearly when he's on Rakan, a champion which he's been unbeaten on for the entire split.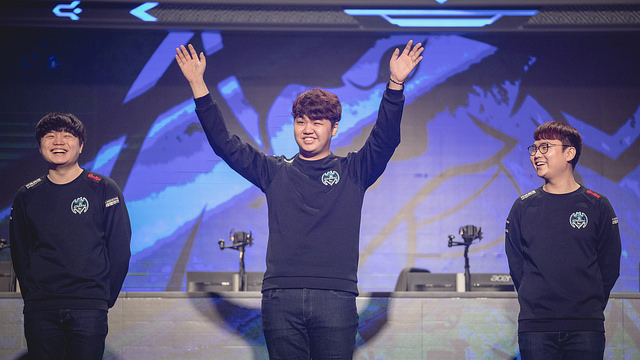 The matchup itself will no doubt be tense. TusiN's usual ability to dominate with initiation and stellar tank support play will be equaled by GorillA's equal high level of play on disengage champions like Tahm Kench, and the experience and consistency of Kingzone's bottom lane means they are less likely to fall in the 2v2. Both PraY and Kramer share their top 5 AD carry picks, and Kingzone's victories against Afreeca most recently came through PraY's exceptional Kalista play. Reduced Ezreal (and Kalista) priority by the entire LCK recently likely means the bottom lane will see Caitlyn, Varus, Xayah, and Jhin.

Because both teams have a focus around unlocking the solo lanes early on, the bottom lane may be more isolated and as a result, picks will likely focus on lane-dominant champions. Caitlyn and Jhin are two champions that are able to push and clear the lane effectively and scale extremely well into the mid and late game.
Conclusion
Before Afreeca's game against KT, the final would have seemed like a formality for Kingzone. However, Afreeca's willingness to play off the cuff and not only pull out surprise picks but dominate on them shows that this is a team that has grown tremendously since then.

For Kingzone, Khan and Peanut's aggressive dominance stands out. If they're able to get far enough ahead, Afreeca will be hard pressed to pull back their lead and will quickly crumble. Meanwhile, Afreeca's bot lane stands backed up by a meta that favors TusiN's aggressive playstyle and will be their biggest advantage heading into the final. Nevertheless, PraY and GorillA are two of the best defensive players in the world so it seems unlikely that Afreeca can get a foothold there. Regardless of the final's result, a new LCK representative will be heading to MSI this year, and by all measures available, Kingzone Dragon X will be that representative.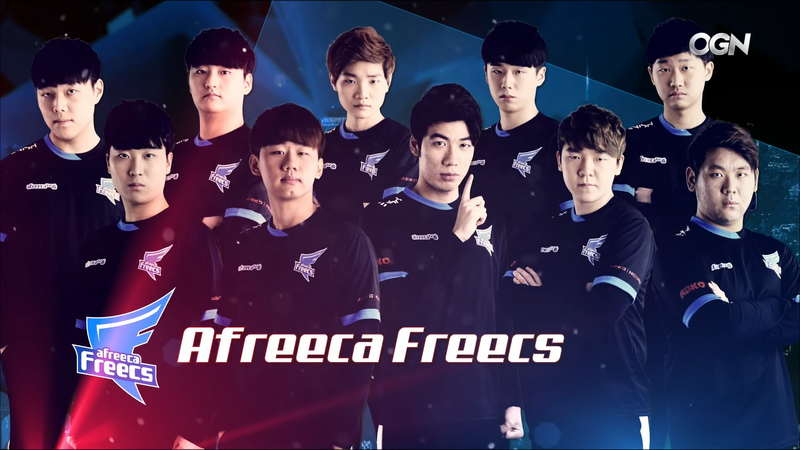 Ask anyone what they thought of Afreeca before 2018 and they'd describe them with one word. Wildcard. One day they'd take down an unbeatable SK Telecom, the next they'd fall to an also-ran like BBQ Olivers. Sure, the title of 'SKT Killers' had a nice ring to it but everyone wants a title. Inconsistency ruled over much of their pre-2018 legacy and for them to become true contenders something had to change.
Goodbye Wild Card, Hello Trump Card!
For the 2018 season, Afreeca had chosen to complete a 180 on their original roster decisions. They released their experienced shotcaller in Jang "Marin" Gyeong-hwan and replaced him with Kim "Kiin" Gi-in, a top laner barely out of a rookie season that raised some eyebrows but was a far call away from their pedigreed top laner from 2017. Instead of centering their team around a resource-heavy top laner, it was time for a new Afreeca roster that focused around the budding talents of Ha "Kramer" Jong-hun and Park "TusiN" Jong-ik.

That didn't mean Kiin wasn't allowed to shine when the opportunity arose, his most played champions are all capable of carrying when given the resources. It just meant his playstyle was far more accommodating in a meta where bot lane held so much power. With Marin, there was no question as to where Spirit would spend his time in the early game. Marin's uncompromising playstyle meant that against the better teams where Marin's advantages were not as clear-cut, Afreeca almost always fell short. When his pocket picks like AD Kennen worked, Marin was hailed as the MVP of their victories, but when they didn't, Afreeca fell to pieces. With a more balanced top laner, it became clear that this team's other components had more to give.
Arise, TusiN and Kuro!
TusiN's performances for Afreeca this year have been nothing short of incredible. With a tank meta that allows him to shine as front line tool for the team, Tusin has finally developed into a well-rounded player who does just as well on the defensive as he does on the offensive. This improvement in his play did not go unnoticed as he was tied for second place in the MVP standings alongside his Freecs teammate Ha "Kuro" Jong-hun, and Kingzone's Peanut. His pairing with Kramer seems to have finally kicked into high gear in 2018, with their most impressive performances coming on the lover's duo, Xayah and Rakan. Tusin's 100% win rate on Rakan demonstrates his complete domination on the champion and places him firmly as one of the best supports in the league. The time when TusiN was a Thresh one-trick is gone, now TusiN leads valiantly from the front, whether it be Braum, Rakan or his favorite chain warden.
For Kuro, Afreeca has been the home to a revival of sorts. On ROX Tigers, he was often sacrificed for his top and bottom lanes, left on an island to deal with his opponent. For the most part, this playstyle worked but against SKT, a team known for pressuring mid, he often fell behind. This left him with the unfortunate reputation of being a bit of a choker when it came to playing against Faker. On Afreeca, this sacrificing playstyle remains, however, his skill level has increased dramatically since then. Supportive picks like Galio, Malzahar, and Taliyah dominate his champion picks meaning he is able to scale up without a considerable amount of gold. The impactfulness of the ultimates of these champions means that his gold share is no longer the most important aspect of his usefulness and it is one of the main reasons why Kuro now stands as one of the best mids in the LCK. He is the glue that holds together Afreeca, and without him, they'd fall to pieces.

Despite their progress as a team and their dismantling of KT Rolster last weekend, Afreeca remains the underdog in their match against Kingzone. Kingzone's all-conquering record speaks for itself. For Afreeca, just being in the final is a success all on its own. But now that they've made it this far, the trophy is only an arm's reach away. The Freecs will need their best performance yet to topple Kingzone, and even that might not be enough.