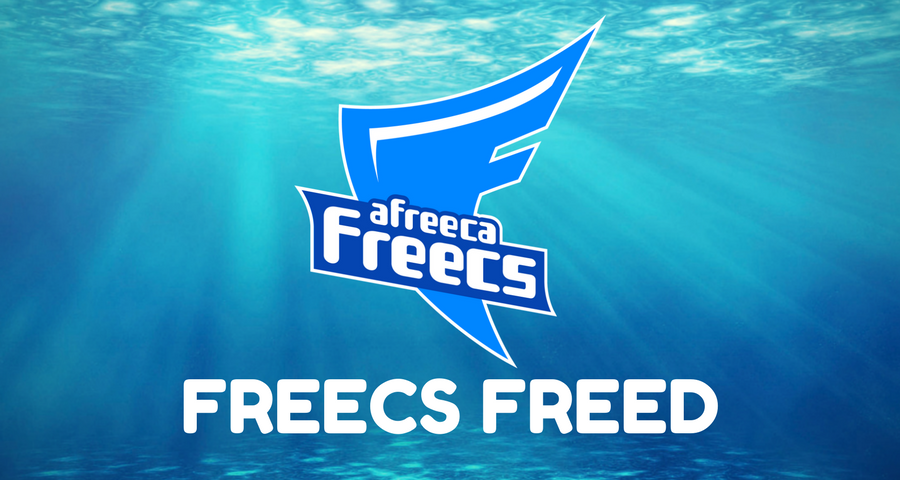 After a season of mediocrity, 2017 was supposed to be the year that Afreeca ascended to contend with the superpowers of the LCK. With 2015 Worlds MVP Jang "MaRin" Gyeong-hwan and an aggressive jungler in Lee "Spirit" Da-yoon, the team was decidedly top-heavy throughout the year. A transition away from a less reliable mid laner in Son "Mickey" Young-min - the previous figurehead of the Freecs - to a more controlled mid laner in Lee "Kuro" Seo-haeng enabled the team to funnel resources into MaRin. After his success on SKT with a similar playstyle only a year before, many thought this would also bring success to the team.

However, fast forward a year, and the top laner's departure from the team after an early playoffs exit was disappointing and yet unsurprising. The cost that came with playing to MaRin's strengths was far too great for the results it yielded. It was time for a rethink.
A Kiin Eye For Talent
MaRin's replacement was Kim "Kiin" Gi-in, a relatively unknown up-and-coming talent from the since-relegated Ever8 Winners. An aggressive, carry-focused player during 2017, Kiin was regularly put on champions like Camille, Jax, and Renekton. Kiin's aggressiveness and ability in top lane resulted in 12 solo kills across the season, ranking him fourth in top lane, and his GD@10 was only -84 - impressive for a player on a team with a 30% win record.

Kiin's 2018 Spring Split performances have seen him become a linchpin of the new Afreeca. His ability to survive, and occasionally thrive, on his own in the top lane has not gone unnoticed. Brought in as an independent, versatile top laner, Kiin has been surrounded with strong veteran presences to guide him throughout this split. Kiin's presence on the team has allowed the Freecs to distance themselves from the topside-heavy focus that had dominated much of their 2017 play. Many of Afreeca's games in 2017 involved MaRin with a playstyle intended to dominate lane - Renekton, Rumble, Gnar, and Kennen are in his top 8 champions - and as a result, they invested vision (and gold) into MaRin to make sure he had the resources to carry from the top lane. With a newer, more self-sufficient team member in the lineup, other roles were able to shine on the 2018 Afreeca Freecs.
The Men in the Shadows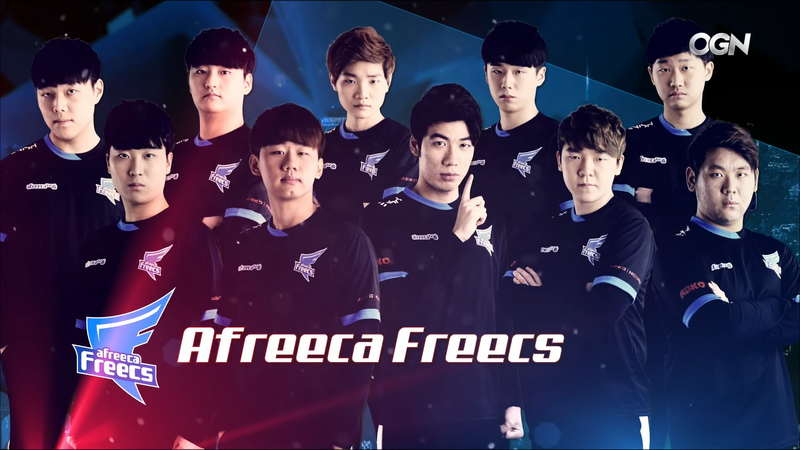 Kuro's story as a mid laner has always been tainted by the storyline that he would always 'lose to Faker' in big matches, and it often became self-fulfilling with two heartbreaking defeats on Kuro's side at the World Championship against SK Telecom T1 that resulted in the player never touching the Summoner's Cup. A player who distinguished himself on control mages like Viktor, and unusual pocket picks like Aurelion Sol and Varus, Kuro is a player who has always been measured in his play. Where a player like Mickey or Faker would go for a 50/50 play, Kuro is the resident supportive mid laner of the LCK, playing a wealth of Galio, Taliyah, and Malzahar across 2017 and 2018 in order to facilitate his team. A veteran player with years of experience, Kuro's ability to roam and support Kiin has been invaluable across the season, enabling Kiin's picks of champions like Camille and Fiora to dominate lane safely.

On the other hand, Kramer's time in the LCK has made him an unusual player to gauge - his stint on the doomed 2016 CJ Entus roster resulted in his ejection from the LCK. His return, along with the 'discount superteam' that Afreeca had assembled, would prove much more successful than his stint on CJ Entus. Unfortunately, like much of Afreeca, Kramer was regularly put on 'supportive duty' to facilitate MaRin in 2017. With the addition of Xayah to the champion pool in summer, Kramer started to receive more gold, as the team pivoted slightly with both picks and strategy to allow him to shine.

Afreeca's substitute jungler, Mowgli, is also worth discussion at this point heading into playoffs. While Spirit has played the majority of games in both 2017 and 2018, Mowgli's presence as an aggressive jungler is not to be understated. Mowgli is the Freecs' resident Graves and Rengar player and can blow games open with a more aggressive playstyle. While Mowgli has played mostly against lower-tier teams like MVP, BBQ Olivers, and Jin Air, he nevertheless has experience playing on stage and may make an appearance in Afreeca's playoffs run as a pressure-based jungler.

In Spring 2018, the team has pivoted to focus on Kramer as a reliable carry for them to strengthen. Picks like Galio have been hugely impactful for Kuro this split, enabling him to shove lane and roam to the bottom lane to facilitate Kramer. Champions like Galio and Taliyah have enabled Kuro to also pressure the top side, as the team is well aware that powering up Kiin (much like in 2017) is also a viable strategy. To highlight how much the new Freecs invest into both Kiin and Kramer, there is no clearer example than their most recent series against Jin Air Greenwings - in particular, game one.
The New Afreeca Freecs
Afreeca's ban of Cho'gath and first rotation of Galio / Caitlyn already telegraphs their strategy - they want to be able to pressure their bot side heavily, with the roaming from Galio and the high level of lane control from the Caitlyn. The lock of Zac answers the tank power in Skarner while also offering Mowgli much more creative gank (and counter-gank) paths than UmTi can. The final two picks of Tahm Kench (again prioritizing safety in lane for Kramer) and Fiora round out the team with two high-priority lanes to set up. Fiora offers the team insurance against the Camille in the solo lane, as well as late game tank shredding power against the Skarner. The draft is clearly designed around allowing Afreeca to rotate freely around the map, both taking towers and surprising their enemy laners.

In addition to this, the first three minutes also highlight their priority on bot lane - while Teddy and Wraith leash UmTi's red buff, Kramer, and TusiN are already in lane, and are able to shove the JAG bot lane into their Tier 1 tower by 3:30. This shove also allows Mowgli to take the early fire dragon before 5 minutes into the game without sacrificing any tempo or pressure. The pressure of a Caitlyn with a lane timing advantage then leads to a 6-minute first blood, and it is already clear that Afreeca is flawlessly executing their team comp. The investment in both Kiin and Kramer pays off over the course of the game, with Afreeca only giving up one kill, no towers, and no objectives. Almost perfect gaming Jin Air highlights just how effective Afreeca are at setting up Kramer to succeed, and also how they trust Kiin to play riskier carry champions in the top lane. Champions like Ornn, Gnar, Maokai, and Shen were all available, but the team's choice to put Kiin on Fiora allowed him - with the Kleptomancy and ancient coin start - to create his own, massive gold advantage.
Ignoring the second game of the series - and the unusually useless Nocturne pick - the third game of the series also served to highlight the similar strengths of Afreeca. Kuro's level 4 roam on Anivia (of all champions!) enables Afreeca to pick up an early three kills, and smash open the game, resulting in a 24-minute stomp of the Jin Air Green Wings. In this game, both Kuro and Spirit ended up being the stars, with Kuro's impressive, unexpected pick of the Cryophoenix enabling Spirit's aggressive Skarner play to camp the middle lane. This pressure against the Galio ensures that Afreeca cannot be undone by Jin Air attempting Afreeca's own strategy of using the Galio to push and roam together with the Zac pick.

Kramer, on the other hand, was the late game insurance for Afreeca this time. One of the few champions who can compete with Tristana's tower-busting, reset-heavy playstyle, Jinx served as the perfect complement to Gangplank and Anivia's long range damage. While the game ended much sooner than both Afreeca and Jin air would have anticipated, the strategy of putting Kramer on an AD carry reliant on positioning and mechanics again shows through in their draft.
Conclusion
As they move into playoffs and LCK Summer 2018, Afreeca has potentially the clearest points of strength of any of the top three teams. KT Rolster has an all-star roster and incredible highs, but they have had consistency issues, and Kingzone Dragon X has a tendency to always aggressively push enemy teams further and further - and as a result, occasionally overreach when a bit more composure would lead them to a clean victory.

Afreeca does not suffer from the consistency issues of KT Rolster and as a result have been able to solidify their second place position. As they head into the playoffs, Afreeca Freecs is possibly the biggest threat to Kingzone's quest for total conquest - their utterly dominant record against every team other than the LCK first place holders indicates this will happen.

After Kiin, Kuro, and Kramer rescued Afreeca from Marin's clutches; their results have been nothing short of astounding. They've taken a mediocre team and developed a playstyle where every player's strengths are taken into consideration and channeled them into one goal. Winning their first LCK Champions Title. What comes next for Afreeca lies in the hands of these three players.