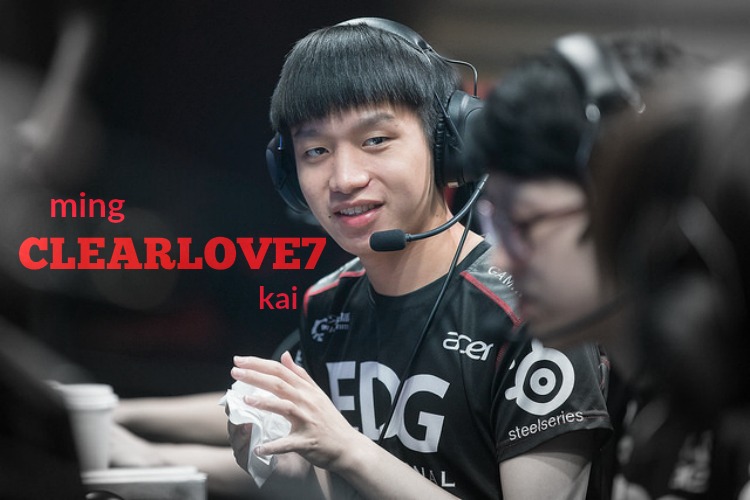 After a tough couple of years, veteran EDG jungler, Clearlove, reinvented himself in a quest to reinvigorate his professional career. With a new name in Clearlove7, fans have noticed that he's returned to the International stage that has so often plagued him with a new lease on life. This interview by Dionne is focused on helping international fans get to know Clearlove7 better.


Editor's note: This interview has been lightly edited and condensed for clarity.
Ming "Clearlove7" Kai
Please introduce yourself to your international fans.
Hello everyone! I am EDG's Jungler, Clearlove7.
It's been a few days since you have arrived in Kaohsiung, what is your favorite local delicacy from the night market?
The food is all delicious, but I prefer anything that is fried.
If the world ends tomorrow, what is the last thing you want to do?
Sleep. I feel most relaxed when I'm dreaming.
You have been to many different countries with EDG for international tournaments, was there anything that left a deep impression?
The feeling I get after we lose at international competitions. However, when we got eliminated during the quarter finals at Worlds 2015, many fans waited for us in the cold. I was deeply touched.
Fans have realized that you have been more lively lately, are there any specific reasons?
I always had issues with my mentality during Worlds. Our coach also feels that my weak mentality is an issue. As for summer split, my goal is to keep a positive mindset and play every match well.
Do you watch matches from other regions?
Yes, I watch LCK and LMS.
There are many pro-players like Keyd Stars' Revolta and MVP's Ian who look up to you, do you watch their matches?
I'll definitely watch it if something interesting happens during their matches.
Fans have realized you have a thing for cute socks, did you purchase them yourself?
I am someone who appreciates cute things so I would purchase socks that are cute.
Lastly, do you have anything to say to your international fans?
My performance at Worlds have always been mediocre. I will work harder to achieve better results for Worlds this year.
Enjoy These Interviews?
We will continue to bring exclusive coverage so why don't you register on LiquidLegends.net and keep up-to-date with the discussion on our forums!