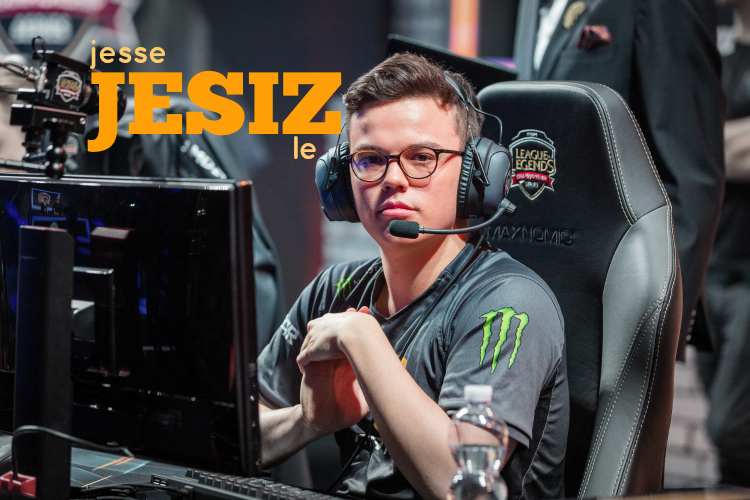 For the third time in as many years Fnatic had a complete roster shakeup, bringing back some familiar faces and bringing in some new ones to create a roster with high hopes for glory. So far it hasn't quite been smooth sailing for the team. We spoke with their support, Jesiz, to discuss how the team's practice has been going, where he ranks himself as a support and more!

Editor's note: This interview has been lightly edited and condensed for clarity.
Jesse "Jesiz" Le
Congratulations on winning the series! How did you feel about the series against Roccat?
The practice up to this week hasn't been optimal. Our scrims haven't been going too well and I didn't have the highest expectations going into this week. Even just winning, even if it's not pretty, was really nice. I wasn't particularly happy with the games themselves because we made a lot of mistakes but at the end of the day, a win is a win so I'm pretty happy with that.

There were some high expectations placed on the roster, do you think you've met them? Has Fnatic been playing at the level they should?
I think we should be performing better than we are, we have way more potential than what is shown. A lot of it is due to us not quite reading the meta properly and missing champions, particularly Ivern. That hurt us a bit, we've had new team issues and we are working really hard to fix them. From here on we can only go upwards. We can keep growing as we have the individual skill, experience, and knowledge to become a top tier team on a macro level.
How do you feel about you and Rekkles as a lane partnership? Where would you rank yourselves as a duo within Europe?
I think strictly in lane, we are currently the best bot lane. In my mind, there is no doubt, if we have a good or equal match up we will 100% win the lane. A lot of the time a lot of factors can come into play like mid or jungle having priority or a bad match up and we're forced to play on the defensive side of things. That just happens but overall we're for sure the best bot lane 2v2.
How has the communication been within Fnatic and what's your role within the team?

Basically, we're currently figuring out what is the best for us. We're trying to find our identity, each week Maurice (Amazing) and I are trying different things where one guy is talking more on resets and macro and switching it around. We're not completely set on it yet and have to figure it out. So far we've been avoiding having one person shot call, and we're not going to do what we did in scrims in term of communications so whoever is strong in the game makes macro calls and demands more to win the game. We've been playing it off in a natural way of communication but it's still something we're working on a lot. It's one of the biggest things for us to work on.
The only rookie on your squad is Caps who has been placed into carry positions. How do you think he's been performing, has it been successful to put so much onto the rookie?
I think we try to play what's good in the meta and the patch and Caps is honestly able to play everything. There's no champion he can't play at a top level. I think he just goes into the games every week saying "Just pick me whatever you think is the best", he has really strong opinions on certain picks like Katarina, which he's really highly skilled on.
You've spent the past year coaching in NA. Do you think it's been helpful this year now that you've returned to playing?
It gave me a different perspective on things in terms of how I practice, how efficient I practice and how I help my teammates grow. It helps my communication a lot in and out of game. In game, I ask a lot of questions that triggers calls to be made and out of the game I will be very vocal and be good at wording in a good way so people don't take offense to what I say. I think coaching has helped me a lot in these things.
Going from an NA environment to an EU environment what's your take on the two environments side by side?
I would say specifically because I was in a top organization I only really tried the real top tier in NA organization and there it is very strict, there are strict rules. You're not allowed to drink after the games and so on. In EU it's really try hard too in top orgs like Fnatic but we have more freedom like after games we can go relax and have a drink.
How do you feel about your personal progression as a support. Compared to Mithy are you at his level or is there work to be done before you get to it?
I think if I have to compare myself to Mithy, I am better in lane but he might be better than me on a macro level and moving around the map and communication. But what Mithy really brings that makes him the best support in EU is his leadership out of the game and ability to make his team much better than they would be without him. I believe I am top 2 in EU right now.
You played Soraka today, is Soraka a pick we can expect in the future and how does the overall support meta look right now?
I think with the ban system it's bringing out a lot of niche picks because there's a lot of priority picks that have to be picked. When there are two bans like Malzahar and Zyra in the first ban phase it becomes pretty narrow especially when your picks take priority in other roles. You have to pick in the second phase where there are more bans on support so you have to be able to play a different support for every situation, Soraka fit in well today.
Looking forwards then what's your take on group B compared to your group. Would you say that the other group is stronger than yours?
I think from the other group it's only really Unicorns at the moment that is a strong team that can compete with the top 3 in our group but I don't think group B is necessarily stronger than group A.
Enjoy These Interviews?