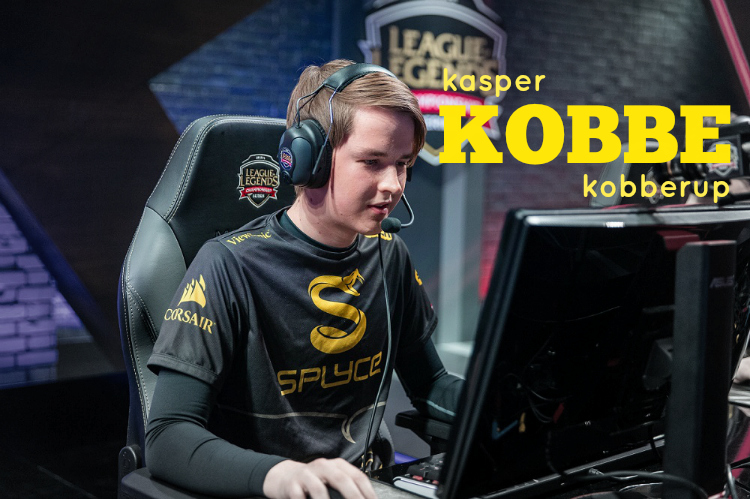 Splyce finished the last season of EU LCS with a bang after surprising everyone and earning their maiden LCS final appearance. They were one of the few EU LCS teams that didn't make any roster changes and as such many expected them to pick up where they left off but instead they've struggled in the Spring split. We caught up with their AD Carry, Kobbe, to discuss his team's slow start, the ADC meta and more!

Editor's note: This interview has been lightly edited and condensed for clarity.
Kasper "Kobbe" Koberup
Congratulations on your 2-0 victory, how did you feel about the series?
The first game was very clean from us. We didn't make many mistakes and played a clean game. In the second game, I think we made a small mistake in the draft and it was one of the reasons that it took us so long to end the game. Overall, I think we played decently and to our level while Origen didn't come with much.

In the preseason you were expected to hold onto a position as a top team. Do you think you have lived up to those expectations or is there work to be done before you reach your previous position?
We're still a top team but we're having a slow start. In our series against H2K and UOL, we heavily underperformed in both series and our early game has been lackluster. Right now it doesn't look as good but it's a slow start and we'll pick up the pace for playoffs.
What about your personal performance? Do you believe that you're a top ADC in Europe compared to the likes of Zven and Rekkles?
I think I'm definitely in the top 3. I've always looked up to Zven and tried to learn from him. I'd put Zven and Rekkles in the top 3 with me. I think I'm learning from Zven and am getting closer to his level than from last year.
You're going into your second split with Mikeyx. Now that you both have had some time together, how do you feel about your partnership with Mikeyx?
I feel a lot more confident going into games with Mikey now. We've played together for a bit less than one year and we went to worlds together so we should have perfect synergy. I think our synergy is really good, it can always get better but we know each other really well. Now that we have the experience we can be a top 2 bot lane and compete with Mithy and Zven.

You've been playing more Jhin than Varus compared to most ADCs this patch. Is this a personal or a team choice?
On the blue side, we didn't really first pick Varus, since we played the majority of our games on the blue side we get to play jhin as red side takes Varus. I'm fine with taking Jhin into Varus. Varus is the strongest ADC with the strongest laning so you either go for Jhin or Ashe into it. I don't consider Jhin as a counter pick but just that Jhin or Ashe are strong picks into Varus.
What about the rest of the ADCs? Is there any room for ADCs beyond Jhin, Varus, and Ashe?

Jhin, Ashe, and Varus are the three best. I think Sivir has a place in niche situations. Today in our games, Ashe, Jhin, and Varus were out so we took Caitlyn which is a strong pick but generally, there are not any ADs besides that.
Now that your matches against your group have ended what do you think of the other group? Are there any teams you're looking out for?
We've been scrimming the other group a bit and judging from scrims and LCS performances I would say G2 is really strong. They're the best team right now. I think Misfits is really interesting and they're performing. Fnatic isn't performing that well now, they need more time together and will be stronger for playoffs and I'm not really worried about Giants or Roccat.
Do you have any final words or shoutouts to make?
Shoutout to all my supporters and all of the Splyce fans. Thank you, and I hope you will keep cheering for us!
Enjoy These Interviews?