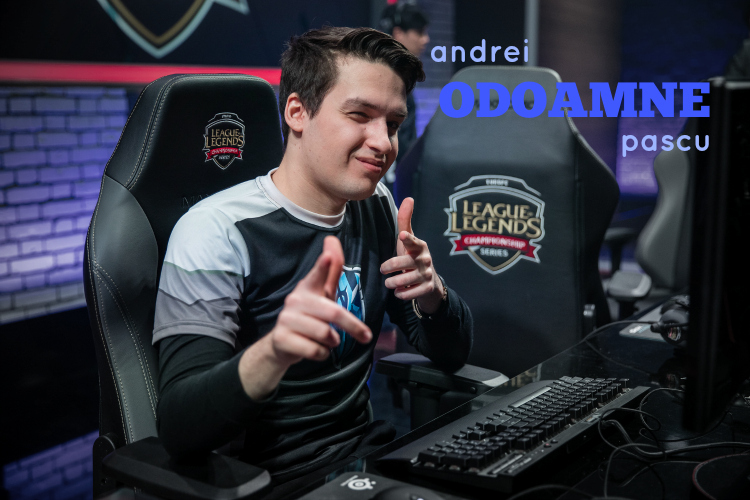 H2k surprised many with their roster swaps after their Worlds semifinal appearance and they haven't quite lived up to their lofty expectations. We spoke to their top laner Odoamne after their victory over Vitality to discuss how their new players are adapting to life on H2K, the top lane meta and more!
Andrei "Odoamne" Pascu
You were expected to take the series 2-0 but ended up losing the first game, what went wrong?

I think we had a poor draft. We gave up too many power picks and I think their composition was better than ours because theirs was a strong 1-3-1 composition and they started playing like that from early on and we couldn't react. We could have won if we reacted properly, it just got a lot harder for us from drafting and we fixed it over the course of the series.

What changed in the second and third games to bring you the win, then?
In game two, we adapted and decided to ban their most successful picks, changed our draft priorities and picked differently from game one. We got them off of their strongest comp and they played a weaker one, which we expected. We got them out of their comfort zone and brought them into ours. Overall, the draft was far better and played to our strengths.

For game three, we were red side and decided to try something else. We tried to keep the pick/ban phase as comfortable as possible. We gave up Camille, which was planned from our side. The draft in game three was really favorable for us. The picks weren't that good for Vitality and the games were all decided by the draft. In game one, our draft was worse and it was hard but in the next two games, the drafts were better for us. I think Vitality played well but it was our comfort zone and it showed in game.
Camille has been a permanently banned champion but you decided to let it through, what's your take on Camille and is it ever worth giving her up?
I think it's really hard to play against Camille right now. Only a few strategies work against her. If you leave it up and your draft has one small mistake you will just lose the game from that. Because of that, it's better to just ban the Camille as it just makes drafting easier. Drafting against Camille is hard but we found a good draft that limited her potential to take over the game. She is a strong pick and if you don't prepare she can take over the game.
People have said that Cabochard has fallen off from his previous form, what's your take on this after playing against him?
I don't know what to say about why Cabochard is underperforming, in previous seasons he was more aggressive, consistent and dominant. But lately he's been underperforming slightly, but it's not really his fault but the way league is as a team game makes it all about a five-man unit. I feel like in the Vitality environment it's kind of hard for him to perform the best he could compared to previous teams like Gambit where he was more dominant. But the meta was different and the jungle focus was different, it's hard to play top side centric. It's more about pressuring bot and controlling vision so I think the meta isn't that favorable for him. But I don't think he's falling off badly, he could do better but he's not at a bad level.
One of your two roster changes in the off-season was the addition of the Korean bot lane Chei and Nuclear. How has the progress with them and what do you think of the duo?
I was pleasantly surprised ever since they came. They are a really smart duo with a really good laning phase. It's hard for them to perform as good as they could because of the language barriers. They don't speak fluent English but they talk as much as they can. But they are playing without a full comfort level. If they could speak English as good as us then they can truly shine and perform. They are playing more reserved, I'm sure of it because they are not that comfortable with the information given. With time they will get more comfortable with themselves and how the game is. It is a good change from Forg1ven and Vander.
The other change was Febiven moving in for Ryu. As Ryu was described as one of your main voices how has the adjustment to the mid lane change been?
It's definitely a change as Ryu was the biggest voice in our games. But now we need to get Febiven's level of communication closer to what Ryu was doing. Jankos and I try to contribute more. I don't think it's that bad of a change as Febiven is really good, coming from Fnatic he was more focused on laning rather than macro. He's going through some changes right now to step up on the communication level. I think both the bot and mid changes are really good. It's about playing together more and building a level of trust and synergy between us as we are not preforming at 100%.
Now that your matches against your group are over you will be playing against the other group. What's your take on the other group's teams?
The other group, I think G2 is performing as expected. I am pleasantly surprised about Misfits, they're pretty good. I don't think they're on G2's level but they're a solid team, a top 4 team. I was kind of disappointed with how Fnatic performed as they started practicing one month before LCS. They had good practice so I thought they would be solid and play really well, I expected a lot more from that squad. Giants are hard to judge, they have their ups and downs with good games and other games where they are average. I don't really know what to say about Roccat, they can perform better. They need more time to grow. I think our group is stronger with four teams contesting each other with Splyce, UOL, Vitality and us. While the other group is just G2, Misfits, and Fnatic. I'm looking forward to seeing how we match up against them.
Looking forward then, H2K is confirmed for IEM Katowice. What's your thoughts and is there anyone you want to play against there?

I don't really think that much about IEM Katowice, I'll put more thought when we get closer. If it was up to me I want to play against the best of the best, I want to get to the level I had at Worlds where I had a really good showing and practiced against the best top laners in the world and I think playing against the best tops again will get me to that level.
Wrapping up then, do you have any final words or shoutouts to make?
Shoutouts to everyone who supported H2K throughout our roster changes and mini-slumps, your support means a lot to us. Keep supporting me and H2K, it means a lot to me.
Enjoy These Interviews?