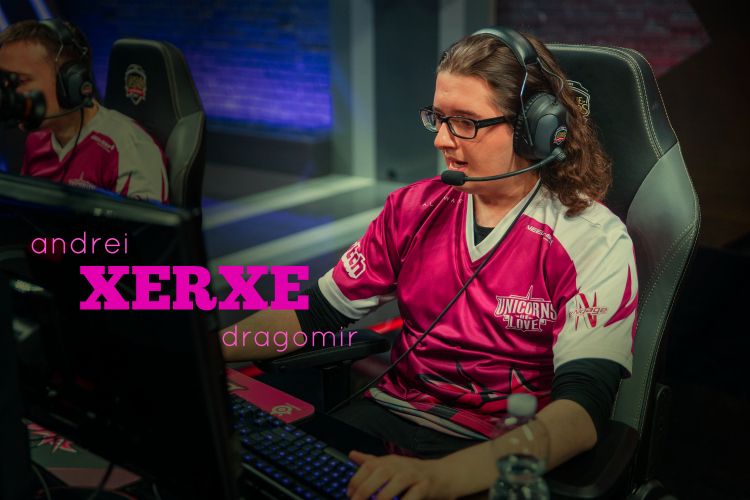 The Unicorns of Love have had a loyal fan base emerge off the back of wacky picks since their inception. Their new rookie jungler, Xerxe, has maintained that mantra with many special picks like Rumble, Ivern and now, Warwick. We caught up with him after their 2-1 victory over Splyce to talk about his off-the-wall picks, how he matches up against other EU junglers and more!

Editor's note: This interview has been lightly edited and condensed for clarity.
Andrei "Xerxe" Dragomir
Congratulations on your win. Going straight into game one, you had a really strong early game but Splyce were able to claw back. What went wrong?
We had a really good early game and we got everything we wanted. We got first blood, four kills and Kha'zix was behind. But we threw as our communication wasn't that good and issues arose. We weren't communicating and didn't know what to do or who to focus during the team fights.
After game one, the second and third games were far cleaner. What changed to turn the series around?
In game two we got Ivern, which is really good for us. It's my best champion and we had a really good early game with the double kill at mid and managed to just snowball the game with better scaling and a 1-3-1. All that mattered was just surviving the early game if we did that then we'd win.

In game three the Jhin and Rumble were very annoying to play against so we banned Rumble. When we saw Maokai we were happy because we thought Splyce was going to take Jayce and play 1-3-1 instead of Maokai. Our comp was much stronger compared to the first (game), which was difficult as it was hard to play with Katarina since she had to be careful about targeting and going in while Ryze is just a more safe pick.

You picked Warwick this series and it's the first time we've seen the new Warwick in competitive play. What went into the Warwick pick and why did you choose Warwick over other junglers?
I don't think Elise is good into Kha'zix as she gets destroyed at all stages of the game. Rek'sai can be fine but I preferred Warwick as he beats Kha 1v1 and scales as well. The viability of Warwick depends on the player. It's like my Ivern. I started playing Ivern and did well so people started to pick up Ivern and we started to see Ivern bans. I think if I keep playing Warwick we'll see the same thing with more picks and bans for Warwick
Speaking of Ivern, you were really the first to bring out Ivern this season and have had the most success on the pick. What's special about your Ivern and why do you have better results on Ivern than other players?
I've practiced Ivern since release, he's really fun to play and fits UoL really well and if a champion fits the team why not pick it?
Trashy said in the previous week that he would be able to handle you. Now that you've played against him how do you feel about the match up?
I didn't find the match up particularly hard, I definitely had a far harder time against Jankos before. I think Trashy's decision making and plays wasn't that good this series so I could handle the match up.

Unicorns of Love take some risky barons which backfired especially in game one, what's your take on it and the general trend of 50/50 barons which have occurred throughout EU?
In the first game, the Baron went bad due to communication issues so they couldn't figure out the proper focus in the play. Normally we know what to do but just couldn't figure out our play. We had two mountains so we thought it was good to rush the Barons. Teams taking 50/50 barons is really risky and the gamble isn't needed. It can lose the game as easily as it wins it, there are no reasons when ahead to take the 50/50, but when behind it might be a reasonable play.
Even though it's a new patch we saw the same red side bans of Camille, Leblanc, and Rengar. Do you think those three bans will remain and is there any context to give any of them up like you did against Vitality?
We need another patch as those three champions are still broken but Rengar can be given up in the right situation. It's heavily jungle dependent like Ivern goes even with Rengar so if you're confident that the other jungler isn't a strong Rengar player you can give him up. Camille is the most broken champion in the game, Shen or Poppy can hold the lane but she roams better, scales better and it's just better to ban. I don't really know mid match-ups but every time I see Leblanc she carries so I think it's safer to ban her. You can give them up but it's safer to just ban.
On the other side, we've seen that Blue side has a really good win rate across all regions, what's happening that makes one side so dominant?
Red side is limited by their must bans, you can always predict the red side pick/ban phase because you know which three champions will be their first round bans. If those three were nerfed so bans opened up, red side would do better but as it is it's too easy to play around the red side pick/ban phase.
Finally, looking to the future, your team is confirmed for IEM Katowice and it will be your first international tournament. How do you feel about this and are there any junglers you want to play against?
I'm really excited and I can't wait to play against foreign junglers. I want to play against Cloud 9's jungler as he seems really good. I hope to play against SKT and Peanut as well.