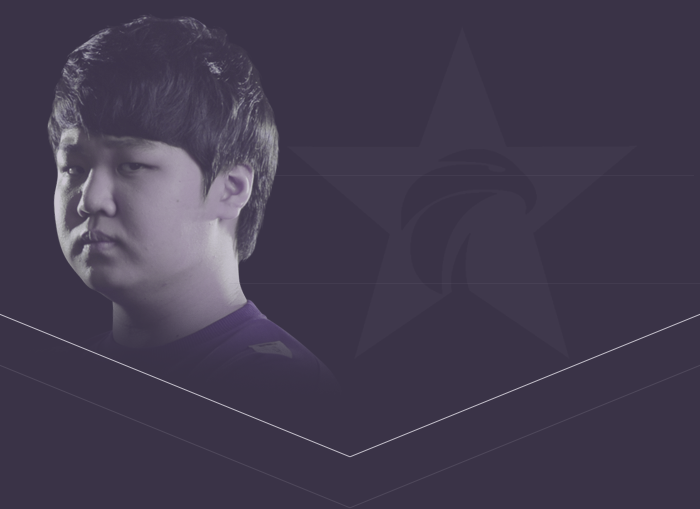 living on a

PRAYER

Part II: Turmoil



The glamor of the World's stage is not unfamiliar to Kim "PraY" Jong In. But despite the numerous successes of his career, he has spent a good portion of it under harsh critique, and no one had expected him to come so far. He embraces it with a smile; he has overcome hurdles before. He failed internationally earlier that year at IEM, dropping to the last place Chinese team. His group performance was a lackluster second, 0–2 to a team that would promptly exit at quarterfinals. His own quarterfinal match was a team that seeded higher and defeated him in LCK Summer. His semifinal match pitted him against the undefeated champions of Europe. He beat them both to get here, and he made it look easy.
PraY had clawed his way to a shot at redemption and won fans' hopes as the underdog. But it would not be so easy. SKT had outperformed him all year after all. They aced him Spring. They easily clinched Summer. Their road to the finals sat on an unblemished record. Still, if anyone could defeat SKT, it would be PraY. A veteran older than Faker, he had glimpsed World's victory over SKT before.
Decline and Defeat
Champions Spring 2013 was an exciting time for Korea. What started out as a trickle of talent in Champions Winter became a flood that spring. SKT Telecom entered the scene, picking up one established roster and adding one of soloq talent. CJ took the reigns of the former Azubu squads to create refined rosters with more robust coaching staffs. While new talent brought hopes and hype, Najin Sword came in with the expectations of defending champions. Their playoffs run in Winter made them seem wildly ahead of the competition, and without any changes to their roster, they promised to come in strong.
Their first match was by all predictions a cake walk. MVP Blue had been a bottom team in the previous split and was coming in with an untested roster. With all the odds in their favor, Najin went in with a cocky arrogance.
It was a slaughter. MVP won both games in a dominating fashions with every lane getting a lead. While losing lane was nothing new for the solo laners, what was a real shock was seeing PraY and Cain utterly crushed by Deft in his first professional game. Perhaps it was just a fluke; Najin came in unprepared and sloppy and would bounce back. But that match would instead be the standard for what became a hellish year for Najin Sword.
While they were able to pick up a series win against the weaker KT Rolster Arrows and tie SKT T1 2, Sword otherwise failed to impress in the groups, as all players saw performance slumps. For PraY especially, it seemed as if the new talent had left him in the dust. Players like Piglet and Imp bested him convincingly in terms of mechanical prowess and KDA. Old talent like Captain Jack also saw a resurgeance during this time further pushing PraY down. Futhermore PraY was struggling to adapt to a changing meta landscape. No longer was early aggression the name of the game. Scaling marksmen like Vayne and Caitlyn would become the go to picks, while Ezreal and Corki would be nerfed out of meta. Under such pressure, PraY struggled to maintain the same impact he had in winter, and his team would end with a disappointing 1–2–2 regular season record.
Despite the team's poor result during the regular split, PraY remained popular amongst fans which allowed him to go to the 2013 all star event in Shanghai. With only a few weeks practice PraY and the other All-Stars got to work a stunned with an undefeated run to earn their region an extra Worlds seed. Unfortunately PraY's reprieve was short lived as he returned to a team struggling to stay afloat. Their quarterfinal match against a hungry CJ Frost would be the highlight game of the quarterfinals. Unfortunately for PraY and the rest of Sword, this was not the same CJ they had played. Woong was out and Hermes was in, giving CJ a competitive ADC to match PraY and keep control. A game two win gave Najin fans hope, but in the end with every lane performing poorly and with PraY not stepping up to save them the team dropped their set. For PraY especially it was a big loss as the season saw him drop from top two in terms of KDA to outside the top five.
Dropping out of OGN so early gave the team a chance to participate in NLB. The team performed much better, flawlessly taking out every team to secure victory. However, outside of KT Rolster B, there really was no competition as the top four OGN teams were busy at the semifinals of the Champions tournament. While their recovery in NLB was impressive, the team dynamic was gone and something was bound to break.
It was little surprise then when Maknoon, founder, MVP, and captain of Najin Sword called it quits. In his place was Expession, who while mechanically strong, was not the leader Maknoon was. With their future shaky, the team began practicing for Champions Summer.
Second Chance League
The roster change would not be enough to propel Sword back to the top. PraY was still in his funk from Spring. While AD carries like Imp and Score were rock solid, PraY was faltering. His Ezreal had been gutted following the era of the extremely powerful blue build and spellslingers in general were out of meta. With his playstyle phased out, PraY defaulted onto an okay Caitlyn and a Draven so bad the fans would jeer to keep him from locking in.
With the team struggling to adapt to the new team dynamic and a new meta, their results in OGN faltered as they were unable to close a series in their favor. Instead, they tied every matchup. While it was impressive to tie CJ Blaze in the group stage, dropping games to Jin Air and Chunnam Techno University would see the team bomb out of groups. For PraY it was a new low with him failing to put on a dominant performance even against the easiest bot lanes in OGN.
Once again the team fell into NLB, and once again the team found footing there. In the rematch against rivals CJ Blaze the team swept it 2–0. Pray was back to playing clean and finally looked more comfortable on picks like Vayne. They then toppled their sister team, who had outperformed them in the regular season, before taking down Incredible Miracle 2 in the finals.
In a logical world that's where their year would end, but the Korea's qualification system had a few quirks. Through their 2 NLB wins and OGN Winter win the team found itself at the center of controversy, as they would not only go to Worlds, but as Korea's first seed. For fans it was a shock and immediately the team became the target of ire. Fans of teams like KT Rolster and CJ Blaze mockingly called them the "Kings of NLB" as their performance in Champions had not been top tier. Still while OGN fans lamented their inclusion at Worlds, PraY and the rest of Najin Sword saw a chance to redeem themselves after two poor splits and justify their World's presence.
Vindication
Prior to Worlds, two big changes would foretell the resurrection of Najin Sword. The first was the acquisition of midlaner Nagne during the gap between OGN Summer and Worlds. Nagne was a mechanical beast at the time, and his Gragas was generally agreed upon to be the best in the world. With a stronger mid laner, the team only need another player to step up come worlds, and thanks to Riot it would be PraY.
Changes to Trinity Force brought Corki and Ezreal back into the meta and brought with them came a resurgence from PraY. In one patch, he went from declining bot lane star to superstar again. With their bye into quarterfinals they just had to wait and research.
Their first victims would be Gambit Gaming. In spite of a decline in performance over the year, Gambit surprised by edging out a questionable Samsung Ozone in the group stages. Many wondered how they would fare against the weaker performing Najin Sword line-up.
An opening loss loss saw PraY and the rest of Sword on the back foot, but that first game showed them the weakness they could abuse. Instead of initiating laneswaps, PraY and CaiN stunned in standard lanes. In both games two and three the duo looked reborn and crushed the weaker botlane of Gambit. Snowballing heavily, it seemed Genja and Voidle were just creeps to farm and the aggression carried the team to victory.
Advancing to the semifinals, PraY would next face SKT. Summer 2013 SKT were a new beast for PraY. While he played them to a tie in the regular season of Spring, back then they were still learning and developing into the powerhouse that narrowly edged KT out in the Summer Championship only to absolutely crush them in the regional qualifiers. SKT were no longer an up-and-coming rookie team, but the best team in Korea.
The first four games were back and forth with both teams trying to aggressively outmaneuver the other. In the first two, PraY found himself outpaced by SKT's Piglet. Game one, he kept up enough for his team to grab the win, but in the second game his Corki was crushed by Piglet's Vayne. Still, he bounced back with renewed energy and turned the tables in the same match up, going 8–2–6. Unfortunately in game four, Piglet also proved to be adept with Corki, leaving PraY with a depressing 1–6–4 stat line. With a chance at finals on the line, both teams would tone it down for match point.
Unlike the first four games, match point was much more cautious and uneasy. Both team recognized their early aggressive moves were toss ups and neither wanted to throw the series. Banned from using Corki or Twitch, Pray went back to his Caitlyn while Piglet played the Ezreal. While Najin played the kill game, SKT played the objective game, keeping the gold close. Unfortunately, it would be a positioning error from PraY that cost Najin the series. Faker was able to find and lock him down with a crucial shockwave, and the rest of Najin Black Sword dropped like flies. Najin, unable to find the leads and objectives to close out the game, were promptly sent home as SKT advanced to the finals. The finals would end up extremely disappointing, as SKT breezed through 3–0. It seemed that their match vs Najin were the "real finals" of the Season 3 World Championships, but that was little consolation for PraY and Sword's failed redemption.
Retirement
After a strong Worlds showing, eyes were back on Najin Black Sword for their return to OGN. While some thought Sword could come back stronger than ever, the World Championships proved to be the last gasp.
In Winter, the team saw roster struggles and would not advance out of groups yet again. Watch transferred to Shield, while Expession left due to injury, leaving PraY and Cain again as the sole veterans of the team. Unfortunately age had begun to show on both players, and both would struggle as Korea entered its golden age. With such a glut of botlane talent, Pray just couldn't break even. After another failure to exit groups in Spring, Pray announced his retirement from League of Legends.
Read part one here. If you enjoyed this look back on PraY's career and love League of Legends as much as all of us, be sure to register on LiquidLegends.net and keep up-to-date with the discussion on our forums!