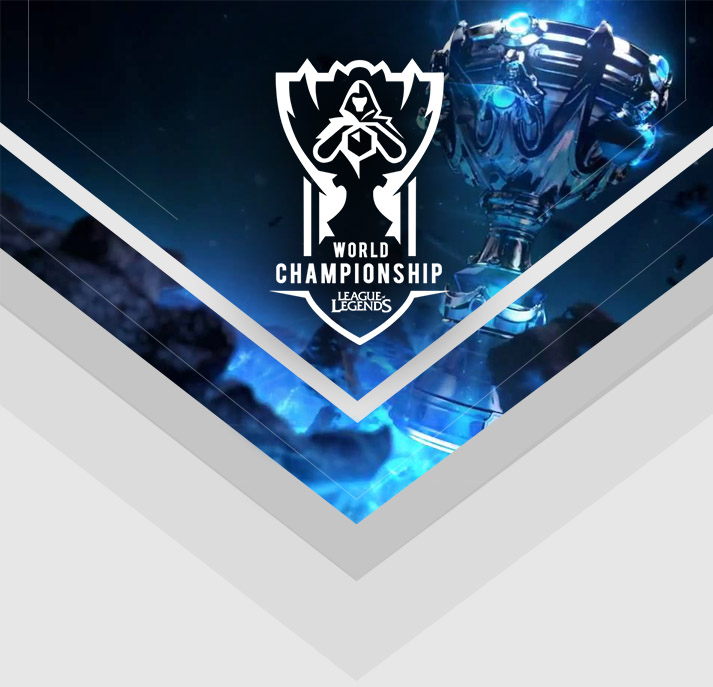 The League of Legends World Championship endeavors to be the most prestigious event in esports. Although other tournaments or domestic events may have stiffer competition, the glamor of international competition makes it the pinnacle of achievement for players around the world.

In 2015 standardized rules were implemented assuring only the best teams could enter. The title holders get a pass as their region's first seed while points dictate the other seeds. For regions with three seeds, the second seed goes to the team with the most consistent playoffs performance over two domestic splits using the sum of playoffs points. The remaining teams with the highest points compete in a gauntlet for a final seed.

It's a good system that promises that teams that enter have earned it while teams that failed to go the distance are excluded. However these rules didn't spring up from the ether, but were likely responses to situations where teams that should have gone were not permitted to go. With the 6th World Championship upon us, we take a look back at these teams and why their accomplishments should have earned them a spot.
Undervaluing Asia
When it comes down to it Worlds, qualifications are decided by two factors. First, there is a limit to how many total teams can enter the tournament. Second, the number of teams from each region is decided based on regional strength. While the first rule is decided by logistics, the second is based largely on conjecture and perception. It is because of this conjecture that the 2013 roster of Invictus Gaming failed to come to the Season 3 World Championship.

When the Korean and Chinese teams first entered the scene in early 2012, people didn't know what to make of them. But time and again that year, both regions impressed with numerous top tournament finishes and with both regions representatives breaking into the quarterfinals of the Season 2 World Championships. It was clear that China and Korea were top regions, and yet when the seeding for the 2013 World Championship was announced, both Korea and China again found themselves with only two seeds. This was following a World Championship that saw all Chinese teams break to quarters and several top finishes at events like IEM. Over the course of the year teams like WE had proved China was not only competitive but stronger than the majority of EU and NA teams.

While Korea would earn a third seed at the All-Star event that year, China's runner-up finish would leave them stuck with only two, leaving a strong Invictus Gaming roster out cold. In terms of Chinese teams, Invictus bridged the gap between the era of WE and OMG. They had finished 3rd in their domestic league twice but it was internationally where they really impressed that year.
At GIGABYTE StarsWar, they edged out numerous opponents from Taiwan, China and Korea in order to take first. To do so they had to beat both reigning Korean champs Najin Sword, current Worlds title holder TPA, and then powerhouse WE to clinch the trophy.

OMG dominated both regular splits, and Royal Club had a miracle regionals-to-worlds run, but Invictus Gaming would have been a strong contender for a third Chinese seed, with good domestic performance at the start and very end, as well as proven international results. However, because Riot was slow to react to the rising power of the Chinese League scene, we lost a potential group stage contender while teams from the west like TSM could barely find a win that year.
Champion to the Gauntlet
While the rules surrounding teams going to Worlds have changed over the years one key principle is that the current title holder for a major region should go to Worlds. After all if they don't, can a region say that it is truly sending its best talent? In 2014, the KT Rolster Arrows were the only summer split champions not to represent their region at Worlds.

Rather than give the summer winner an automatic qualification, or significant seeding advantage into the regional finals, Korea's first two seeds in 2014 were automatically given to the two highest circuit points. This put teams like KT Rolster Arrows at a massive disadvantage, since they had revamped their roster and did not qualify for Champions Winter.

However, after some more roster changes, the team's talent was quickly apparent, as the following Champions Spring they smashed an undefeated SKT K in groups and took a respectable quarterfinals finish. They climbed even higher the next split, winning the title in likely the strongest iteration of Korea. However, as the two Samsung teams qualified off circuit points, KT A had to fight in the gauntlet, where they lost to Najin White Shield's miracle 9–1 run.

The KT Arrows are often criticized for being the worst team to ever win the Korean title, as they dodged both Samsung powerhouses until the finals. But their win was not without merit. Their trip to the trophy saw them edge out Spring runner-ups Najin White Shield. They then had to take out SKT T1 S, Eazyhoon's squad, who had tied Samsung White in groups and were looking stronger in the meta than SKT K. Finally the Arrows had to face off against previous champions and domestic powerhouse Samsung Blue. To beat Dade and the rest of Samsung Blue in their prime was unthinkable, but KT barely squeezed past to clinch the title.

Kakao and Rookie lead the way that summer with untouchable mid/jungle synergy, making a team that was a monster to face. With Ssumday and Arrow anchoring the team, the duo could run rampant and push the team past some of the best competition in Korea. Even the much maligned Hachani offered the team stability and strategy with acceptable in-game performance.

However to the dismay of many KT fans, they had to still fight for their right to play in the World Championship and lost. While the 2014 Korean teams at Worlds were still as dominant as ever it seems bizarre that none of them had actually won OGN Summer. For KT fans it was yet another time they had to watch their team sit out Worlds and their exclusion harked back to the previous year where another points fiasco cost KT a spot at Worlds.
Circuit Point Circus
It is one thing when a team misses out on Worlds because another top team goes in its place. It is another thing entirely when a region's number one seed is given to a team that failed to even make playoffs. In 2013, Najin Black Sword who lost barely squeaked out of groups in Champion Spring and didn't advance in Champions Summer, claimed the Korean first seed from Spring champions MVP Ozone and even forced Summer-and-eventual-World's champion SKT to the gauntlet.

It wasn't until 2015 that Korea adopted the point seeding of today which let teams with high level performance across the season be declared as the top team from the region. And yet the first seed instead went to the least consistent team in the region through two quirks in the rules.

The first was that the points earned weren't weighted to favor high finishes in the Summer, which let Najin Sword's OGN Winter win count as highly as SKT's or Ozone's. The second involves the Korean B League NLB, which teams would automatically enter if they dropped out of OGN before the semifinals. While most paid little attention to NLB, the tournament did provide points towards Worlds qualification: the NLB winner earned the equivalent of a 4th place finish in OGN.

While few teams prepared or cared for NLB, Najin Black Sword took it seriously, leading to two wins in the tournament which by the end of the season had them placed higher than any other team in terms of points. This not only gave them a World's qualification, but also a first seed bye into the quarterfinals, all despite the team being a shell of its Winter glory. This rule would leave three of the strongest teams in Korea out of luck when it came to qualifying for Worlds.

The first was CJ Entus Blaze who placed 4th, 2nd, and 5th-8th respectively. The team had been a stalwart of Korean League and had brought home big wins from international events such as MLG Dallas and the IEM season 7 World Championship. However because they had failed to prep for NLB after narrowly falling to KT in Summer they found themselves short on points needed for auto qualification.

The second was the sister team CJ Frost who had placed in the top 4 every split of OGN that year. Because of their high standings in the regular season they were ineligible to even compete in NLB which also meant they couldn't have stopped Najin from earning the same point share as them even after beating them handedly in the OGN Spring Quarterfinals.

The final team was KT Rolster who had a similar track record as Blaze in terms of OGN placings but peaked during the Summer where they had just narrowly been beaten by SKT. Fan favorites due to their consistent quality and star players like Insec, Score, and Ryu they came up just short in the final which left them just shy of auto-qualifying for Worlds. To say the team was dominant would be an understatement as they placed 3rd in Winter and 2nd in Summer and were considered the second strongest team in Korea.

The fiasco arguably handicapped some of the stronger teams in the region. KT and both CJ squads had to sit at home altogether, which particularly stung for KT since the only team they had lost to in summer was SKT. Meanwhile Samsung Ozone and SKT would both be dropped into groups despite their strong showings in Spring and Summer. Najin would perform well at the tournament but most regarded it as a fluke and it was generally agreed that a stronger team should have gone in their place, leading to a rule change that halved the amount of qualification points you could theoretically receive from NLB.