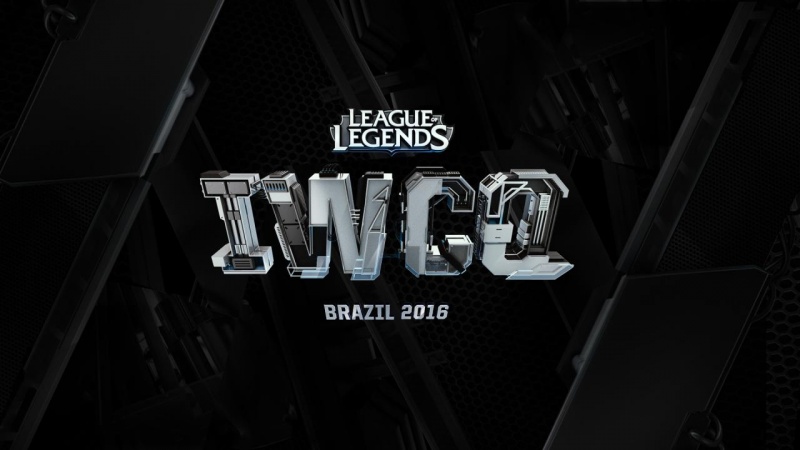 Twice a year, the community remembers that the world doesn't revolve only around TSM and CLG, Europe's love for ties, Korean dominance or Chinese aggression, let alone LMS. Eight regions, most of which are well-hidden from the Western community behind language barriers and time zones, clash for the chance to make worlds and to be crowned the champions of the Wildcard scene. The International WildCard Invitational champion and CLG slayer Supermassive won't be in Brazil, but eight champions of their respective regions are going to clash for just two slots at the upcoming World Championship in America.

Contenders

Seeking Redemption - INTZ

After beating CNB and winning their third gold medal of CBLoL, INTZ makes their return to the wildcard tournament, now on home soil. Failures in Turkey and Mexico City will be forgotten by everyone, including the fanatical Brazilian fanbase if INTZ makes top-2 and qualifies for the World Championship. However, if they choke once again, Link's manifesto might be a fairytale for kids in comparison to INTZ's one.

It's the story of redemption for INTZ, and who but their captain, Revolta, to lead the charge. He's been the best Brazillian jungler for years now, and it's finally time for him to make a stand and perform as he should on the international stage. Otherwise, even Jockster's heroics won't be enough. There are simply no excuses for the Brazilian champions. No more unlucky scheduling issues or jetlag. It's time for INTZ to put up or shut up as the favorites in this tournament.

Dispel the Nightmare - Dark Passage

For the fourth time in a row, Dark Passage is going to play in the World Championship qualifier. 2013 was the humble beginnings for the newcomers, while in 2014 they became the first Turkish team to make it to Worlds after beating out CIS's Frankenstein RF and Oceania's Legacy esports. 2015, however, was a disaster. After failing to even make the final at their home Wildcard event, this could have spelled the end for Dark Passage. Instead, they're here once again after roaring back in TCL Summer. A seemingly easy destruction of the hyped Supermassive in the final with Caps and Xerxe performing like they were once promised to could make them the number one favorite at IWCQ, but in classic Wildcard fashion something had to go wrong.

Both Caps and Xerxe will be ineligible to play as they are under the required minimum age of 17. Chinese fans will no doubt find that ironic considering the fact that Riot has a history of ignoring this rule for Chinese players, but nonetheless it's a chance for the Dutch duo of Kirei and CozQ to shine on the international stage. Kirei has had a great deal of hype following him since the start of his career in EU Challenger, but he was an unfortunate victim of DDOS-attacks during competitions. He followed that disappointing split with the stint on a flailing Dignitas which ultimately ended in Dignitas being relegated. CozQ has never even played in LCS, despite being more than capable of doing it. Now for the pair of Dutchmen, it's an opportunity to dispel all those nightmares they've ever had and qualify for Worlds.

The final hurdle - Albus NoX Luna

The undisputed champions of the CIS region for the past two years, Albus NoX Luna triumphed in the LCL Summer final by reverse sweeping Edward-lead Vega Squadron. From Hard Random to Albus Nox Luna, Kira's teams have always come up clutch under pressure and performs when it matters. A horrific performance during IWCT in Brazil was overshadowed by the 5-0 sweep of INTZ during IWCI 2016, and if anyone can stop Brazilians from getting to the coveted World Championship, it's ANX.

When Azir was finally nerfed, the entire CIS region joyfully sighed in relief. The champion which Kira seemingly couldn't master is now gone, and the famous player is ready to reclaim his throne as the best wildcard mid lane. Paired with the effective pathing of Stejos, the "Bard God" Likkrit's insane ability to be able to throw whatever curveball possible and somehow making it work and Smurf as an immovable object in the top lane - it's now or never for the CIS dream team. The final hurdle to making it to San Francisco.

We're good enough to be here alone

The Unsinkable - Saigon Jokers

Once on the top of the world, the GPL has drastically changed since. From TPA's playground to the LMS exodus, from the fun tournament in 2015 with "Can Bangkok Titans beat every Vietnamese team?" storyline. Once a tournament with all of the best East Asian talent, now GPL is basically MSI for Vietnam, Malaysia, Singapore, Thailand, Indonesia, and the Philippines. It doesn't help that Bangkok Titans can go 27-0 in Thai's circuit, as the teams struggle to develop properly.

After BKT pulled an Azubu Frost and picked a random Twisted Fate in the deciding game, Saigon Jokers pulled out victors and are looking to follow up on the successes of BKT in last year's Wildcard tournament. More than capable of beating any team in best-of-one, the Jokers might struggle in the Bo5 format against the other contenders, mainly because of their random decisions to play Lovida at times instead of sticking with Warzone. Celebrity and TSU are easily one of the best bot lanes at IWCQ, but it still might not be enough to guarantee them victory.

We'll Make An Upset

The Endless Hibernation - Chiefs

The only region with English coverage, the OPL has definitely failed to please the fans and spectators at any wildcard event ever since Team Immunity's AD Lulu Mid in 2013. A dominant force in the Oceanian circuit since the beginning of 2015, the Chiefs are coming into their fourth wildcard event in a row with the hopes to finally qualify for Worlds.

This time, there's no Raydere for the Chiefs, so the pressure will be on Spookz to lead the team to victory. The prime feast or famine Aussie jungler hasn't performed on the international stage, but he's coming off an impressive MVP finals performance where he manhandled Legacy's jungler, Carbon. Of course, he won't have as easy of a time against junglers like Revolta, but if he and Swip3r can emulate their finals performances they might just have a chance at upsetting some of the favorites in this tournament.

The Rising Sun - Rampage

Finally, after three straight appearances by DetonatioN FocusMe at international events, the oldest team in Japan returns to the grand international stage almost four years since their WCG 2013 performance. Lead by the same ADC in Meron, Rampage ran rampant through LJL Summer, winning three games in the blue side-favoured grand final against their perennial kryptonite, DetFM.

Give them an inch and Rampage will take a mile, and if teams fail to adapt to their playstyle, the Japanese-Korean squad will get to the knockout stage. Dara's melee supports in Tahm Kench and Taric combined with Meron's pocket Kalista combines for a good 2v2 bot lane. Also look for Tussle to bust out his favored Lee Sin pick at some time in the tournament. DetonatioN FocusMe was on the brink of making the knockout stage in their last two attempts, and this time, Rampage have a pretty decent chance to finally put Japan on the map. But can the sun rise?

The all-in with a rhino - Lyon Gaming and Kaos Latin Gamers

After a disappointing performance at their home IWCI, Lyon decided that it was time for change. They recruited WhiteLotus to play in the bot lane with Arce and moving Seiya back to mid, Jirall finally waking up and Oddie becoming a pretty good jungler by wildcard standards, truly worked wonders for the Mexican powerhouse. They went 26-2 in the regular season and didn't drop a single game in the playoffs, going 12-0. For once it feels like a Latin American team has a pretty solid chance to fight for a knockout spot. But Lyon is going to need to put their all into this tournament to do that.

While Lyon's road to IWCQ was all-in-all pretty easy, KLG needed to fight for their return to the international stage. Beating Uri and his team, Furious Gaming was just the beginning; the real challenge was in the grand final. Down 0-2, KLG scrapped 2 wins in absolutely mad games against Isurus Gaming and finished off their opponent in the decider, qualifying for their third international event in just two years. Juliostito and Bear certainly have some good experiences at international tournaments. They have a pretty good record against ANX, formerly known as HR - up 3-1. It's going to be all about upset potential for the minnows. One upset might make a difference between getting a favorable matchup in the semifinals and matching up against one of the titans of the Wildcard scene.

The Fight for the Biggest Stage

This year Riot has finally combined all of the regions in the World Championship qualifiers, and if I'm being completely honest, Wildcard tournaments are my favorite part of the year. Brazilian passion, Turkish experience, CIS's hunger and GPL's burning eyes. Oceanian casters, Japanese memes, Mexican lions and Chilean rhinos. IWC has it all, but this time, with two spots at World Championship and a chance to play on the biggest stage in League of Legends, the stakes are higher than ever.