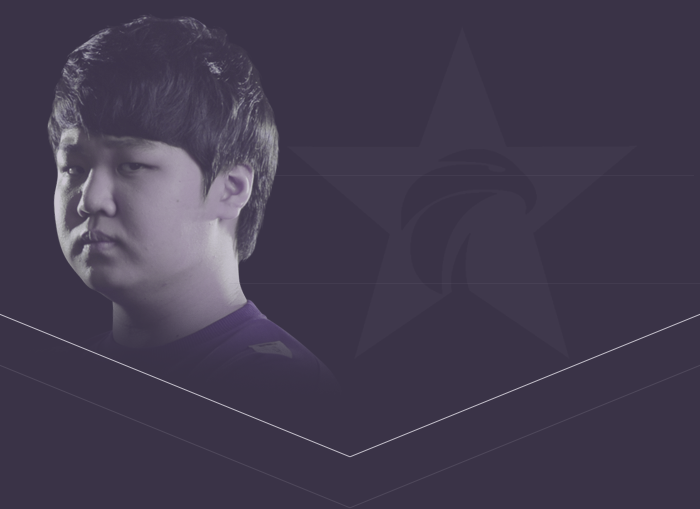 living on a

PRAYER

Part I: Ascension



New stage, new venue, new finals: but not everything is new for Kim "PraY" Jong In. There are familiar faces around him. Old friends from his days with Najin, new friends he had spent the split getting to know, and of course the imposing figure on the other side of the rotating stage – the man they call god, the best league of legends player to have ever lived. There isn't any stress coming from Kim's booth though. There are smiles and jokes being thrown around. It's not the first time he has met god on stage after all and he's confident it won't be his last. After all when a god falls someone has to pick up where he left off: a lesson PraY has learned the hard way.
For Kim Jong In, League of Legends came naturally. Like many of his peers, he grew up playing Starcraft. When the Korean League of Legends server came online, he quickly became a fan, especially of the micro intensive role of Ad Carry. Playing under the name Troll Kim, he quickly shot up the ranks, famed as the one of the best Ezreal players in Korea, when he was approached by the Najin organization to join their team.
The Cutthroats
Najin started its venture into League of Legends with Najin e-mFire in Spring 2012. The team performed adequately in the group stages but was crushed by MIG Frost in the first round of the post season. Unsatisfied with his position following the first split of OGN, the top laner of e-mFire Maknoon approached the Najin Organization with his intention to create a roster based around him and his aggressive playstyle.
Everything you need to know about Maknoon can be explained in the name of his first team: Extreme Dive Gaming. He was an aggressive, overbearing player, and if you ever gave him a finger he would take the whole arm. His dedication to solo pushing was unmatched at the time, and his Jax was legendary for ripping teams apart. It was little wonder why he was the star player of the original e-mFire roster, but it also explains why he would go out to recruit his own team as such a playstyle requires a team that can assist heavily with limited resources.
For this team, he shunned players with competitive experience and opted for players whose aggressive playstyle had given them a reputation on the solo ladder. For jungle, he picked up former competitive Starcraft player Watch, who had already made a name for himself as being a top tier Skarner player. In the mid lane they choose Ssong, a solo queue star who had risen as high as rank 2. His Ryze carried him far, but his real talent was a deep and unique champion pool; he is the player who arguably brought picks like AP Kayle into the meta.
For his support Maknoon brought on one of the most aggressive supports in solo queue. Cain was a well known solo queue support whose Sona and Taric were amongst the best and most overwhelming this side of Madlife. Initially Maknoon had his sights set on Promise to be the second half of his botlane, however it was soon decided that Troll Kim had the mechanics needed to keep up with Cain's tendencies. With the team complete they entered Azubu: The Champions Summer under the name Najin Sword; a name designed to signify the team's aggressive playstyle.
Swift Strikes
Placed in a group with Azubu Frost, the previous Champion's runner-up, the new roster would be immediately tested. Although they lost to Frost, by eliminating Dignitas and ROMG, they were able to still advance out of groups into the bracket stage.
There the team displayed its penchant for all out aggression stomping Startale in a 3-0 smash and proceeding to the semi finals. While the team faltered against the more patient style of CLG.EU, losing in a disappointing 1-3 series the team bounced back in a highly competitive 3rd place match against Champions Spring winners Azubu Blaze. While the focal point of the match up appeard to be between Maknoon and Reapered, the real turning point for the team came from the bot lane, where PraY and Cain managed to outpace Captain Jack and Lustboy to take the series in a 2-0 upset. In doing so the team had earned enough qualifier points to enter the regional qualifier gauntlet and along the way, set the groundwork for an intense rivalry with Azubu Blaze that would span multiple seasons.
In the Korean Regional Finals, Najin swiftly dispatched Xenics Storm and Incredible Miracle, to once again met Azubu Blaze in the finals. The games were chaotic and frantic with both teams trying to outmatch each other's aggressive playstyle. Much like the third place match they played in champions summer the games were extremely back and forth with the series once again moving to the blind pick game 5. Under such pressure it would be easy to fold and break down but PraY buckled down and gave one of the best Ezreal performances of his career, outpacing Captain Jack's Corki and drawing focus from the entire Blaze squad, winning the series for his team in another upset victory.
So what made the team so successful? Season 2 was the era of slow methodical buildup into the late game, where big teamfights would decide who was victorious and who was left in the dust. For Najin Sword this was not a style they could abide by, and they quickly developed a strategy based on shoving lanes and the advantages that could bring. In every game the goal of the team was to never have their backs against the wall even if that meant leaving themselves exposed. Where bot lanes like CLG.EU's and Azubu Frost spent their time farming up late game hyper carries, PraY and CaiN would dare the enemy team's jungle to show up by almost always being under the enemy turret hammering away towards that sweet global gold.
And if the jungler did show up? That's when Sword's other great innovation came into play. Rather than letting aggression go unanswered like slower paced teams did and focus on recovery, aggression shown in one lane would doom another. If PraY and CaiN were ganked and had to blow summoners, Maknoon and Watch would quickly and efficiently coordinate a dive on top lane or have Ssong rotate to assist on champions such as Twisted Fate. They trusted the mechanics of the players would make up for any strategic shortcomings in the long run. Instead they spent their time always looking for an advantage to build an end game off of, which would often come from brutal snowballing by Maknoon that would allow him to splitpush with impunity. Still as the split neared its conclusion PraY and CaiN would surpass both Azubu squads' bot lanes in terms of quality, showing that they deserved the same attention and respect that was given to their solo top.
World Class
The Season 2 World Championships was the first major step by Riot into international competition, with all five major regions coming to compete for a massive prize of one million dollars. With Azubu Frost getting a bye into quarters, Najin was the only team from Korea in the group stages.
The group stages proved to be a great time to be a Najin fan, and a better time to be a PraY and Cain fan. In their first game against Saigon Jokers the Najin botlane put its foot down and bounced back from a level 1 cheese to quickly outpace the enemy botlane in farm, kills, and damage.
However that strong performance was beaten by an even stronger performance against the botlane of CLG.EU, where PraY and Cain solely dictated the game by stomping Yellowpete and Krepo. Having learned their lesson from Champions Summer, the Najin duo began to relentlessly punish the slow scaling Lulu and Tristana lane. Despite CLG's best mitigation efforts, PraY and Cain were untouchable, turning around 2v3s and 2v4s through raw mechanical skill. By the time Yellowpete had finished his first item, PraY was well on his way to his third.
The closest game came from Dignitas who pushed PraY and Cain to their limits with a strong Blitzcrank performance by Patoy. Still, despite losing the laning phase, PraY bounced back in teamfights, and with help from a Maknoon's top side advantage, they secured them the first seed in their group. This let them avoid Chinese powerhouse WE to play a little known team named the Taipei Assassins. Unfortunately for Sword, the Assassins were about to make history, and Sword were unfortunate fated to be just step to the World Championship.
It was a close first game for the Najin botlane. PraY and Cain showed their trademarked aggression but for every kill from PraY and CaiN an answer from Bebe and Mistake was quick to follow starting with a 1-for-1 trade early. However as the game went on cracks began to get bigger and bigger for Sword. Toyz gained a large farm lead over Ssong and Maknoon wasn't making any headway against Stanley. While PraY looked strong early with his Ezreal, the TPA botlane kept up masterfully on the better scaling Kog'Maw. Buff and Dragon control began to deteriorate as TPA grouped up, and the AoE they had between Orianna and Nunu left Najin Sword little options when it came to teamfighting. A desperation flank attempt saw both PraY and Maknoon caught out of position, and Sword sunk their chances of victory.
The second game was much more back and forth with PraY and Bebe trading early farm leads and kills. Still, with Mistake's Blitzcrank punishing PraY's aggression he struggled to accrue much of a lead over Bebe's Ezreal. The game became a story of back and forth teamfights. 3-0 for Sword, 3-0 for Taipei Assassins. Unfortunately for Sword while the fights were back and forth the objectives were not. TPA was able to keep up with Najin's aggression, while exposing the weakness in Najin's decisionmaking on when to pick fights. TPA won skirmishes where they could grab resulting turrets and Dragons, while Najin struggled to gain any map objectives whatsoever. PraY's damage output kept Sword in the game but disaster struck when he was caught out of position, trying to land poke, by lilballz's Skarner. The flash ult engage removed Sword's biggest dps threat and lead to an inhibitor take and Baron bait that would secure TPA the win in the series. PraY was sent back home only able to watch as TPA beat Moscow 5 and Azubu Frost to become World Champions.
To the Peak
League changed quickly after Season 2. Suddenly interest in the game was exploding. The money to win and level of competition all saw massive increases. With the increased audience, OGN's champions series expanded from two weeks of single elimination groups to a longer month-and-a-half double round robin. While this additional time investment left other regions out of Champions, the talent within Korea began to consolidate. Big name Starcraft teams like KT Rolster entered Champions with hyped rosters, and the super teams that would become the faces of Korean League of Legends in the coming years started to take shape. Eyes in Korea were on Najin and Maknoon to see how they would bounce back from their defeat at worlds.
For PraY and the rest of Najin Sword it was a slow start in the off season. The team was invited along with rivals Azubu Blaze to MLG Dallas. While Sword decimated the competition on their way to the finals, including a victory over Azubu. However, Blaze struck back for their losses, taking out Najin in two seperate best-of-threes to take home the gold. Things didn't get much better, as the team failed to even qualify for the legendary IPL 5 tournament, losing to their sister team Najin Shield in the qualifiers.
Their chaotic high pressure style just wasn't cutting it, as teams quickly adapted and adopted the same style. The meta shifted and the quality of teams improved. In this changing environment, Najin found itself lost in the shuffle. The team started off Champion's Winter with another 0-2 loss to rivals Blaze. In their third match, Najin lost another series to the new KT Bullets lineup, who were hot off a victory against Blaze. In KT, PraY also found his first real adversary in Score, whose strong laning and farming ability allowed him to surpass the impressive numbers PraY was putting up.
From there, Najin would find its footing taking out the weaker teams in their group to end the regular season in possession of the third place seed for group B. Still, with teams like KT and the Azubu squads taking all the hype, it was clear that the entire Najin Sword roster had to step up to make any sort of headway in the post-season.
To climb to the top you have to start at the bottom, and Najin's first opponent out of their weak group performance was MVP White. Still a long ways away from the Samsung roster would dominate Season 4, MVP was nevertheless impressive with soon-to-be-big names like Dandy and Imp, and support from veteran players like Homme lead the team to a second place finish in group A. Casters predicted a close series, but Sword showed spark for the first time that season, dominating MVP White with a quick 3-0. The solo laners of Sword abused the flexibility of Kha'zix, but what sealed the deal was some excellent AD carry play by PraY. His Miss Fortune comboed with Watch's Amumu for some devastating Curse of the Sad Bullet Time combos in games one and two. In the third game, PraY got his hands on his Ezreal and helped carry Sword past an early deficit to proceed to the semi-finals with a bang.
MVP were small fish though and the team now had to face the KT Bullets line up that crushed them in the group stages. This time the anticipated victor was KT, and the team would have to beat KT Rolster in not one but two best of 5s if they wanted to make it to the finals. But despite the odds stacked against them, PraY, who once again combo'd with Cain and Watch to put dish out the damage on Miss Fortune and Ezreal, had a massive performance and lead Najin to a 3-1 victory over KT in the first set.
In the second series against KT, Najin came at them full force. KT took away PraY's Miss Fortune to prevent some of the devastating teamfighting that pulled them apart in the first series. PraY answered with Caitlyn, undaunted by KT's attempts to push him out of his comfort. Showcasing his champion depth, PraY was an integral part of Najin's damage in the first game, and he picked up a win, before being able to go back to his tried and true Miss Fortune and Ezreal in games two and three. Once again, PraY's knack for teamfighting showed through, and he dominated Score in damage output despite Score's strong laning ability. PraY and the rest of Sword looked like a completely different team than the group stages, and for many, suddenly seemed untouchable heading to the finals. Yet unbeknownst to everyone, they had still to show their trump card.
Champions
In their first ever finals, Najin would face off against the team that defined the old guard of Korea - Azubu Frost. While Frost hadn't looked nearly as clean reaching this finals, Frost historically performed well in the post-season, and there was great debate over who would take home Korea's first regional title of 2013. In the first game, Frost recognized that while Maknoon was still very much the star of the show, it would be PraY who would make or break the series for Najin. PraY's champion pool was the focus of pick and bans, as Frost forced Miss Fortune off the table and picked Ezreal for themselves.
All eyes were on PraY and Najin to see what surprises they would bring when banned out, and with their last two picks, they delivered: locking in the double stealth Evelynn and Twitch combo. It was an unprecedented move; no one in the LCK had ranked Twitch as a high priority pick, but PraY had been putting in the solo queue practice hours. He would go on to force Azubu to respect the rat over the course of the series.
In the opening game, Frost looked lost. While they found great initiations on the entire Najin team with CloudTemplar's legendary Amumu, their unpreparedness for the Twitch showed. They clumped up, letting PraY cleanse off their CC and rip through the entire team with massive AOE from Spray and PraY. By the end of game one, PraY had racked up an impressive 9/2/7 score line and forced Azubu Frost to change strategies.
Aware of the team fighting prowess of PraY, they locked in a more pick oriented composition, less reliant on big team fights. Frost also recognized the power PraY brought to bear against Woong and spent many early game resources trying to put him behind with an 0-2 start. Meanwhile Najin did the same to Shy's Irelia in top lane, but while Najin's focused camp on Shy put him far behind, the same could not be said for PraY. In the first major teamfight under Najin's tier two mid tower he again ripped apart the entire Frost squad with Spray and PraY, catapulting himself back into the game with the influx of gold. From then on, Najin dominated most teamfights with PraY decimating front and backline alike leading to a double digit kill score before the game was even half finished.
Their backs against the wall in game three, Azubu Frost attempted to bait the Twitch pick, and all-inned on a strategy to counter it. Motivated in part by an accidental Trundle lock, Azubu picked their tankiest set of champions yet. In game, all but Woong would look to pick up early armor buys. Yet while early game teamfights and skirmishes went Frost's way, PraY continued to find picks. As his itemization came, online the fights began to shift more and more in Najin's favor. A disastrous fight occurred for Frost near baron where Najin won with a clean ace before turning onto Baron. With Azubu crushed and PraY online, Najin finished the game and took the series.
Najin won the post-season with an amazing 12-1 record, and PraY had proved he was the best AD Carry in Korea. They had climbed the peak and sat atop proudly, quite possibly the best team in the world. But being the best leaves you a target, and Najin would soon learn that staying at the top is harder than climbing there.
If you enjoyed this look back on PraY's career and love League of Legends as much as all of us, be sure to register on LiquidLegends.net and keep up-to-date with the discussion on our forums!