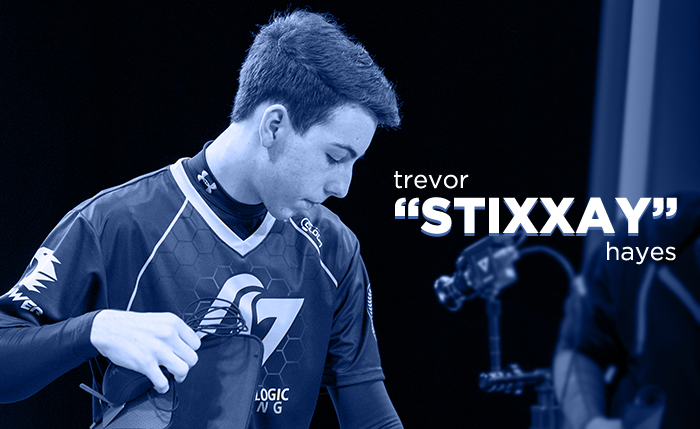 The departure of Doublelift from CLG was among the offseason's most shocking moves, but if you watched this game without player names visible, you might not even realize anything had changed. New AD Carry Stixxay has slipped into his predecessor's position without losing a beat, and though they suffered a tough loss to Dignitas on Sunday the fans still have plenty of reason to be hopeful: not the least of which being their first regular season win over rivals TSM in a long, long time. I spoke to Stixxay after that win and took the opportunity to get to know him, and this new CLG, a little better.
Trevor "Stixxay" Hayes
It's your first win of the season; how's it feel?
It feels pretty good, especially because we were versus TSM, so I think I had a lot to live up to and I think I did fine.
Yeah, CLG does not beat TSM in the regular season very often. Did you feel any pressure going into the match?
I definitely felt pressure, just 'cause I had really big shoes to fill. But, TSM is a pretty newly formed roster, so they haven't really played with each other that much, so it wasn't really too bad for us.
How have you guys developed as a team since IEM?
Since IEM, we all got a lot better individually, because at IEM we all hadn't really been playing solo queue or playing the game much. Now we're a lot better as individuals, and we learned a lot more about the game, so we're playing a lot better as a team as well.
I spoke to Darshan at IEM and he was saying that you were able to fit in because you played very similarly – surprisingly so – to how Doublelift played on the team. Do you agree with that characterization?
Yeah, I learned a lot from him.
What do you think separates you two as players?
I think I'm less selfish and willing to try out new things – just to work with the team more.
Where do you think that you guys still have room to grow?
Obviously, there's still a lot of room to grow as individuals, but mainly our decision making as a team is probably where we need the most work.
In particular, the gamemaking and flow of League of Legends has really changed a lot with the advent of the new patch. How do you see the role of the AD Carry in particular in the new meta?
So, AD Carries, instead of 1v5 like they used to be in Season 2 or Season 3, they're really good for sieging and taking turrets. That's pretty much what they're used for. They're used to push waves really fast and then get pressure with your team and hit turrets. That's what they're best at.
Do you think the current AD Carry champions people are playing are probably the best ones, or are there any other picks people should be looking at?
I think all the AD Carries people are playing right now are definitely the best, but I wouldn't be surprised to start seeing Twitch and Vayne being played soon.
Shifting gears a little bit, the NA LCS is kind of crazy this season. We've got a whole lot of new players from all over. CLG was not looked at by a lot of people as being one of the top 3 or 4 teams but you guys came in and showed up. How do you see your competition?
I think Immortals is the best team based off of scrims and I think we're definitely up there as well. The rest I'm not really too sure on. We'll have to see more as the season progresses.
Do you think people have been underrating you guys going into the season?
Yeah, for sure. I think for some reason they really devalue how good me and Huhi are. Even disregarding individual skill, it doesn't really matter that much, because if you just play good as a team, it'll cover up your flaws as a player. It's not really that much about the individual anymore.
Has it been tough for you stepping up to the LCS stage; playing and scrimming with the top teams as compared to the Challenger scene?
I don't think it was too hard for me because I was always really confident in myself as a player. So when I'm playing against these guys I looked up to, I feel like I belong there as well so it's not too bad for me.
With that, now you're playing on the LCS stage in front of the fans. Have the fans been embracing you with CLG? What was it like to do your first LCS fan signing?
Well, I came here last year when Peter messed up his finger.
Oh yeah, that's right.
So I was in a fan signing before, but no one really knew who I was. So it's cool to see people who are like 'Oh wow, I'm a fan of you.' Before, people maybe knew who I was but they had no reason to be a fan of me. I was just a random sub. Now it's cool to have people come up to you and are just like, 'I'm a really big fan.'
Does that add any additional pressure; make it harder to perform?
No, I think all the fan support just gives me more confidence. It's all good.
Now that the split's gotten started – going forward, how far do you think you guys can take it? Do you think you can take the championship this split?
I'm gonna guess that we'll finish top 4. That's my guess.
Going to need an extra split to get it together, get it working?
Yeah, I'm not going to just go ahead and say we're going to win everything. We only played one game. I'm going to assume we're going to finish definitely in the top half. That shouldn't be a problem for us.
So you think the lack of experience playing together as a team is the only thing in your way from being #1?
Yeah, just breaking old habits and working together is going to come to us eventually. We're probably better than most of the other teams right now because we've been playing together longer than everyone else, as a team, but we still have a lot to work on. It's gonna take a little while.
Speaking of working together, CLG in the past has been unfortunately known for having internal issues or drama – are things pretty solid internally with the team right now? How does everybody get along?
Yeah, CLG feels like a family. We're never scared to talk to others if we have a problem, or if we think they could've done something better. No one takes it as a personal attack. Everyone cares about each other and everyone's just trying to help each other. Inside and outside of the game. We all care about each other. It's actually really nice.
How is the relationship with the coaching staff going?
Well, me personally, it's pretty trolly, just because I'm kind of a troll. But, I still do respect the coaching staff a lot, especially when I need to. It's really good, everyone has a good relationship.
What kind of a role are they playing right now with the team?
So we actually just have Tony, Zikzlol, and he's our coach. He does a lot. I think he's really, really good at what he does. Basically, he's like an analyst/coach. He's a coach in that he'll tell us to get our stuff together and an analyst when he can tell you everything down to certain paths of items or whatever. We also have other analysts offsite that are helping us on Skype if we have any questions.
I know last year CLG was known for doing stuff like playing basketball with Coach Chris, you guys doing any of that kind of team building outside of the game with Tony?
No, not right now. We don't have a physical coach like Chris last split, we're still working on that. The most we do is go out and eat food as a team.
Not as much Chipotle as before, I'm guessing?
No, we eat a lot of Chipotle still! *laughs*
Alright, to wrap this up, you got any shout-outs or words for your fans?
Yeah, shout-outs to our sponsors Razer, IBUYPOWER, DXRacer, and Twitch. Thanks to all the fans for the support!
Enjoy These Interviews?