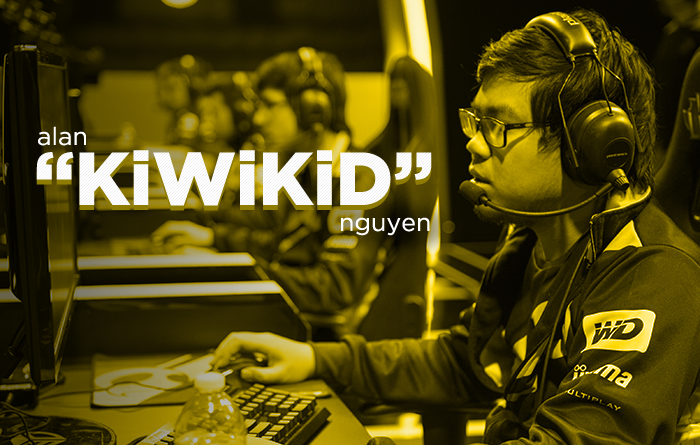 In a North American LCS full of new faces from all over the world and franchise players in new jerseys, it's somewhat comforting to see KiWiKiD still sporting the same yellow and black he had on when the LCS first began. Now the sole owner of the "longest stay on a single team" title, this season Kiwi finds himself at the helm of a fresh-faced Dignitas roster looking to leave past disappointments behind.

Of course, the more things change, the more they stay the same, as Dignitas once again kicked off the season with a spectacular Baron throw in a Day 1 loss. They turned it around on Day 2, however, and upset Counter Logic Gaming to finish 1-1. I caught up with KiWiKiD right afterward and talked about his new look team and the new NA landscape that it's got to compete with.
Alan "KiWiKiD" Nguyen
So you guys just won your first game – how do you feel?
I just feel really relieved. It would've really sucked...because I know I'm arguably a tested and tried player. I don't really have many accolades – practically none – on my belt, so it...objectively it's a lot of stress and pressure but I'm pretty good with it. I think I have a pretty decent outlook on the game and on life in general. I just play for fun, and it's really fun to play. I really like my team and, like I said on the stage with Phreak, I really like my support staff. I really like Raz, and Thomas helps out a lot even though he's just a player, it's actually insane. So yeah, relieved. It feels really nice.
You're actually the longest player to have stayed on their team in the NA LCS. Has it been different for you, seeing all these players coming and going through Dignitas while you're this constant on the roster?
Yeah, it's been really cool. It's actually really funny because I remember a year in I was thinking about Kobe, for example. He's retired now, but he was making me think...how many people he's seen come and go. I'm kinda that person, even though there's no way I'm comparable to Kobe. But yeah, I just think it's really nice to see. I like to interact with new people, and I don't have a problem with that.
Has your role on the team changed over the years as you've become more and more of this veteran?
Yeah, I feel like I'm the one taking care of everybody now, whereas before I didn't really do much. I still had a car back then, so I'm still driving as usual, but now it's even more. And I feel like I do a lot for the team.
You've got a pretty interesting collection of players this split - some NA LCS veterans, people new to the LCS – how has putting this team together been for you guys?
Um...it's been...kinda...it's not that bad. We only have one stray wolf – and it's funny because people maybe can guess but I'm just gonna leave it like that to keep fans trying to go at it. Only one stray wolf is fine. Two or more is kinda hard. Mostly the people wanna do stuff together, and that's all you really need honestly.
How is the team practice and everything working, between you and the support staff? How is that relationship?
It's really good. I think it could be a little bit better, but we're still really new. If you include the support staff, more than half the team is rookies. I don't expect things to get off from the get-go. Everything takes work.
As a veteran who's played with a bunch of different managers and coaches, what do you look for in a successful coach?
I look for hard work and common sense. That's really all you need. You don't even need game sense. Really, someone who can facilitate ideas and get things going is invaluable. And someone who's easygoing too. That's really, really important. Just having nice, redeemable, and for a cliché word genuine qualities is so important to everything. This is something almost irrelevant to League – I mean, it's relevant of course because League is part of everything – but yeah, just hard work and being nice.
So you think you've found that in the guys that are set up for the team now?
Yeah, I think so.
Coming into this split, Dignitas was not really ranked towards the top of the NA LCS, but there's still a lot of people who were excited to see the team and see how things are going. How's your guys' outlook and confidence?
I wasn't sure, actually. Yesterday was...I don't know why because we had a really good start. We had a really good start, and we always lose. It's kind of discouraging because it kind of always happens. I try not to think as much. I kinda just do.
On that note...everyone was commenting – the Baron thing happens again. Why do you guys think that tends to happen?
We just want it! We're all MMO players – we need to slay this fucking snake, so why the fuck not!
What do you think it's going to take for you guys to really put this team together and make a run for playoffs? It seems like, after the first two games at least, that you have the mechanical talent to make a run.
Yeah, I really do think so. I think we played so well today. Not only mechanically, but we had really good rotations. Even though CLG did get their classic chokehold – man it's so awesome how they get it going, and they're so smart on how they move – but yeah, we've got to watch this game, analyze it a little. Not too much, because the best ones you can learn from are the ones where you lose, but yeah. We just need to keep doing what we're doing, and I'm gonna write stuff down that I was thinking in game that we actually did.
Who do you think are the biggest threats to take home this split? Lots of new teams, new players
I'm not trying to humbly brag, but I think CLG is a pretty big contender. TSM on paper looks really strong. But I think probably, if I had to bet top 1 right now, I would bet half my savings Immortals would be top #1. I don't even think...they're amazing. They're actually amazing.
What is it that you think makes them so amazing so far?
They're SO consistent. You can't see scrims, but just scrimming them...they're so fluid in their movement. In scrims, you don't take them as seriously as LCS, but they're so consistent. And right now that's all you need. And they're consistent on a high level. Every competition, that's all you need.
It seems like, out of all the teams, that Immortals has the best hold on Patch 6.1 so far, but how do you think this patch should be played?
I don't know; I'm just going to watch Immortals today and find out. I think just not making mistakes and getting vision is important. That's what I like to do.
As the support player, obviously vision has changed a little bit with no more green wards and changes to the itemization, but how different actually is it for you?
It kinda sucks. I feel like...this kinda sounds harsh, but I don't know a better way to say it...I feel like they kinda dumbed down the game. I really hate backing after lane swaps and only being able to buy a pink. Usually, you come back with 500 gold, and if you could buy another green that'd be so nice. But it's kinda weird. As a really aggressive support player, usually you don't want wards. Naturally you'd think I don't want wards because I don't want them to have wards. If I have wards, they have wards. But I think I use my wards really aggressively.
Going forward, Dignitas as a brand still has all these fans who've stuck through thick and thin, good times and bad with you guys. Do you have any words for those fans?
I love all my fans. Honestly, my fans won't know, but I'm pretty sure I have as many haters as I have fans. It's actually crazy. Like I said, I'm a tried and tested player. And I don't blame them, but it's fine. I really appreciate all my fans. I don't wanna address the others too much. But yeah, I really love the fans...y'know, my lovers, in contrast. I really appreciate all you guys. I'm grateful.
Enjoy These Interviews?