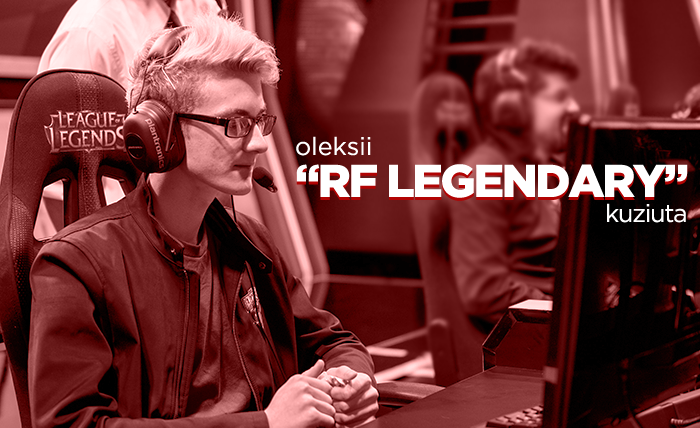 Few brands have entered the LCS with as much energy as the LA Renegades, with their stylish hype videos and a memorable image inspiring a legion of bandanna-sporting fans. In their first two matches, Renegades went 1-1, and the first game was a 60-minute roller-coaster against Team Liquid. I got a chance to catch up with top laner RF Legendary - one of Renegades' two LCS first-timers - and talk about his journey to the big leagues, moving on from his old reputation, and what it's like to be a Renegade.
Oleksii "RF Legendary" Kuziuta
That was an insane game. How did it feel?
It was long. I kinda knew that it was gonna be long after we got the Baron and passed the 30-minute mark, and we just kept going for more Dragons and more objectives. At one point somebody actually said "Alright guys, let's just take it slow. It's fine if it's a slow win. We don't need to focus on closing this game out and force risks." I just thought it was interesting. But we're actually pretty good at closing out games and capitalizing on opportunities. But this was the first LCS game, the first game for me and for Maria, and for Alex and Crumbz and Freeze it's coming back into the groove. I don't know; it feels really good to end on a win even though it was really long.
Were you nervous at all to play here, in your first NA LCS game? I know you played promotions here, but LCS is LCS.
I have experience playing on stage here from the NA CS finals, so I'm kind of familiar with what to do – there's a crowd, there's people cheering – but I just focused on being on the zone and focused on the game itself. I don't think I got distracted at any point in time. But nervousness...I was kind of nervous going up to it, but actually going into the game not really. Not so much. I was feeling comfortable about it. Because I know if I do well, if everybody does well, if we just do what we've been practicing for, we'll win.
I think a decent number of people watch NA CS, but a whole lot more watch LCS, and I think a lot of those people probably don't know too much about you and your history in League of Legends. Can you tell me a little bit about yourself, up until you first joined Misfits/Renegades?
Sure! I was a solo queue player. I played the game since beta, but I started a little bit afterward heavily getting into it. I started playing when I moved to the United States, but for fun. I switched from a different game. I started making YouTube videos and stuff, and one of the things that was popular about me at the time was that I started making weeklies and fun edits on YouTube if someone remembers those. Slowly that kind of led me into streaming, because streaming was getting really popular as the competitive scene was getting more popular. I was like "OK, streaming seems to be fun." And I kind of got to be known for playing Nidalee at that time, I was a one-trick. I just played Nidalee, and I gained more and more viewers for my personal entertainment and being able to talk and communicate to the chat.

I got known as a streamer, although that didn't really work out that well for me and I didn't really enjoy it. The year before joining Misfits I dropped out of college because I didn't want to do it anymore, and I thought that I could make it if I tried hard enough to improve. So I just kept at it, basically tried to get a lot of LP in solo queue, so a team notices me. No one really gave me a tryout at that time except for Renegades. That was the first team that actually gave me a tryout, from a team that I asked for. But I have experience playing with other challenger teams, like for practice, someone like CloudNgyuen, Gate – I played with him – and we just played for practice, looking to qualify for NA CS but there was no structure, it wasn't an actual team-team.
Now it's been a while since you joined Misfits, so how has that transition from being a streamer to being a full-time pro-gamer, living in a gaming house, been for you personally?
Personally, I've grown to like it so much and having it be something that I want to do because basically I want to do something with me being good at League and I didn't really want to do school. One thing that didn't really need a lot of adjustment was that I was very communicative when I streamed because I would talk a lot – sometimes I just needed to stop talking. I don't think it's been that difficult because our team environment's really friendly. We have people there to back you up and explain, coach you on things, help you out with personal development for growing in scrims, learning things, being in the zone, and whatnot. The first game right now – it was all kind of coming to this point so now I've just gotta keep it up. I have a lot to learn.
How do you guys work with your coach and your staff? I know a lot of different teams have different ways of practicing and getting feedback.
He's always there for us if we just need to talk to him about anything that we want, it doesn't even need to be game related. But usually we just do reviews after the scrim set, and he also does a lot of 1 on 1s with people for individual stuff, so we don't take up review time from everyone else trying to explain something like how to do top lane. He's really open with suggestions, champions...we watch other teams play, most not from our region, but...yeah, I think it's been great structure-wise because he's always open to us talking to him and he's always there for us.
You had a pretty successful debut, but it's going to be a long season, and a long year – what do you think you, as a player, have to work on through the next couple months if you want to make it to the NA LCS finals or even Worlds?
I think a lot of it, for me personally, is the game decisionmaking. Keeping on track with the things in every matchup, and communicating those to teammates. I think I'm on the right track. There's a lot of minor things to learn and adjust on the fly. But for now, I dunno if there is a whole lot, just a bunch of stuff...shotcalling, positioning, teamfights. Everything basically.
I know there've been a lot of people, particularly those on Reddit, who've been critical of you in the past: does that kind of stuff bother you, or are you able to shut that out pretty well?
Mm...of course knowing that the stigma from me streaming before and...well, we were all young at some point. Of course, it is there, and I know that it is there, but at the same time I kind of can use it as my motivation to get better and change: to prove people wrong, and for myself – personal building.
And you won your first LCS game!
Yeah, and I think I played pretty well. I'm not exactly satisfied with the entire game because I think we could've closed out earlier, and I think I could've done more things myself to pressure, but I'm happy everyone on the team played well and that I did well too.
And hopefully, you continue to grow from here because your fanbase is kind of incredible. The brand has been pushing, and you've been doing all these crazy videos. What's that been like?
It's super cool! Our content creating team is great, and we always hang out with them so they kind of know us and joke around, come up with different ideas in the off-time for practice. And also on the topic of fans, people who are fans of mine from streaming – those few hundred people who are basically always there watching me stream, supporting me – those people have actually been really good throughout. It's not all negative because the whole community thing...individuals being negative.
And unfortunately, the negative voices are the ones that get heard the most, which sucks.
Yeah, I think it's just a human thing to kind of take those and not really look at much of the support.
What was it like to have a huge line of people who wanted to take pictures with you?
It was great! You know, it was the first time, so I've never experienced a lot of people out there, and signing things…
Do you have any words for those fans, any last messages, shoutouts?
Thanks for your support! Hopefully, our other wins will be shorter than that. We'll try. Sorry for leaving you hanging for sixty minutes!
Enjoy These Interviews?