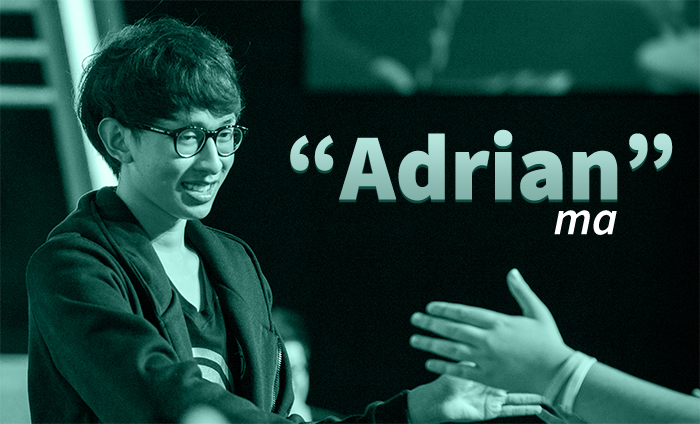 Though the NA LCS is increasingly filled with talent raised abroad, the 2015 season also saw the rise of some bright young talent raised on apple pie. Adrian, one half of last year's Team Impulse bot lane, quickly established himself as a force to be reckoned with and was one of the hottest free agents during the offseason. Finding a new home on Immortals, an NA Superteam if there ever was one, the kid from Texas has his sights firmly on the world stage that narrowly eluded him last year. I asked him about that and more after his first win on Saturday.
Adrian "Adrian" Ma
That was a pretty impressive game. How do you feel?
It was what we expected, kind of. We've been really dominant in scrims. It was really easy.
You've got a star-studded team put together with Immortals. How are all these personalities, these veterans, fitting together?
I feel like everyone's really easy-going; no one's had a bad attitude. Everyone has a positive attitude so we feed off each other.
How did you end up on the team? All these different players have come from all different places – how did this work out for you?
I became a free agent, and I had a lot of team offers. I chose the best fit for me.
I know for a long time a lot of people were saying you were gonna end up on TSM. Was that a real option for you?
It was definitely an option. I could've gotten at least a tryout, probably.
What about Immortals made it seem like the best choice for you?
I spoke with every owner and I felt that Noah was the best owner that I spoke to.
What was it about him that made him the best?
The way he spoke really convinced me. He actually understood what he was saying and he was passionate about it.
As a new organization, how has the establishment of the team house, the supporting staff, and all of that come together?
It's really well put together. We have one manager, one life coach, and one strategic coach. They're really good. We all wake up together and we go to the gym every other day. It's really structured, and no one has time to slack off.
What kind of exercises and team building are you guys doing together?
A lot of teams are doing escape rooms and stuff; that's something we did. We like going out to eat a lot; Huni loves steak. We work out at the gym every other day – we bench together and we run together.
Immortals has all these players who came from these different teams and they all had a lot of success. Has it been difficult to find an "Immortals style" when everyone's had success playing different ways?
We're all really good players, so we're really good at adapting to the best style for that meta. Everyone's really good at it, so we're just good.
How would you describe the way that you're looking to play League of Legends in this patch?
We play really controlled and smart. A lot of teams are really uncontrolled and they like to fight a lot. We go for objectives and push down towers fast.
These were the first games on 6.1 – how do you see the new patch compared to last season?
A lot of change about vision control. Warding got nerfed and you can't buy green wards anymore, so it's really hard to control vision. You have to play more defensive and be scared of ganks.
I know the support itemization changed some – they made the new Sightstone items, which some people say are garbage – how do you feel about the state that it's in?
The support Sightstone items aren't good – they're not even cost efficient, so they're not worth the benefit of getting one ward extra. There's better build paths.
You guys hovered the Soraka, but ended up going with the Janna in this game. How do you think the support champion pool looks so far?
You can almost play any support you want. Just pick the one you're most comfortable with.
So pretty much everyone is putting you top 2, at lowest top 3, in the NA LCS. The NA LCS, as a whole, is pretty different from how it was last split, now with stronger teams. Do you agree you're probably a shoo-in for top 2, top 3?
Top 3, easily.
Who do you think are your strongest opponents?
Honestly, I think the strongest is either CLG or Team Liquid. They have really strong players and it just takes time for them to mesh together again.
Really? A lot of people have been rating TL pretty low – around rank 6 in the LCS – but you disagree?
I feel like all their players are really strong and they have Loco, a good coach, to help them on their macro gameplay. They just need time to get good.
Now to finish up, you started out by coming out of college, you joined TiP, and now you're playing on Immortals. As a person, rather than a player, how does your career feel for you?
I feel like I'm just gonna keep going up and up… and hopefully I'm gonna win Worlds. *laughs*
Sounds good. Any final comments, shout-outs?
Nothing really. Shout-outs to Immortals and the owner Noah; I'm really grateful to him.
Enjoy These Interviews?