(Could be) World Elite
World Elite entered the off-season faced with a harrowing prospect; they were going to lose Spirit. After Spirit came out with his public critique of World Elite and its players' attitudes, it was clear that Spirit was no longer going to remain on the roster. World Elite spent the past year clinging onto relevancy; coasting on their legendary name and the overwhelming hard carry of Spirit. The organisation even renamed to 'Team WE', proving that the days of their legendary season 2 roster were well and truly in the past. It seemed like the clock had finally run out, and the loss of Spirit appeared to be the killing blow for the struggling organisation.

Somehow through smart talent pickups and shrewd acquisitions of budget players, WE have assembled a roster that may not only survive in the LPL but even challenge the top dogs. The first thing they did was snap up a new jungler. Replacing Spirit was always going to be a tough ask, and WE chose to gamble with the pick up of solo-queue jungler Wushuang.

A well known high-Elo Lee Sin main, Wushuang even managed to garner praise from the most infamous solo-queue player, Apdo. During the off-season, Wushuang certainly lived up to his hype, with his performances at NEST (one of China's many LAN tournaments) leading WE to victory. He demonstrated his mastery of Lee Sin as he created picks and knocked key targets into compromising positions helping to snowball Xiye. He also demonstrated some solid diversity in his champion pool; putting up good performances on Elise, Evelynn, and Rek'sai show that he was more than another Lee Sin one-trick. Wushuang isn't perfect, and he's not Spirit, he has some issues with being overly eager in his engages, leading to unnecessary deaths and his ability to control vision is far from perfect. But for the substantial hole that he was forced to fill Wushuang has so far done a commendable job especially for a rookie and he has a lot of room to grow.
After replacing Spirit WE could have rested on their laurels. They wouldn't be making the miracle runs of Spring that they did with Spirit, but they'd, at least, be safe from relegation. However, WE decided to further shake up their roster. They identified the two weak points in the support and top positions and looked for replacements. At this point, Aluka is more meme than man. The former LPL champion was well known for his Sion, but take that away, and Aluka ran around the Rift aimlessly. While Conan had shown some improvements over the Summer split, he was still one of the weakest supports in the LPL.

Despite the belief that LPL organisations are owned by millionaires and even billionaires (and for the most part that is true), WE is not one of those organisations. Spirit's acquisition was more than likely subsidised by a streaming platform, and with interest in acquiring outside talent dropping considerably in 2016 it was unlikely that WE would be able to acquire a superstar top or support player. WE were working with a restriction that few LPL teams have to deal with, a limited budget. So instead, they looked towards promoting a player from their reserve team, WE.Future. In this case, they went for WE.Future's star top laner, 957.

957 was an oddity, rarely does a top laner end up being defined by their Morgana play. Yet this was the champion that caused people to first turn heads as his ability on Morgana was impeccable, hitting a never ending string of bindings. As his career progressed, he began to diversify and solidify himself as a strong all round top laner. He's a young player that's shown more flexibility and a higher skill ceiling than Aluka. Unlike Wushuang, however, he's yet to test his mettle against LPL teams as he was only promoted after NEST. As Smlz and Skye have shown us in the past, not all survive the transition from the LSPL to the LPL. He played a strong series against another solid up and comer Loong in the Summer split relegations, but 957 likely will have much to learn.

That left finding a new support, and despite their eventual choice proving to be the most accomplished player on the roster, he may also be the riskiest roster decision that WE have made this year. Former Royal Club support and world finalist Zero rounds out the roster. Right off the bat we see a clear benefit of having their bot lane speaking the same language. Certainly Zero is a great support; his partnership with Uzi was dominant in and out of lane despite the language barriers between them. Even on the ailing Team King, Zero was still putting up fantastic performances, with a terrific display on Thresh carrying them to an unlikely victory against EDG in the Summer.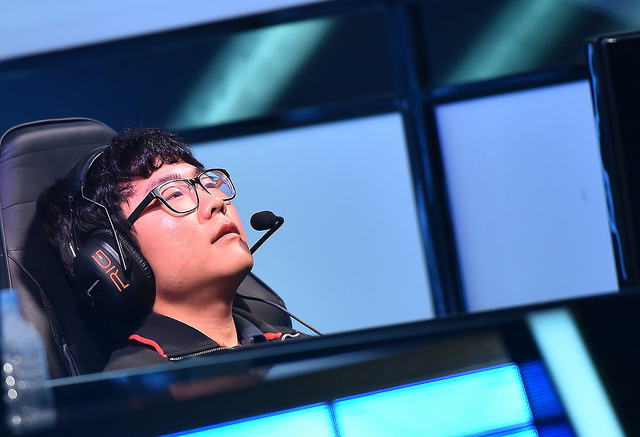 There were, however, concerns towards his attitude in 2015. He didn't turn up to scrims and was even outright trolling in-game. The aforementioned performance against EDG featured Zero rushing Guardian Angel on Thresh, and if they hadn't won the game there probably would have been far more repercussions. Perhaps Zero saw the writing on the wall and decided he was going to enjoy himself on the sinking ship that was Team King. If Zero is motivated to play to his best, then he may prove to be the catalyst for Mystic to truly shine and help lead the charge for WE in 2016.

Yet what truly makes this team exciting is in the way they compliment each other. Already you have the all Korean bot lane that could help Mystic become a reliable carry threat. Spirit was the carry for WE in season 5, but eventually one of WE's laners would have to step up and be the carry, and that was almost always Xiye. Aluka was never going to be a carry threat, and the bot lane had its struggles as Conan and Mystic lacked the necessary synergy to keep Mystic relevant. By partnering Mystic with a support who not only surpasses Conan in lane but also has experience in peeling and protecting the AD Carry, World Elite can relieve Xiye of the burden of being the only carry threat and offer a multi-pronged attack. 957 also offers WE flexibility in their draft as he too can become a carry threat while having pocket picks like Morgana and the ability to play tanks.

Even at NEST, the team struggled with their mid game often faltering in team fights before finally pushing their way towards victory. Ultimately, what makes this WE team more exciting than their more recent roster is their new-found flexibility. They don't have the big name stars to match many of the other teams in the LPL, but somehow they've created a team with the pieces that could push towards reclaiming their legacy as World Elites.