Preseason predictions favored paiN Gaming. As the dust settled on organizations' rosters prior to CBLoL's Winter Split, paiN emerged a winner on paper with the signing of top laner Matheus "Mylon" Borges from Keyd Stars. PaiN looked strong at their first even with Mylon – XMA Mega Arena Sao Paulo 2015 – and took a game off of CBLoL Summer Champions INTZ e-Sports in the final.

Much to everyone's surprise, paiN went 1-1 in their first CBLoL Winter set against the struggling KaBuM! e-Sports Black. While they indubitably had the superior lanes, paiN's inability to recognize terrain disadvantages – and an overall lack of awareness against Black's Gnar and Anivia combination – resulted in a win for Black and confusion for the star-studded roster of paiN.

"Back then it was a lot more relaxed and there was a lack of team unity as well," says paiN's analyst, John "Rnglol" Crichton of paiN's initial struggles.

"One of our main problems at the time was finding the correct engages and fighting around the right timers. A big example of this was that we initially had a 100% loss rate against Gnar. That proves how bad we were at fighting around specific spaces, and communicating flanks just because that champion is solely based around that. He's on a timer and we couldn't deal with it at the time."

PaiN settled down, following the KaBuM! Black loss, their timetable still in tact. With a backloaded schedule, they had until their penultimate week – where they would face top team INTZ e-Sports before finished the season against Brazil's other top team, Keyd Stars – to grow their team synergy. They swept through Weeks 2-4 racking up a six-game win streak against CNB e-Sports Club, KaBuM! Orange, and g3nerationX respectively.

However, in Week 5, INTZ Red – the sister team of top-tier INTZ e-Sports – stunned paiN in a 42-minute upset thanks to Red's ambitious team fighting and a dazzling Ekko performance from Red top laner Leonardo "Robo" Souza. At that time, Red had only two wins to their name, one against each of the two teams below them in the standings.

"It was a little bit of an embarrassment, you know. Big teams lose to small teams sometimes, that happens in every sport but players have egos," Rnglol says.

"When you see a guy on the TV shaking his hand and he just beat you and you think you're better than this guy, you're not going to be happy. It gave them a bit of a kick. It made them realize that we need to step up if we want to have a shot at playoffs, we can't be losing to these teams. That's just the mentality you have to have as a top team. You can't give excuses for losing to teams that aren't elite in the region."

Rounding out the Winter split, paiN went 1-1 against Keyd Stars but lost both of their games to INTZ in the last week of the regular season.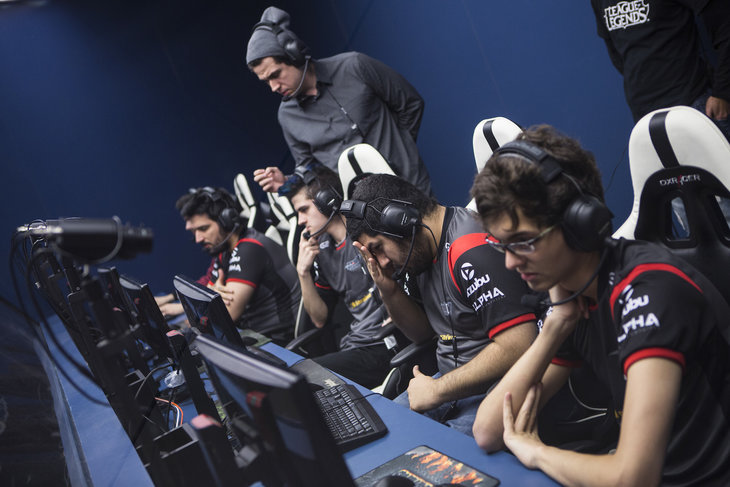 Pitted against INTZ Red in the Winter Quarterfinals, paiN had a lot to prove. Following their 1-1 split with paiN, Red had gone on to sweep Keyd Stars – who were still in first place at the time – in Week 6. While paiN was still favored to win, Red had certainly made noise during the regular season, showing their own improvement. Against a hungrier and more disciplined paiN Gaming, Red didn't stand a chance.

With Red eliminated, along with some of paiN's own doubts, their next challenge was against Keyd Stars, one of the best Brazilian teams throughout the regular season. Many sleepless nights followed for both Rnglol and paiN's coach, Gabriel "MiT" Souza as they readied the team. Come the afternoon of the Semifinals, Keyd decided to send a message to paiN in the pick phase of Game 1, highlighting a few of the picks that paiN had prepared in scrims.

"They highlighted four out-of-meta picks that we played," Rnglol says, laughing. Shrugging it off, he identifies their champion select against Keyd as one of many growing pains symptoms that Brazil faces as they press onward from amateur Wildcard scene to a more professional landscape. "Everyone is quite tight. Everyone has connections. [Brazil] is still at the point where people will help out a friend rather than be professional and respect the unwritten laws of scrims."

"It's about maturity," he adds. "When you make that transition from being a small amateur scene to being a professional scene, because CBLoL is getting bigger, I think that naturally comes when people see that it's a real job and there are rules and certain etiquette, like most sports, that don't warrant people telling secrets because it hurts the game and how high the standards could be. What if a team is new and they don't have any friends. This is a team of guys that no one really knows but they're quite decent, and every week they come up against a team that knows their strategies, and that team doesn't do well but they could be a great team. That hurts the scene because they're not getting fair representation."

The minor champion select controversy did little to stop paiN, as they swept Keyd Stars en route to an unexpected 3-0 Finals sweep against heavily-favored INTZ.

In the weeks leading up to the CBLoL Final, INTZ chose to bootcamp in North America, scrimming better competition in NA LCS and Challenger teams.

"There was nothing the team could have changed or the organization could have changed," says John of paiN's lack of a bootcamp. "It was just bad timing."

"We stuck around Brazil and scrimmed whoever we could. We played against KLG quite a lot actually," he laughs, thinking of their International Wildcard Final adversary.

"They were preparing for their final and we were preparing for ours. I can remember thinking, 'This team's not too bad, we can actually try stuff against them and see how it goes.'"

The scrims between Brazil's top team and Latin America's top team paid off, as both paiN Gaming and Kaos Latin Gamers were victorious in their respective regional finals. Rnglol attributes a lot of paiN's Finals success to the assertiveness gained from winning these scrims.

"You always learn more when you get beaten," he acknowledges. "But it can boost the confidence up when you're winning games in 20 minutes and everyone's on point when you've had a rocky season and you this consistency through practice. I think that helped a lot."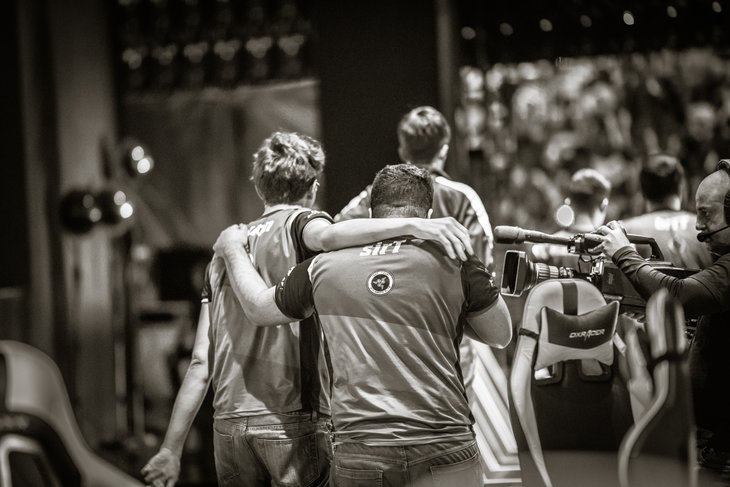 Admittedly, paiN's map play and macro knowledge were still behind that of INTZ. Throughout the regular season, paiN drew criticism for an overreliance on their strong lanes without shoring up more obvious rotational weaknesses and a general lack of objective pressure.

"We knew how [INTZ] would play the game, and we were not at the stage yet where we could take them on at their own game," Rnglol says.

"I felt if we were going to win this it was going to be through skirmishing and finding advantages in the lane swap to take into the mid game, then waiting and taking more through skirmishes and fights. We tried to gain as much of a gold advantage as we could because we knew they would rotate around the map and push the waves and control as much as they could."

PaiN put their faith in their strong laners once again, especially mid laner Gabriel "Kami" Santos, who was placed on wave clear duty with the likes of Viktor, Lulu, and Orianna.

"We quite clearly took more wave clear comps that would do better in fights. Whereas they took comps that would seige well and disengage well. We just tried to play our own game, and not get sucked into their version of the game."

In spite of the growth paiN had shown in their playoff series, and additionally the hours upon hours of preparation that he and MiT had poured over, Rnglol still describes the CBLoL Finals victory as "surreal."

"You always have this quiet confidence about yourself and your own team because everyone has biases and you want to think you're the best," he says "But actual being crowned champions is something different. It's recognition. It's being paid back in a way that nothing else can pay you back. Knowing how much hard work these guys put in made it all the more satisfying, seeing their development over the course of the season and unity that came about within the team."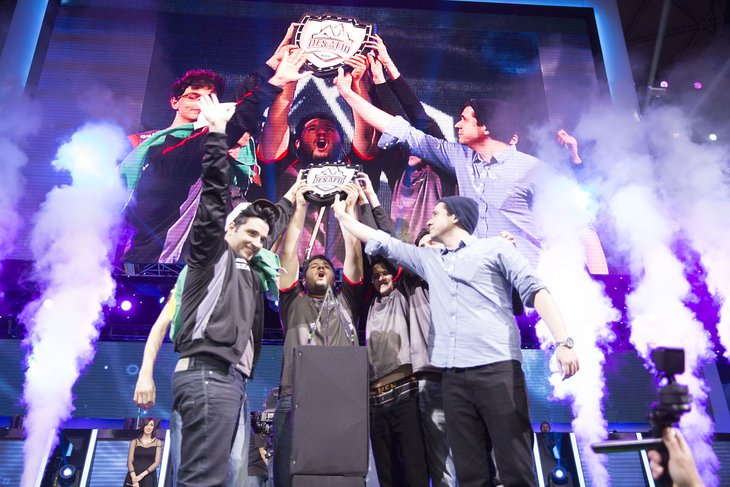 Their obvious growth accompanied paiN Gaming to the Desfio Internacional Wildcard Final in Santiago, Chile, where they faced their CBLoL Finals scrim partners, Kaos Latin Gamers. Heavy favorites to win the tournament, paiN rode this momentum to victory.

"Seeing INTZ ranked mid-tier LCS and knowing that we beat them. There was some confidence going in that we should take this. This was ours."

Eager to reclaim Brazil's dominance over other Wildcard regions – and hungry for the World Championship spot that had eluded paiN Gaming two years prior at Gamescom 2013 –paiN sailed through the Wildcard without dropping a game.

"Nothing is ever free," Rnglol says. "You're always going to work for it. But I do feel that Brazil is a region itself and the top teams are above the rest of the Wildcards. Obviously in Turkey, that was a different matter with INTZ, and it gave people the excuse to say 'Oh, if you were against Turkey that would be a different story.' But I believe that Brazil is ahead of the rest of the Wildcard regions."

Drawing from his own experience in the European Challenger scene, Rnglol notes that there are specific infrastructure issues holding Brazil back in comparison to the EU scene. He first identifies the smaller volume of players, as well as the prevailing attitude in Brazil's solo queue.

"Brazil needs the playerbase to take the game a lot more seriously in solo queue," he says. "I hear guys talking and they basically say that in a solo queue game, whoever has the most pro players on their team automatically wins the game because that's just the difference between pro players and challenger players. Whereas you look in Europe, there's a lot of solo queue talent that is as good as the LCS players, sometimes even better. You're against better players constantly and a higher number of them."

"The next thing would be making sure that the infrastructure is there for the teams. Once every team starts to bring in coaches and analysts that aren't just friends of the team but actually people who are dedicated to the game and have some knowledge about it and can pass that on to the players."

Going into the 2015 World Championship, Rnglol, paiN's coach MiT, and the entire team know that even taking a game off of another team will be an immense uphill battle. Yet, they eschew the stereotypical Wildcard narrative so easily thrust on teams of developing regions that they want to learn for the good of Brazil. They are competitors and they not only want to compete, but they want to win.

"The dream goal would be to make it out of groups," Rnglol says. "While people might think that it's out of reach and they are entitled to that opinion, we're not going to just make up the numbers."
Enjoy these pieces?
If you aren't getting enough Brazilian League of Legends in your life, register on LiquidLegends.net and join us in the discussion on our forums!