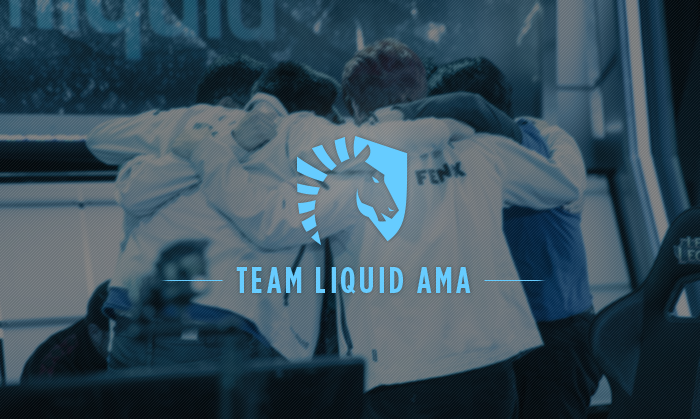 The members of Team Liquid will be conducting an AMA and fielding questions from this thread. The AMA starts at 5pm Pacific Daylight Time, on Aug 9, roughly around when Gravity vs TSM should be finishing up. Stay tuned for more!


+ Show

Spoiler [Answered Questions]

+
Liquid`Xpecial
LimpingGoat
How do the members of Team Liquid think the server moving to Chicago will impact the quality of their practice and would they like to move along with the servers into that area of the U.S.?
As far as I know, tournament realm will still be in California, meaning that our scrims and tournament play will be fine. However, solo queue is a huge portion of our practice as well. I hate this change, as even the 40 ping that we play on is not ideal and something I've been against, but doubling that to 75-90 is extremely frustrating. No team will move to Chicago since LCS will still be in California and the weekly commute would be awful.
MooMooMugi
How would you rate your synergy with Piglet from 1-10 in the current state of your team compared to when you first started playing as his support?
Around a 4 when we first started playing in LCS, and an 8 right now. We have quite a bit to work on still, but it's been a very good transition.
lilwisper
Currently there are 126 champions. Of course there are champs that are stronger than others. So I want to ask each of you, what is one under used champ that you would be interested in seeing become more useful either through player research or Riot attention?
I want to see the return of Leona. She is one of my favorite champions and I would love to bring her out again.
Ondrew
What's your favorite candy? :3
I like a lot of candy, but if I have to name one... Maybe the Hershey's Cookies and Cream?
Scip
what do you think about my haircut?
+ Show

Spoiler

+
To be honest, it's okay, a bit messy on the front, but it's hard to tell with the low quality of the camera.
Shanidog
If you guys won the S5 World Championships, which champions would you want to have a Team Liquid skin?
What bottom lane duos outside of NA would you want to play against?
I would probably want a TL Annie or TL Leona! There isn't any specific bot lane that I'm looking forward to playing as there are many good bot lanes in the world.
MoonBear
What's your favourite food?

What's your favourite drink?

What's your favourite ice cream flavour?

If you ever have children, what's the most important lesson you would want to teach them?

My favorite type of food are eggs. You can do so much with them, you can steam them, fry them, scramble, etc. A bit lame, but it's fine 'o'

Favorite drink used to be Brisk Iced Tea, but now I just drink water.

My favorite ice cream flavor is cookies and cream or vanilla!

The most important lesson that I would teach them would be to love to live, enjoy each day and be happy!
candycane000
So I was in the liquid legends tournament and was having a conversation with juno the cat. And well I don't know if he showed you the conversation but if not you should check it out. You will get a good laugh
https://i.gyazo.com/7d88ee50c0d407940eb93af4829f51d1.png
(Also keep rocking that support role)
I really hope you guys make it and win worlds this season! Make NA proud boys! And good luck with all your future endeavors!
.__________.

I hope we make it to worlds and do well too!
MMaze
When you changed from TSM to Curse, needless to say, the transition wasn't ideal. You'd qualified for every Worlds until the heartbreaking loss against LMQ. TL is now probably at it's highest point, how would you say your morale compares now to when you were part of the dominant TSM era? Would you say that TL right now is the strongest team you've ever been a part of?
Will you be available in NYC for fan meets or does that depend on how the games go?
This is the best TL/Curse has looked, but I wouldn't say comparatively it's the strongest team I've ever been a part of. TSM in Season 2 was definitely the strongest team in NA with international presence, but obviously teams have gotten way better since then. Our morale as a team is up there, but doing well in playoffs is where it matters most.

I think we'll be doing some fan meets in NYC, but I'm not in charge of it, so I don't know, sorry!
Reapery
Any way I could possibly watch more games from TL. It would amazing if I could watch all of TL play more, since I love the team and organization.
I do believe Piglet and Quas stream everyday, with a few streams from Fenix, Dom and myself occasionally!
siut5
Did you want TSM or GV to win today's game? Why?
I don't care. Ideally I want to play the weaker team (duh), but that's not how a tournament works =P
nafta
why did a lot of thresh players stop doing the cdr boots q max with only 1 point in flay thresh?Been seeing a lot of flay max which doesn't make sense since it is only good in lane but in lcs nobody really fights that much in lane.
2 points in E and maxing Q afterwards is the way to go. I'm not sure who actually maxes E out completely as that's suboptimal for sure. It isn't that CDR isn't good on Thresh, but rather the additional movespeed from Mobis is better for catching people out.

krusty napkin
What is your stategy on beating tsm?
Outlane and outplay, pretty simple plan.
Sonnington
Do you want people calling you Sexpecial to acknowledge how handsome you are? No homo.
Um... it's fine? '-'
Grazgri
How confident are you in being able to take on the Wildturtle & Lustboy duo?
We'll play our lane the best we can. If it means we play safe and are down a little CS, that's fine. If it means we play aggressive and kill them, then that's what we'll do.
excellionx
Who did the best in school out of the team?
I guess Dom since he's the only one that almost finished college.
SuddenName
I'm a huge fan, and I'll be at MSG finals on the 23rd. Wanted to let you know that a LOT of New York esports fans are also Liquid fans. Question for you guys: Would you rather play CLG or TIP in the finals if given the choice?
Both CLG and TIP aren't scary for us. I would definitely want to be in the finals though.
willisblee
what are your favorite movies?
Shawshank Redemption. So. Good.
TitusBatiatus
What would it mean to you come out on top of TSM at the end of the playoffs?
Nothing. I just want to win.
derc
- what is the most trollish comp you used in scrims / ranked team ?
- How do you plan to celebrate if you win playoff ?
- When you'll go to world, will the team stay in Europe the whole month ?
Probably the Xin Zhao + Annie bot lane that we used in LCS in Season 3 that didn't work out.

Practice for worlds would be our celebration (maybe with a little Korean BBQ before)

I'm unsure what our plan is after playoffs, but it's unlikely that we'll be in Europe the whole time. I would prefer to boot camp in China/Korea for the month.
CodeBaNaNa
We see a lot of tweeted photos of the team going out to eat Korean BBQ. How often does the team go out to eat something that's not Korean cuisine?
If you were going to pick one teammate to be stuck with you on a deserted island, who would you pick and why?
We rarely go out to eat non-Korean food since Piglet just loves Korean food so much. Oh, we do get ramen occasionally!

I would pick Quas because he looks the most delicious.
jcornt31
How do you and Piglet play against certain bot lanes?
As well as we can! (This isn't a very specific question, sorry)
ShikaRebel
What is a good support to carry in soloq? How to get out of plat 3??
Annie, Thresh and Braum are some of the easier and higher impact supports.
Callipope
Who do you guys think are the best players in your roles in EU, KR, and CN?
(Also would you consider getting a house pet?)
EU: Yellowstar
KR: Wolf
CN: Meiko

Fenix has a fish, does that count?
ILovePiglet!
Do you like korean grills?
Yeah, Korean grills are pretty cool.
DIAMONDCRYS
HOW do you think abut lustboy because he did make a lot of mistake today against gravity which also caused them to lose that one game. or it can be seen differently but still next week u ll be going against him so whats ur thoughts of how confident u are from 1 -10? THNKS A LOT LOVE U GUYS TL FOR LIFE!!!!!
I think Lustboy is an above average LCS support that hasn't been performing at his best recently. Against TSM as of this moment, I am 7/10 in confidence level. We have time to make that a 10 still!
lolkasuga
Maybe this is hard to answer but, who do you think is the best player in your role or maybe someone you look up to? (from any region)
Best at support? Very hard to tell, but I enjoy watching Pyl and Imp play the most.
MilordMarkus
Any tips on how to be good with Kalista (my main) and Xpecial, any tips on Nami?
Number one tip with Nami is to max W and land your Qs.
DwikBoss
Hello TL Peeps, Are you confident enough to win against high tier foreign teams at worlds?
Confident enough to win? Not against China or SKT, but against any other team we can definitely be competitive with.
xstard
What's Fenix's fish called?
Fenix calls him fishy, Dom calls him sushi.
[Phantom]
Have you played other games of the genre in your free time like Heroes of the Storm and Dota 2? What do you think about them, just curious.
What do you guys think is your biggest flaw as a team? (most people just ask about strenght )
I played Dota2 a bit a year or so ago, but haven't touched it recently. I watched some of the games from The International as those are always sick. Dota 2 is definitely successful, while I don't see HotS really taking off, but I haven't looked into it much.

Our biggest flaw is that we all have strong opinions with a language barrier that makes it hard to communicate directly sometimes. This comes into play both in and out of the game, but is something that we've mostly fixed.

Ansibled
Why do you think Wolf is a better support than Piccaboo (or Gorilla)? Have you watched much of OGN this season?
I don't necessarily rate it that way as I don't watch much OGN, but Wolf has had standout games recently. I also see him as being a strong asset for the strongest team in Korea.
Durpuh
Why is Rebirth so amazing?? T-T
Because I'm amazing.


Okay fine, it's actually Damian that's amazing
GrapesEU
If Riot made the game permanently 6v6, which ex- Curse player or academy player would fill the 6th role for Team Liquid in the LCS?
If you could make any non-viable champion, viable in the meta as a support, who would it be and why?
Good luck for playoffs boys! Do us proud!
We would have to hold tryouts? I don't know how that would work.

I would unrework Zilean and put him back on support so I can style on peeps.
BaboonOnTheMoon
Will we see you play Trundle Support?
I have played him in solo queue
agent01
Do you have any other pro players that you respect/watch or would like to practice with/against? NA or other regions
I enjoy watching many of the supports in China, such as Pyl and Meiko, as I perceive that region to be strongest.
BaboonOnTheMoon
What would you guys do if Riot allowed Sandbox mode to happen?
I would use it to practice a few minutes each day. Perfecting flaying J4 E+Qs, flashing over walls accurately with Annie, etc.
MyNameIsLegend
You guys are doing well right now, and I have high hopes for you at playoffs, but you all have had bad times in your careers, live almost every other League pro. What do you think was the lowest point of your careers and how did you rebound back to being the top of the league?
I think my lowest point was right when I left TSM as I didn't know if my success was a result of my own play or the players I was surrounded by. Talent and hard work is really all I know and that's all I could do. I just put in 100% effort and hope that turns into results.
vnbsaber
it seems like leona is only situational now in pro play. What would need to change for her to be a viable main pick again?
I don't believe there is anything wrong with Leona being a situational pick. Her kit naturally gets countered by tankier champs or those with more CCs. Because of this, not everyone is able to play her and it allows those that do to have an extra champion to pull from their champ pool.
Reapery
What do you think about support Sejuani and Elise? Can they succeed, and what do they need?
Neither are played for different reasons. Sejuani is basically Leona, but with less damage and not as tanky, while Elise doesn't do anything better than Annie. For them to succeed, they would need much higher numbers, which I wouldn't suggest doing.
RatwithaHat
Hey! I'm your biggest fan! Who do you think are the top 3 supports in premade 5 games and how the !@#$ are you so good at support (How do you practice)?
Top 3 supports in 5s would be Alistar, Janna and Braum. These three have utility that aren't often capitalized on as much in solo queue. I practice mainly through solo queue and scrims!
omarlittle
is righteous glory still a good buy on supports? is ancient coin worth starting on spellthief supports, or does it make more sense to sell spellthiefs later for the talisman (on annie and champs like that)
Righteous Glory is still good for supports that need a little more help initiating, like Annie and Alistar. Spellthief supports should still start Spellthief if it will help with trading and winning lane. Selling Spellthief for Talsiman later is always an option. Think of it this way, if the extra damage from Spellthief can zone the enemy ADC for 10 CS, it's already worth getting over Coin level 1.
How do you think Cloud 9 will do in Gauntlet? If you go to Worlds, how far realistically do you all think you can get through?? I hope you guys get first seed because you deserve it with the amount of effort you put it.Love you all
Will we be seeing the Trundle support coming out soon from you??
Cloud 9 can definitely make it through the gauntlet. I think that they'll get to the finals and potential lose out then. The hierarchy of NA teams is extremely clear cut and I believe that C9 are still near the top.

I think if we work extremely hard, we can hit the semis of Worlds.

I hope we win playoffs as well!

Maybe we'll see Trundle, I have been playing him a little bit in solo queue!
oo_Wonderful_oo
after Curse stopped banning Maokai and Kha'Zix and you didn't qualify for you first World Championship, how does it feel to start playoffs as #1 again?
Also, what do you think about support meta right now, do we have certain tier-1 supports or almost everything including Tahm Kench is viable?
Starting playoffs being #1 doesn't mean much for me considering how close the games were to even get to this point.

There will always be a tier list of supports. Right now, Alistar, Braum and Janna are tier 1, but many counterpicks and close Tier 2 champs follow them.
Tyde
How is your communication with Piglet in game? How do you communicate the more difficult tasks like to fall back and re-engage or if he's asking for peel?
Our communication in game is good. It's often very terse and rarely conversational. Fall back and re-engaging are very easy. We often say things like "go go," "back," "i go first," "help," etc.
krndandaman
As a support player, how important do you think it is to find duo queue partner(s) for someone looking to rise in soloqueue? I've been starting to main support and I am in D2, but have never played with an adc duo so I feel like finding a good duo is also something to work on or is it actually not that important?
Thoughts on zilean support? I recall you and Kasing playing it a fair amount on soloq and it's one of my favorite champions. Obviously it's not top tier but do you think he'll find a chance to see pro play or does he need changes/buffs?
What has been the hardest champ for you to master/pick up for pro play?
Is there a champ you hate to play but play it anyways because it is/was strong in the meta?
Yes. Every support player will hit a threshold of skill that can't be passed alone. You can only carry a game so hard having to rely so much on another player. If you want to climb, it's definitely easier with a duo partner. This is true for any role you play, but for support it's especially true.

The Zilean rework made his damage extremely unreliable, which makes his laning much weaker. I think he needs a few more buffs before he can be played.

The hardest champ for me to pick up has been Alistar. He just requires a bunch of games to spam and get used to the mechanics.

I don't have any champs that I refuse to play. If I perceive a champion to be strong, I'll play it, simple as that!
chaoticwizard
besides piglet, who would the best adc partner be for you in the world?
I like extremely strong mechanical players, so there are a number of those in the world. Imp, Rekkles, Sneaky, Altec are among the many.
lolkasuga
If you could choose one skill out of the game as your superpower, which would you choose? (You can choose a passive too i guess)
Black Shield
XxViperRKOxX
Do you prefer Annie over Janna?
Not really. I enjoy both, but Annie is definitely one of my favorite pocket picks that few players have.
Liquid`Quas
MooMooMugi
As more and more champions are being played in top lane such as Yasuo and Olaf , what champions do you think will be sleeper OP picks during Worlds?
I don't think there's specific sleeper OP picks but rather picks that aren't prioritized as much ( Maokai, Sion, etc) maybe coming up to play by some teams more than others.
SsjCosh
So I hear you lift. What's a typical routine at the gym for you?
Mucha suerte en los play offs. Eres mi jugador favorite desde que empese jugando este juego. Echale huevos carbon!!
Ps. Mod pls?
Haven't been lifting for a few months now, just been doing HiiT cardio 3-4 times a week plus calisthenics at home whenever I'm lazy and don't go to the gym. Gracias!
iAMtHeHxC
Who is your favorite mod? quasW
shadowfeather ( love you too hexic)
Varrock guard
I heard a story where piglet was running around in his underwear and you came home without a shoe. Do you care to elaborate?
After major loss against C9, went to party, had too much to drink.
thechamp21
I watch your stream almost every day and I love it. Watching your drive video and seeing what it was like for you to come to a new country and settle into life here was pretty cool to see. So my question is what was it like being on the other side of it and adjusting to new people coming from another country in Piglet and FeniX.
Glad you enjoy the stream! When Piglet first joined the team, it was very hard to communicate/ connect with him at all, so it felt less like a team ( Fenix's english wasn't as poor), but after a few months of him getting used to the country and the language the enviroment got a lot better for him and the rest of us.
Shanidog
If you guys won the S5 World Championships, which champions would you want to have a Team Liquid skin?
How should the meta change in order for Swain to be viable?
Probably Swain, but I doubt i'll be winning S5 World's by playing Swain in the first place....
For top lane it'll be rough, since 2v1 is always going to be a possibility, he needs the 1v1 lane to get farmed and get levels to have an impact in the game.
MoonBear
What's your favourite food?

What's your favourite drink?

What's your favourite ice cream flavour?

If you ever have children, what's the most important lesson you would want to teach them?

Chipotle ( god bless postmates delivery)
Water
Green tea Mochi
JUST DO IT
candycane000
Just curious as to what you think are the best solo Q top laners currently?
Anything that snowballs and that you can play well works ( Riven, Tryndamere, Aatrox, etc)
willisblee
what are your favorite home cooked meals?
Pasticho, Pabellon.
gbg1101
who is/are you favorite non-meta champs?
Swain.
ALocalhobo
Do you wish the meta/team allowed for your very different (some would say cheesey) top lane picks like Karthus and Morde? and if you do end up playing Karthus please use the penta kill or the statue of liberty skin, thank you and love the stream
I don't really mind playing tanks and anything that's on the meta, there's still a lot of different setups to run on them than most players, and different tanks available, I enjoy playing around with the team more than trying to carry.
Grazgri
So Olaf is back in the top lane, do you think this will bring back Kennen?
I don't remember how the matchup plays out, but Kennen could be a good pick into certain comps, i'll have to try him out to see how it feels, how that Olaf can buy a black cleaver for movement speed to chase you down.
Beeeaaast
What are your thoughts on damage heavy snowball champions for top lane? At the moment I'm a mid laner that is getting quite bored with this lane. I want to kill people but the mid champs I play are getting bored. Since teleport is pretty meta in toplane, do you think that playing aggro champions with ignite is worth it? Or is it risky to play since you lose map pressure+exp if you're forced to back early. Sorry if my grammar is poor English isn't my first language
In solo queue, damage heavy snowball champs are best, ignite is definitely a viable choice, teleport is a necessity in competitive play, but in solo queue ignite gives you a lot more kill pressure and even the ability to 2v1 when jungler comes if you're ahead, etc
vixxy
What do you like to do besides play video games?
Think about playing video games.
TitusBatiatus
Quas, I see you as the hero of NA top lane and I just want to know which 3 champions would you play more often if you could?
Aatrox, Gangplank, Swain.
pacy035
what do you think of Dyrus after those TSM vs GV games?
I think that his role for the team can vary between just a frontliner and a threat with the olaf picks and the gnar counterpick, so he could be more of a threat than I originally thought going into our series, but I still think Bjergsen is the one to shutdown in order to win.
jcornt31
What do you think of Swain/Poppy in the current meta? What do you think would make them viable?
Followed this team since season 3, and although it's changed a bunch, I'm really happy you guys are finally able to show your skill and i'm excited to see you guys wipe the floor with TiP. QUAS SOLO KILL IMPACT
For swain, I think the tank meta doesn't benefit him much, he struggles against long ranged champions like Azir, ori, in teamfights. Both him and poppy take a long time to get going, and are easily shutdown, so i'd say for Swain, probably squishier top laners and having your jungle camp your lane, and for poppy a champion rework.
PocketPug
which top laners (worldwide) do you like to watch / pull different strategies from?
I know Dom said he talks to Junglers in EU, do you have anyone from other regions you communicate with?
I shared some ideas with a couple top laners in EU, but dont communicate with any other regions, I like to get strategies/ideas from LPL or LCK, a lot of LPL top laners are fun to watch and I get to learn more about how they play matchups over there.
Namano
What do you plan on doing in the future when you retire. Do you just want to leave league entirely, stay in the competituve scene as a coach or would you start tutoring and mentoring other peop
First of all, I don't plan on retiring anytime soon, I want to compete as long as possible before I retire, once I do I would probably do something league related, ( streaming, coaching, etc)
CodeBaNaNa
What top laner outside of NA would you like to go up against in a 1v1 lane the most?
P.S.: Quas the god. quasW quasBird
I would like to face koro1 from EDG, i've learned a lot from him with playing certain team champions like maokai, gnar, etc. So it'd be a good experience for me to try to have a bigger impact in the game than him.
cronos310
first of all I am really proud to see a latino in the league pro scene doing as well as you are, I'd like to know what it would mean to you to make it to worlds and what are your expectations on a personal and team level?
Ps: Que es lo que mas extrañas de Venezuela fuera de tu familia, algún lugar o comida en particular? Saludos desde Costa Rica Diego!
For me It would mean a lot more to be able to be a competitive team going into worlds, rather than just making it and not getting past group stage, but regardless just making it there would be a pretty big deal for me, definitely an achievement that im looking forward to.

Mas que todo tequenios, pabellon, empanadas, etc
Liquid`Fenix
MooMooMugi
Would you consider IWDominate as your best friend on Liquid? You guys seem very close on screen when your emotions run high after a victory.
i think dominate good as friend not as player
LovesToSpoon
what do you think of the kassadin into viktor matchup? lpl midlaners have been playing kass as a counter and it has a 50% winrate so far.
some times good i guess need jg help when i play kass
Liquid`Piglet
Faeny
have you ever considered using a different resolution at all?
제가 풀스크린으로 게임을하면 1
를 하기때문에 팀원한테 기회를주기위해 작은화면으로게임해요
LightningStrike
are you still friends with any of your former teammates from SK Telecom T1 K that won Season 3 Worlds?
impact poohmandu
WannabePiglet
How do i play Vayne as well as you do? And why triforce third item?
just good ..... dont hate triforce