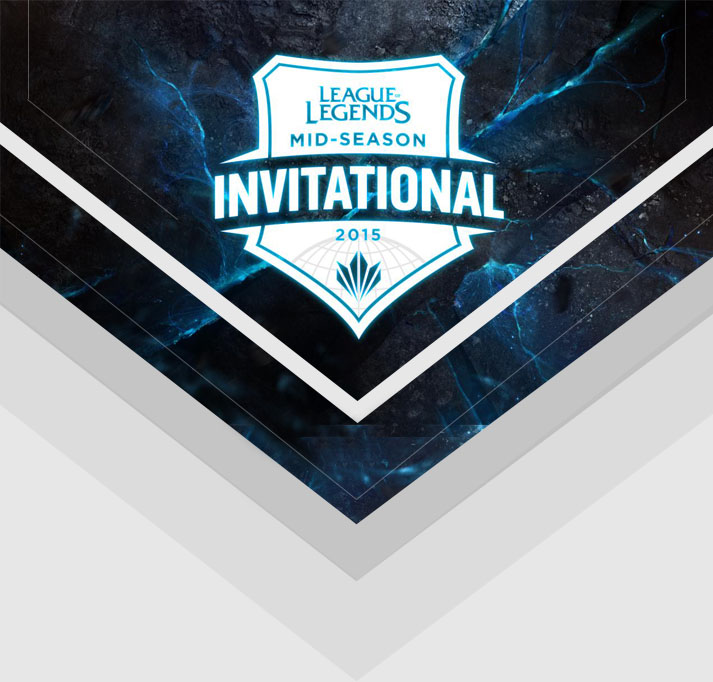 With the Summer Split underway we would like to present you our coverage of the Spring's most influential event, the Mid Season Invitational. MSI confirmed what many of us already thought to be true ‒ Korea isn't alone on the top of the competitive food chain anymore. Overall it was a great event with new faces, old friends on opposing teams, and close matches every day. I hope you will enjoy the interviews we did and that our pictures will take you back and remember this great event once again.
Aaron's Genius
The Comp That Beat Faker's Leblanc
Riot's first Mid-Season Invitational is the most competitive international tournament the League of Legends scene has seen in years. Wrapping up with a dramatic final, SK Telecom T1 fought like hell to secure glory for Korea, but China's Edward Gaming defeated them 3-2. Not only did the China squad claim the first victory over a Korean team in a best of five at a final since season 2, but they became the first team who defeated SKT superstar mid laner Faker's Leblanc in a competitive game. This was because of EDG's coach, Ji "Aaron" Xing, formulated a strategy against Faker's Leblanc to completely deny the pick any play-making potential, and then played picks and bans out to force SKT's coach, Kim "kkOma" Jeong-gyung, to choose it. This is the Genius of Aaron.
The Set-Up
Tensions were high on the stage of MSI. Going into game 5, it was either teams' game: EDG had bullied Easyhoon-lead SKT in two of the first three games, but once Faker had stepped in EDG was placed on the back foot. Several storylines were coming to a head: would Pawn deny Faker another tournament win; would Faker's return to the international stage end in his domination and him finally besting his personal kryptonite; was Korea going to redeem the shame they incurred from IEM Katowice at the hands of the GE Tigers; would China finally claim a victory against Korea in the finals of an international tournament? All this was on the line for the MSI finals.
The bans in the last game were typical: SKT banned away Hecarim, Rek'Sai, and Jinx while EDG banned Kalista, Gragas, and Cassiopeia. What was unusual, however was what wasn't banned; EDG on red-side had left open Leblanc, the champion Faker was 12-0 on in competitive play.

SKT first picked Urgot, something which had been denied them for some games now. EDG once again secured Maokai for Koro1, but also claimed Alistar for Meiko in order to deny Wolf his support pick. SKT's second rotation started with Bengi grabbing Nunu for himself, then Faker hovered over Leblanc. The crowd roared to see his play. He switched to Lulu for a time, and the crowd simmered, but kkOma and Faker still discussed the pick.
When Faker locked in Leblanc, the crowd exploded with excitement. kkOma had declared his war, but Aaron anticipated it.

The picks went to EDG, and immediately we saw an adaptation. They locked in Morgana, who to be mid since they already had secured a top and support, and Sivir for ADC. Morgana mid was a pick no one had used in MSI up until now—Aaron had a plan for Leblanc, and he was springing his trap. SKT got Gnar and Nautilus, and then EDG pulled out one more surprise—Evelyn for Clearlove.

Most teams have chosen to ban Faker's Leblanc from him, possessing no answer. EDG, under the guidance of their
coach, essentially said "go ahead—we will stop you." And that is what happened: Faker couldn't snowball on Leblanc, and as the rest of SKT T1 tumbled, EDG closed out the game. But what is it about these champions which made them so good against Leblanc? It revolves around denying her the ability to approach the backline to land meaningful damage and cc, and punishing her with flanks.
The-Counter Comp
We will cover the picks in the order which they were chosen for EDG's comp, as to both contextualize the purpose they served for the series and for taking down Faker's Leblanc. Starting off is Koro1's Maokai. EDG fielded the champion in four out of their five games of the series, and Koro1 displayed incredible play with the champion (with exception to game 4). Picking up the Maokai here was a clever deception as it suggested EDG were going to play their usual approach. However, Maokai served the purpose of reducing Leblanc's damage in team fights with his ultimate, and more importantly, guaranteeing punishment by Twisted Advancing onto her. We saw this as Faker tried to clean up EDG after they took Baron. Koro1 advanced onto Faker, following him back to his Distortion blink and allowing his team to follow up with their spells for an easy kill.
The Alistar pick was primarily to deny Wolf, yet it also aided in the war against Faker's Leblanc. Faker likes to harass the support of the enemy team, chunking them down before important fights or even picking them off entirely. Alistar's denial comes from his ultimate. The 70% damage reduction means that Alistar will always be able to tank damage in a fight, regardless of how much Leblanc chunks him out. The CC cleanse on it as well prevents Leblanc from snaring him with her chains. In addition, Alistart can also CC Leblanc with his Pulverize, potentially catching her out for the Maokai to follow up on to her and keep her held down. So far, both of EDG's selected champions cannot be targets for Leblanc.
Sivir and Morgana are the picks for the carry positions, and both of them come equipped with tools for handling Leblanc. In lane, Morgana suppresses Leblanc's roaming capabilities by putting 3 points into her Tormented Soil to one shot the caster minions. Pawn utilized this strategy and constantly shoved the minion wave in throughout the laning phase (the match history of the game confirms this). Furthermore, Morgana denies Leblanc trade damage with her Black Shield, prevent the snare from Ethereal Chains, and mitigate Leblanc's poke in skirmishes with it. The Shield can also be applied to other members of the team, and given how anti-Leblanc EDG's comp becomes, that only further complicates Faker's efforts.
Finally, Dark Binding can be used as Leblanc Distortions into Morgana to both chunk the deceiver and prevent her from blinking back. This threat forced Faker to take Cleanse in lane rather than Ignite. While Cleanse did save him several times, the lack of additional kill pressure kept Faker on the defensive, and Pawn's accuracy with the Dark Binding forced Faker to respect the spell at all times.
Sivir's Spell Shield, Boomerang Blade, and On the Hunt are the tools she uses to handle Leblanc. The Spell Shield operates as another Black Shield for Sivir, except granting total denial of damage from Leblanc's first spell. The timing is crucial, but a combination of Deft's great reflexes and Leblanc's telegraphed play meant that Faker had little opportunity to harass him.
Boomerang Blade served as poke and a long range follow up to either Maokai or Morgana's CC onto Faker. This gave Deft the ability to either dissuade Faker's approach or to guarantee kills with the damage. Lastly, Sivir's ultimate, On the Hunt, facilitated EDG's engages and flanks to catch out SKT in unfavorable positions, preventing them from setting up for the picks they were trying for.
EDG's final pick was Evelyn for Clearlove, which served a dual purpose -- countering both Faker's Leblanc and Bengi's Nunu. Using the pick against Nunu, Evelyn allowed Clearlove to circumvent any counter jungle pressure Nunu strives for by denying him vision pressure on her. Her invisibility means Bengi's wards are ineffective in tracking her movements through the jungle as she goes to gank lanes. Also, since Bengi cannot track Evelyn, he cannot safely invade Clearlove's camps and take them as Clearlove could set up an ambush on him and duel him. Once Bengi locked in Nunu, Clearlove had defeated him.

The Evelyn was also another pick which favorably stood against a Leblanc. Her invisibility meant that Faker had one less target to poke before fights could break out—you can't hit what you can't see. The fact Leblanc can't target Evelyn with her Q unless she can target her, meaning that she suddenly show in range, prevents her from setting up harass onto her, and the inability to track Evelyn through her jungle without copious amounts of true vision means there is little to no way to plan a pick onto her. Furthermore, it gave Clearlove the opportunity to flank either with the move speed from On the Hunt or from the rear.
Evelyn was truly a trump card in this series. The fact that it gave Faker one less target to focus before fights while also denying Bengi jungle pressure meant that in this scenario, it was a great counter-pick which befitted Clearlove's historical use of the champion in clutch scenarios.
SK Telecom T1: kkOma's Miscalculations
While we can praise Aaron from dusk to dawn, we must also recognize that kk0ma might have been able to avoid the situation had he played his pick and bans a little differently. Starting from SKT's first pick, it was a possibility to take the Maokai away from Koro1. EDG had grabbed the massive tank in their first pick rotation in games 3, 4, and 5—this is a heavy emphasis to place on one role. To be fair, Maokai is a safe champion to pick early, but Koro1's performance (barring his atrocious game 4) was dominating on the champion. Taking that option away from Koro1 and giving it over to Marin, who is also incredibly successful on the champion, was a possible adaptation SKT could've made. They probably didn't, however, because Koro1 plays a strong Gnar—considered a lane counter to Maokai—sitting with an undefeated 10-0 record on the yordle.

This reasoning is probably what lead them to first picking Urgot. This pick forced SKT to pick up Leblanc: with his short range, Urgot has no synergy with Lulu and a composition with those two champions as the carries would have severely lacked damage. Perhaps they were expecting EDG to take away Leblanc in their first pick rotation to deny Faker, and secured the Urgot to dissuade them from it as he could Position-Reverser Leblanc if she distorted into the team. When EDG didn't grab her, SKT were forced to pick her.

I do not think SKT had to prioritize the Urgot pick. For starters, Bang's Lucian has historically been a more successful pick for him when a series was on the line, such as when he famously solo carrying SKT to victory against CJ Entus in game four of the LCK semi-final. Given EDG's choice of Sivir as their ADC, SKT could have punished it with the favorable Lucian match-up, or dissuaded Deft away from the champion and onto a champion easier for Leblanc to approach. Furthermore, SKT could've picked Lulu instead of Leblanc had they chosen Lucian, and played their high move speed pick composition with Faker's Lulu rather than Easyhoon's (though it is possible EDG had an answer for that).

These points of which champions SKT could've selected are debate, but there is one flaw in kk0ma's approach which is not: his choice to have Wolf play Nautilus. This was incredibly confusing because Wolf had never played Nautilus in a professional match—putting a player on a champion they have no experience with competitively in a high pressure scenario is setting them up to fail, which Wolf did several times throughout the game. In addition, kk0ma selected Nautilus into a composition with Morgana and Sivir are the carries. How is he going to land his ultimate against two different spell shields? Nautilus' inability to engage against the composition, combined with Wolf's inexperience on the champion, was a shackle which held SKT down.

This begs the question—why not select Janna? Against EDG's composition, she would've been a wonderful pick. Her movespeed aura could help them somewhat against Sivir's ult, and once EDG's composition collapsed, all Janna would have to do is use her ultimate, Monsoon, to disengage. There was no second wave of initiation in EDG's comp: once you hit a binding or Maokai snared, the comp had to go all in to follow up. If you survive that, then they can't get back onto you. This strategy would've given Urgot the time he needed to scale and become too tanky to kill, while Leblanc could finally begin to burst through Morgana's black shield. Furthermore, Wolf has played a great Janna, being undefeated in 5 games with a monstrous 15 KDA with the champion in the LCK regular season. This pick would not have left Wolf exposed as the Nautilus pick did and have fundamentally countered EDG's composition. The fact kk0ma skipped over the option is alarming, and is perhaps his greatest mistake in this game.
To Deceive the Deceiver
The composition was focused on hard engage and poke denial. The move speed and invisibility meant that any miss-step by SKT could be punished immediately, while all of the spell shields meant that Leblanc's ability to create picks were significantly hindered.

Aaron must be congratulated for his cunning plan to handle Faker's Leblanc and for setting SKT up so well. Letting the Leblanc through bans in the fifth game where everything is on the line, waiting for Faker to lock it in early to deny Pawn from taking it away, and then securing the two carries who shield Leblanc's harass the best was tactically brilliant. With this strategy, EDG were able to best SKT T1 and truly claim the title of best team in the world.
Interviews
BJK Dumbledoge
Every one wants to know: what is the story behind your nickname?
I am a big fan of Lord of the Rings, but my second favorite book series is Harry Potter. When I was picking my name, Dumbledore was taken and doge was just a one letter change.
So then, if you had to pick a Lord of the Rings name what would it be?
There are so many characters to choose from. [laughs] The Elvish characters have always been my favorite. I would definitely choose something Elvish.
What did it feel like getting first blood on Faker?
The kill on Faker wasn't planned; it just sort of worked out that way. It felt great when it happened and got a great reception from the fans. But I will say that, as my ADC will tell you, I'm very good at last hitting kills.
Were you aware that it was his birthday?
Yes, it was a birthday present.
What is it like competing in the Turkish leagues?
Competing in Turkey is great. We have a lot of fans and support in Turkey.
Do you live in a team house?
Yes, we all live together.
BESIKTAS is a huge sponsor - how did this relationship come about?
I am not sure who contacted who, but BESIKTAS was looking to get a hand in esports. We developed a relationship with them and it has grown ever since. BESIKTAS has teams in many sports like football, and they've been around for a hundred and twenty seven years. I've always supported BESIKTAS so it was great that this could happen.
Do you feel the competition is weak in Turkey? Is It hard to train there?
In Turkey, we're much better than everyone else. The competition is far better outside of Turkey.
Have you ever considered moving the team to China or Korea?
We wouldn't move to China or Korea, but have considered moving to more competitive parts of Europe. We decided against it because we don't want to risk losing our spot in the Turkish league.
Do you get many chance to train against non-Turkish teams?
We play mostly EU teams when we're practicing. When we play against LCS and CS teams we have good results.
So how has competing in MSI been for you?
I'm getting a lot more recognition than the rest of my team, mostly because of my cool name and first blood on Faker. The fans really like me here and that's been fun.
How do you feel when the crowd cheers you on after a big play?
I feel real hyped when this happens. At IWCI, fans cheered me on after a first blood off of a great Thresh hook and I got goosebumps. I don't get goosebumps anymore, but I really like the feeling.
Are you affected by fans when they are cheering on the other team?
You have to expect that when you play in front of a live audience. I'm mostly able to concentrate and ignore the noise in those situations.
Do you prefer being a playmaker support or a more defensive one?
I used to play defensive supports like Nami or Janna. I picked up Thresh for the Wild Card tournament, partly because my ADC requested it, and I'm really glad I did. I enjoy making the plays on playmaking supports like Thresh or Bard.
What do you think about Bard? We saw him twice today in the group stages but he didn't do so well. What about with the recent buffs?
I think Bard is very strong now after the recent buffs; he is very strong in lane. Teams just haven't had a chance to really practice with him. I wanted to play him more today, but my team didn't really approve since I've only played him in solo queue.
[laughs] Well, you managed to steal lvl 1 Kurgs 1v2 with Bard - how did that feel?
I don't think I could have done that with any other champion. Bard's strengths give me the confidence to make plays like that.
We have a few fun questions we'd like to ask you. Do you ever play pranks on your teammates?
I'm actually a very shy person. I'm usually keeping my teammates in line and schedule all the meetings [laughs]. Energy is the jokester on our team.
What about Energy's % death reduction runes?
[laughs] Well, that was a joke obviously.
Who can eat the most food on the team?
Tom (Nardeus) is always eating food. He must eat at least five meals a day. He even eats while he's in game.
Do you ever tell girls you play League as a pickup line?
No, never. I'm very shy and do not have any pickup lines.
How does it feel to be famous as a shy gamer?
It feels really great. I like having so many fans.
If you were all on an island with no food, who would be eaten first?
It would definitely have to be Energy. He's kind of a fluffy person and I think this is because he lives in Norway, where it's cold. He needs the extra insulation.
Would you like to say anything fans or sponsors?
Thank you for cheering me on. I really enjoy the cheering and please continue to do so. Thank you BESIKTAS for sponsoring us at MSI.
FNC Steelback
First off, congratulations. You guys didn't take the victory, but you brought SK Telecom to five games. I don't think anyone expected that. Did you guys think it'd be so close?
Before we come to the event, no, but once we scrimmed them we saw that we were actually able to beat them. So yeah, after the scrims we knew that we could do really good against them.

I talked to your coach last night and asked him what you guys had planned, and he said you guys had a big secret. Was there anything that you were actually hiding, or was most of this coming from just a lot of really good practice and preparation?
I don't think we had anything secret really, but like, SKT have a different playstyle than European teams, so we need to adapt to it. We just adapt our picks and how we play against theirs.
What kind of things do you have to adapt to that you don't see in the European scene?
The jungler has way more presence on the map. Korean teams snowball really fast from mistakes. Like if you burn your Flash or if you make one mistake, they will capitalize on it really fast and not hesitate at all. That's the big thing that comes to me when I play against them. In Europe when someone burn Flash, the junglers don't camp your lane much, but the Chinese teams and Korean teams are really aggressive and they don't hesitate to gank at level two a lot or come and camp the lane: because that's where you need actually help from your jungler to come to your lane and reset or freeze it.
Yellowstar is very famous for his Support roams, which not a lot of LCS teams match, but in that series against SKT we saw a lot of roaming and lane swapping. Did that catch you guys by surprise?
No, we knew that he was roaming a lot when we scrimmed them. He was leaving the lane a lot like Yellowstar. So we were like, "alright we'll just go bot with our ADCs, just farm" and there will be four versus four elsewhere on the map.
Speaking of AD Carries, we saw Sivir picked all five games that series, and a contested pick this tournament, but hasn't seen a lot of success. Was it just a coincidence? Do you think this tournament is just playing a different kind of game where Sivir isn't the right pick anymore?
I don't think that it had something to do with Sivir. I think that we just lost on other things than Sivir. But Urgot is really strong at the moment and Kalista too. So it's Urgot first, then Kalista, and then Sivir. So yeah, they had a better AD for the early game.
So, when you're playing teams like Koreans, you mentioned their really different styles. What made you frustrated? Like you're following your gameplan, and what in the game just really throws you off and you have to overcome like mentally?
Korean teams like grouping a lot, and taking the vision really fast like we're not used to. In Europe we were never struggling with the vision - we were fine. But against good teams, they're like grouping really fast, pushing the lanes, and warding really deep so you have to move. They're really smart in how they play the laning phase. They know when to freeze, they know when to push - they're not random. In Europe, I feel that the quality of how you play, how you manage the lane, is not the same. The Korean teams are way better at that.
So why did you succeed so well against SKT compared to the Chinese team?
I'd say that we scrimmed them a lot so we know more about them, so we could adapt better against them.
Were you surprised that they kept Faker in for all five games?
No because in scrims Febiven was winning a lot against Easyhoon, so I think that's why they took Faker.
---
You've pretty much solidified yourself as the top AD Carry to come out of France, and you're doing really well as part of the Europe scene. How did you get to that level?
Before I joined Fnatic, I was like playing solo queue a lot when I was coming back from school. Some days I was not going just to play, and I was learning a lot from streams and Koreans teams, European teams, playing in solo queue against LCS players and I was training to get on their level. That's how I get higher rank in solo queue.
What changed after you joined Fnatic?
Fnatic is like a team that leaves the AD alone, so I had to adapt my game style. Before I joined Fnatic, I was being an aggressive AD, but now I had to change my playstyle. I just wanna keep playing the game and I will adapt my playstyle.
What have you learned from your time on Fnatic?
I learned a lot about how to play the game better obviously and how to manage the emotions that you have in the game. Because before I was tilting a lot in solo queue, but my coach helped me to fix it. I met lots of people and I traveled a lot, and yeah, I learned a lot. Against those Korean teams I learned way more and it was totally different.
Traditionally, we know that the stereotypes are that Europe has a lot of really good mids and North America has the good AD carries, but this season and last season, most of the hype was around the European ADCs, with players like Rekkles, Forg1ven, MrRallez, etc. What do you think of the status of ADC in Europe?
I think that in Europe there are a lot of good ADs. Forgiven is actually really good at laning and his mechanics are really really good. I think that European ADs – I don't know if they are better than NA because like I have to play against those players. So I cannot really say, but yeah, I'll say that in Europe we have good ADs.
We saw in Europe that rookie players and Challenger teams actually had a lot of success in LCS, but in North America that doesn't seem to be quite so true. What do you think it is about Europe that you can make a team out of rookies and do so well?
Maybe the European ladder is maybe better, I don't know. Maybe the players from solo queue learn more in Europe. I can't really explain why.
What are your plans going into the future?
I don't know. I will just keep playing, because I love playing this game and I will see what is coming to me.
---
Alright, well let's get light-hearted a little bit here, not just focus on the games. How did you get your name?
I got it from music a long time ago and I just mixed it and I come out with it: it's really random.
You do a lot of travel, obviously, in cars and planes. Do you have any players on your team that like to sing out-loud a lot?
Oh, yeah yeah. Reignover sings. I sleep in the same room as him, and like when he's going to the store, he's singing a lot, and sometimes too, after playing solo queue, when we're in the gaming house he starts singing really high and then we have to tell him to stop because we can't focus.
Is he a good singer or is it just the fact that...?
Yeah, yeah, he's just annoying because we [laughs] we cannot focus.
So you ever sing?
No.
No? We can't get you to sing anything?
No. [laughs]
On camera, you know Huni and Reignover have very fun, outgoing personalities. Does that go into being a part of the house too? Is it very fun, light-hearted there?
Yeah, the house is really fun. Like only Yellowstar is the only serious guy, there is four guys next to him trolling all the time and singing and yeah… it's really fun.
Do you think your relationships with the players helped you succeed at this tournament? How close are you with everybody else?
Yeah, I think the relationship in the team is really important. You have to understand the players that are playing with you in real life. You don't have to be really close friends but you have to respect your teammates.
So who do you get along with the best?
Febiven. Febiven is my closest friend on the team.
You all speak English really well. Do you ever hear people going back to their native language when when they get upset?
Yeah, the Koreans are like… insulting in Koreans sometimes when they are playing. It's only them.
How often do you actually get to go home and then hang out with your family? Were you just living in the gaming house the whole time?
Yeah, I was living in the gaming house all the time during the LCS. When there was a break, like one week or two weeks, I was going back to France with my family.
Last words, anything for your fans, fans of Fnatic and fans of yourself?
Thank you for everyone that supports me, that means a lot. Thanks for people who send me things on Facebook and Twitter. Go Fnatic.
Susie Kim
How do you feel like this event was run compared to most of the eSports events that you've attended?
I mean obviously there are lots of different types of production. I really do enjoy the way that Riot runs their events. Insane stage and everything, and I know they had a couple hiccups in the beginning, but no, this was really great. The atmosphere was great, fans were great… towards the end anyway. [laughs]
Right, there was a lot of behind-the-scenes interaction with the players of all the teams. Which player surprised you with their personality?
With personality, I would say Easyhoon, because you don't really get to hear a lot of what he has to say. I think most people when they try to interview SKT, it's always Faker instead of Easyhoon. It was really cool to talk with him. He's very intelligent, he has a lot of great things to say, and I really hope that he does more interviews. He was a lot more outgoing than I expected him to be.
We were doing an interview with two of the SK Telecom guys, Faker and Marin, and we found out that Marin had a poodle. How do you feel about that?
I like poodles. I like little dogs. I think most people in Korea own little dogs. So, that doesn't surprise me one bit.
Is it a culture thing?
Yeah, I guess so. I could say that.
Okay. [laughs] Alright.
Hard hitting questions man, poodles.
---
Exactly. You've been around the esports scene quite some time. Why don't you go through a little bit of your history on how you got into eSports?
I got into eSports because I was a fan of Brood War. I started off as a fangirl at different events like at Blizzcon and things like that. Nal_rA was one of my favorite players: he's an old school Protoss player from Brood War. I would go to Blizzcon and talk with him and things like that. When I would come to Korea and watch games there, people would recognize me. It worked out really well because I speak Korean and English, right? I guess I really got started by translating things at WCG 2007. I was there to help out a small website do articles and translations and then at their press conference when Stork had won that year, his translator was MIA. All of a sudden someone just goes, 'hey, that girl in the crowd, she speaks both languages, bring her out here,' and so I got up on stage. I ended up doing this press conference translation and then ever since I've just been dabbling. I've been a part of Team Liquid since 2007 as well. My biggest thing was always trying to connect Korean eSports to the West. I've done a lot of different t-shirt sales and hat sales and things like that, just so I could bring a little bit of Korea out to the West. Just knowing all the right people at the right time and following my instincts. I mean, I got to cast with Tasteless for Brood War at GOMtv for a season. I've done various different events since then, like Dreamhack and IEM, since then like that. So yeah, I've just kinda been around like you said. I don't even really know how I got started.
Is it all about bringing Korea, or did you think about trying to learn Chinese and also be a part of the Chinese scene?
I would LOVE to do that, but God only knows learning Chinese is a feat and a half on its own, and then knowing terminology, and then actually getting to know the nuance, I mean that wasn't gonna happen. No, I've always been very Korea-centric, I suppose. I live in Korea so its easier for me.
Absolutely, but now that we're seeing a team with Koreans in Chinese... [laughs]
Yeah, I mean because of that it'd probably be easier for me to segue into that if I wanted to, but I mean, I already have plenty on my plate just bringing Korea to the West.
Do you enjoy one of your favorites, like Nal_rA, being a part of the League scene now, coming from Brood War?
Oh, there's plenty, besides Nal_rA there's actually plenty of people who are involved in League now. Sadly, Brood War is not as big as it used to be. There's Nal_rA. I mean Watch on Najin, he used to be a player. Reach is a coach for Najin, he's a big name in Brood War. There are tons. I think people understand that when you're in eSports it's not about one particular game, it's really just about the community and growing it as an industry. So, I think that's great that people can transition from one game to another. I mean, we don't even know how long League of Legends is going to be around either. If they can make that transition to another game then I think that's great. That's more success for them.
Right, that's actually very positive words for an atmosphere where people criticize you for switching games.
Luckily I haven't gotten too much criticism for switching games because I haven't quite left Starcraft either. Most of my hosting jobs have been for Starcraft II. I still keep a good relationship with a lot of the players in Starcraft. No, like I said it's just expanding now and just becoming a bigger person in eSports altogether. It is very difficult to try to follow more than one game in-depth, obviously. I mean I love both games, I can't say like I left one for the other or anything along those lines because y'know I really do like them both.
Well, sticking to the focus of League then, we saw EDG win today and despite your SKT fangirl-ism, who do you think… do you think EDG will continue to win tournaments throughout the year, or…?
It looks like they are very very strong and despite their language barrier it sounds like the team really knows how to communicate with one another. They have very high caliber players and you could see that their style of play really influenced how SKT was to react. I was actually talking to some other Rioters beforehand and they were saying how before, the Korean meta was always the strongest of everyone, but it might be shifting. China might be calling the shots now in their highly aggressive play.
From what people have told me, they said that it seemed like EDG was very mechanically talented but they didn't have quite the strategy prowess of SKT. Did it feel like that today or did it feel like they really had solid strategies?
I am not the right person to talk about strategies. I'm not an analyst by any means, like you said I enjoy the game, I can appreciate great plays, and I can appreciate the players and their mechanics. Yeah, I can't really go ahead and say, oh they should've split-pushed here or they should've rotated this way. That's not my expertise by any means, but no, I mean, they do like to group fight, a lot. I can't really be a judge of that but I enjoyed the games nonetheless.
It's really scary when you see five players functioning very highly together.
Yes, absolutely.
What is your day like on days that you aren't covering an event, translating, interviewing, working the eSports dream?
Drinking whiskey, sitting around the living room watching TV, browsing the internet.
Does that mean you have a favorite Korean show?
[laughs] No, not really. Actually, I work for Twitch now and I'm part of Partnerships, so on days I'm not hosting I try to reach out to players and try to get them to stream over on Twitch, try to maintain those players and their relationships. Try to get them to stream more and things like that. Also, I do try to keep tabs on what's going on in the community. Like I said, I'm not a very analytical and strategic person, but I understand how important it is to see what the community is saying about certain metas and certain issues. I try to keep on top of that as much as I can.
Twitch is a non-Korean website, so getting not only the players to stream on Twitch but to get the viewers to watch them there over other streaming sites must be difficult. How does that get accomplished?
Korea mainly has Afreeca as their main streaming platform. However, now that the importance of being global has become much more pertinent, I feel that Koreans will see the importance of streaming to a global audience, especially those who want to make a name for themselves or establish a brand, and those who want to go out and possibly join a team in the West. This is the best way that they can find that exposure. What's good with Twitch is that they can highlight you or tweet about it or kind of try to get more viewers for you because obviously we want the best for the players. I mean, it's definitely an uphill climb. Plus, I think the way that the two streaming platforms work are very different. So, once players in Korea understand that Twitch is not that hard to figure out…but they're kind of scared because, oh it's all in English… it is in Korean but they're still like, oh I'm not sure what to do, and that's where I can step in.
Kinda the same reaction as people who get on Afreeca in English, they go…
"I don't know what this is like."
Exactly.
But, that's why I'm there and I've got a great team in Korea who can sit and explain to every player exactly the steps that they need to take to be able to stream on that, and like I said, it's a good way for Korea to reach out to the West again.
So this may just be like my observation, feel free to correct me if I'm wrong, but in the English speaking world, and especially North America, the pro players are also your famous streamers, whereas in Korea, your Afreeca streamers and Champions pro players seem to be in different worlds. Your streaming personalities, who have all their fans, are different than your pro-players, who don't really do fan interaction. If their contract tells them they stream and they stream, they don't really make it that sort of exhibition that gets Sneaky/Aphromoo stream highlights to the top Reddit.
I think that that's true, very much so. In Korea, mind you most of the pro teams are owned by huge corporations. Y'know, SKT is one of the biggest Telecom companies. KT is the other really big company. Jin Air is owned by Korean Air, a huge airline. Samsung, I mean I don't even have to explain them, right? So when players become pros, it's not to become personalities, they become pros to become winners. I think that's the difference, the mindset is a little bit different...
We'll wrap this up in a minute, I do have one more question before that.
Players that come from Starcraft 1 and retired and started playing Starcraft again, it seems like their almost liberated because their are personalities like Movie, Bisu...
There are players like Movie, Bisu, Shuttle who are like, hilarious now. You can see them smile, when you didn't think smiled. Do you think that kinda hurts League of Legends players when they're on their streams, that they don't, that they have to be more serious?
They don't have to be serious. They don't have to be serious at all. I mean, last year when Rookie and Kakao were streaming for KT, like they were having a grand ol' time. They would sing and they would hang out…...Going back to the other question about streamers. It's more because they want to make sure that they don't cross lines, they don't want to…
So is it like their coach or manager tells them this, or is it they… internalize?
They themselves internalize. I think they think, like, "I'm on a big team, I have an image to keep, I have an image for my team to keep. I shouldn't be too flashy."
Plus, there's KESPA, where you were punished for not pausing correctly.
[laughs] KESPA, I think, is just trying to regulate a strict rule which is definitely a good thing because it makes things more professional. Obviously, take even football for example, you can't taunt people after you make a touchdown, no touchdown dances, you'll get penalized for it. It's kinda like the same in that sense to me. Like KESPA putting down these rules kinda makes the organization and the league a lot more professional. In that sense I think it's very good. For streaming like you said, Bisu and all these like old Starcraft players who now just stream for themselves, they don't have that burden. They can stream and they are their own brand and they can do this for themselves. Where for players on a team, in Korea especially, they have to look out for a lot of other things. Players in the States are encouraged because that's the American way, right? You're allowed to be loud and boisterous, and you're allowed to… it's the same thing at these events. The camera comes over and everyone's dying to be on camera, where in Korea you see the girls hide their faces and their like, no don't film me, don't shoot me. That's basically, it's just a cultural difference I think.
---
Okay, well, since we've run a long time here, what would you like to say to Team Liquid, since this is a Team Liquid interview? Something very personal.
Something very personal…to Team Liquid, I have nothing but love, because Team Liquid is the first community that I was ever a part of and it was the only place, at one time, that I could get my best esports information for Brood War. It's where I was able to make a lot of friends. Surprisingly, in the Brood War days, all the Korean teams knew of Team Liquid, and they knew what Western people were saying. They couldn't believe that Western people would enjoy Korean Brood War. Whenever I used to go and do interviews with them or tell the teams: "Hey, can I buy two hundred t-shirts from you for Team Liquid?", they would know automatically. It was very good for me because Team Liquid really allowed me to have a home that I was able to come back to. Absolutely nothing but love for Team Liquid. That's a very special place in my heart.
Do you, or do you not, confirm that LiquidLegends is the best place for League information?
I'm a little disappointed that League of Legends was picked up by Team Liquid very late in the game. I'm sure Victor had his reasons, but I feel that LiquidLegends had a chance to be the Team Liquid of League of Legends, had they gotten into it when it first started. As of right now, I think Reddit is the main source of where all of the community flocks to. And it's really hard to change that, because people are creatures of habit and what they know is what they know.
But they should, right?
Yes, they should, everyone should go there. It's because also you don't get upvoted or downvoted, everyone can just write what they want. The moderators are a little more reasonable on LiquidLegends than Reddit [laughs].
Strict, but in a different way.
LiquidLegends, y'know, they're run by the same people at Team Liquid, and they're advocates of having a healthy community where people can voice their opinions. There are some great writers there too. If you want good articles, I think LiquidLegends is a great place. Plus, they have that awesome sidebar where you can watch, and they have a list of all the streamers, even Chinese streamers, and things you wouldn't normally find. I think that's awesome.
Awesome, thank you for the interview.
You are very welcome.
Photos
Day 1
Day 2
Day 3
Day 4