When discussing the topic of the best mid laners in Korean history, people will undoubtedly talk about Faker, PawN, and Dade. Old school players may instead choose RapidStar or Ambition. But very few will mention Ryu. The most common reaction from the average Western fan would probably be, "Ryu? The guy Faker completely outplayed?"

Ryu "Ryu" Sang Wook has never had his career gilded by gold, despite being one of the most consistent and skilled of any mid laner to play in a region known for its talent. In many ways, Ryu's legacy is best compared to that bridge builder who once met a goat. Despite a long career built upon consistent and solid play, he is remembered most for his dour face and being on the losing end of arguably the most famous duel in League of Legends history.

So let me tell you the story of a player named Ryu – the story of a man who struggled against fate.
The Beginning Tale
Ryu began his career playing in the mid lane for StarTale, a StarCraft team that had recruited a League of Legends division for Champions Summer 2012. The original line-up for StarTale was Mafa (Support), Fine (AD Carry), Ryu (Mid), kkOma (Jungler), Vitamin (Top), and a sixth player known as Joker who switched between top lane and AD carry. Soon, Vitamin and kkOma left in search of better opportunities, leading to a shuffle in roles as Joker filled the top lane, while Ryu moved to the jungle as 5cean joined the team as the new mid laner.
Fine left after a few weeks, replaced by ex-Azubu Frost player Locodoco. The team had a solid run in Champions Summer 2012, dropping in the quarterfinals to the newly founded NaJin Sword. After said loss, StarTale dropped the team. Undaunted, Ryu formed a new team with his former StarTale teammates Mafa and Joker (now called Score) and joined the venerable eSports organization KT Rolster. The line up of Mafa (Support), Score (swapping to AD Carry), Ryu (back to Mid), KaKAO (Jungler), and Ragan (Top) would soon show it was too early to count them out.
A New Identity
The team immediately made a statement to Korea, placing first during the Champions Winter 2012–2013 group stage with an incredible win/loss record of 11–1. They had similar success in the playoffs, defeating their sister team KT Rolster A 3–1, but they fell once again to the eventual champions NaJin Sword. In two best-of-fives, KT Rolster B won only a single game. However, they showed they were far from pushovers and once again displayed their strength by decimating Azubu Blaze 3–0 in the 3rd place match.
It was during this season that Ryu showed that he was one of the best mid laners in Korea. Ryu developed an aggressive style based around calculated dives, coordinating with his top laner and jungler to dive targets in order to secure objectives. This form of aggression was highly unusual at the time, and still is. While most players view aggression as a method to increase their personal gold and experience, Ryu played only for the team. His selfless playstyle meant he would gladly trade kills with an adversary if it meant securing an objective.
Despite shunning KDA stats in favor of his team, Ryu finished the season with a solid 4.4 KDA and displayed a diverse champion pool. In addition to a long list of meta picks including Evelynn, Twisted Fate, and Diana, Ryu displayed more interesting picks such as Talon and Mordekaiser. He was not just an intelligent and mechanically strong player, but a dangerous and versatile one too. Having come so close to holding up the Champions trophy and after displaying a similar performance in OGN Club Masters, KT B opted to replace KaKAO and Ragan with young top laner Ssumday and arguably the best jungler in Korea, inSec.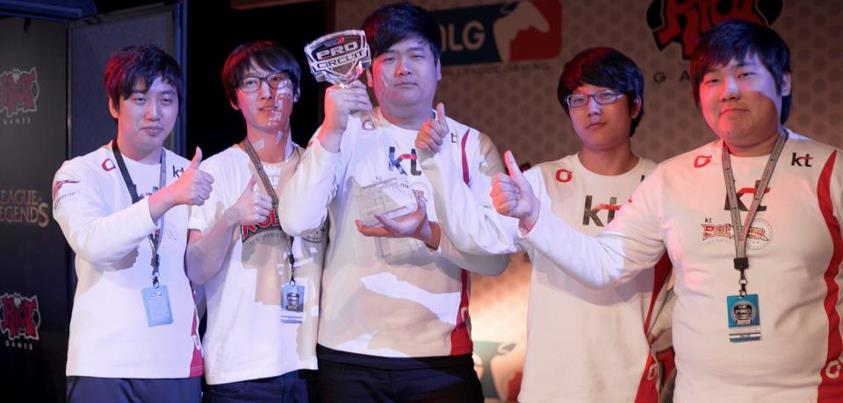 The new roster looked deadly, smashing through the 2013 MLG Winter Championship International Exhibition against Team Curse and Gambit Gaming. Ryu and friends immediately became favorites to win Champions Spring, thanks to their strong history and performance in the group stage. In their group stage, KT B placed second with their only 2–0 loss to the first placed CJ Entus Frost. Some fans even theorized that KT lost on purpose, in order to face MVP Ozone in the playoffs rather than face NaJin Sword again.
If the loss to Frost was intentional, the move was without a doubt a poor decision. MVP Ozone defeated KT Rolster B 3–1, and eventually won OGN Spring. But despite the loss, Ryu continued to show strong performance, maintaining his unique and effective playstyle. While he still maintained previous success on bread and butter picks such as Jayce and Diana, Ryu excelled on assassins like Zed and Kha'Zix, while also being equally as skilled on more defensive mid lane champions such as Orianna and Karthus. However, despite Ryu's strong play during the Spring season, he once again fell at the hands of the eventual champions, only able to look forward to playing online in NLB. After dropping out of Champions, Ryu's team ended up finishing third in NLB, as well as medaled gold at the Asian Indoor-Martial Arts Games 2013, dominating top tier teams across Asia. Despite said success, inSec had decided he had accomplished all possible while playing in the jungle, switching to the top lane to be in a better position to carry for his team.
The Sanguine Summer
KT Rolster B, renamed the KT Rolster Bullets aimed to try and finally blow their way through the competition. As inSec had moved to the top lane the KT Rolster Bullets brought KaKAO back into the fold, who was still a phenomenal jungler but had been shackled by the confines of an incompetent KT Rolster A. With the new strong roster in place, the Bullets went into HOT6ix Champions Summer 2013 hoping that this could finally be their season.
With a bang, Ryu blasted through the group stage playing some of the best League of Legends in his career. Even with his unique playstyle he still finished the group stage with a 5.8 KDA (fantastic considering his final season KDA of 4.97 was second among mid laners, only bested by Faker with 5.5) and continued to demonstrate his versatility for a third season in a row. The Bullets rode their momentum to face CJ Blaze, who they historically had done well against. Ryu went into the Ro8 fully confident. His mid lane adversary Ambition was having an abysmal season while he, on the other hand, was continuing to excel. As long as he and his teammates didn't choke they would easily win.
Although Ryu's individual performance was fantastic with great showings on Twisted Fate, Ahri, Orianna, and Zed, the Bullets' decision making would be another story. After winning the first game, Blaze bounced back to take the second. In the third game the Bullets held a lead through most of its duration, but managed to lose as Blaze snuck through their base, marking the first time that CJ Blaze had ever led a series against the Bullets. Pulling themselves together, the Bullets regained their composure and won the series 3–2.
While many of Ryu's teammates had looked shaky during the quarterfinals, all members of the KT Rolster Bullets were packing heat in the semifinals against CJ Frost. Score and Mafa's consistency in lane combined with KaKAO's solid low-economy performances allowed the Bullets to execute their fastpush tower strategy. inSec dominated the series on the extremely overpowered Zac, dying a total of once in three games, securing multiple MVP awards.
But the eclipse was when Ryu truly showcased his talent, delivering absolutely stellar performances on Zed and Karthus. As Ryu's team destroyed Frost's nexus for the final time that night, Ryu did something extremely rare that fans only on rare occasions got to witness while he was in the booth.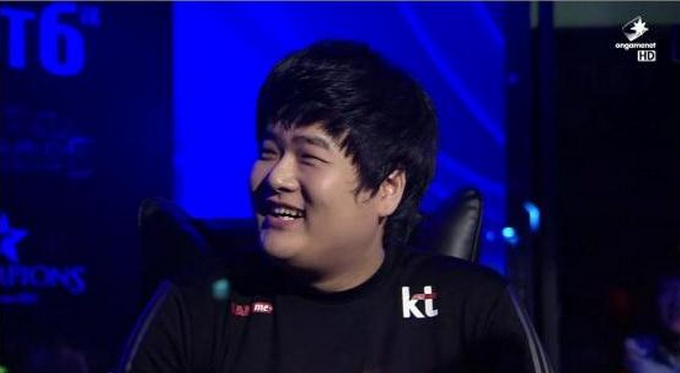 Ryu smiled.
With CJ Frost defeated, the Bullets only had SK Telecom T1 in their path. SKT T1 had defeated last season's champions MVP Ozone, and Faker's skill appeared unrivaled by any player in the world. On the night of the finals, after the opening performance, Ryu entered the booth, put on his glasses, and began the draft phase.
The first two games of the final were all about KT. The Bullets had prepared an ingenious strategy comprised around Gragas and Fiddlesticks, using both champions' wave clear along with the AD carry to quickly secure towers. With inSec's help, the duo of Ryu and inSec secured a kill on Faker and from there on out Faker was locked out of the game, never achieving a single kill. While Ryu likewise had no kills that game, his focus was always on the objectives rather than padding his kill count and his emphasis on the team shone through with an astonishing 16 assists.
In game two KT employed the same strategy of Gragas and Fiddlesticks once again and achieved yet another win. Against Faker, whom most people considered to be the best mid laner in Korea, Ryu went 6‒2‒9 and played a key role in securing yet another win for his team, while Faker only achieved a score of 5‒4‒5.
This was it. After so much hardship and struggling, Ryu could finally see the Championship trophy in front of him. After being denied his rightful place as one of the best mid laners in Korea, Ryu was so close to ascending. After putting in all this effort, Ryu could start packing his bags for the World Championships and on that stage become an international superstar. All it would take was one more good execution of their fantastic strategy.
Then SKT T1 locked in Zed and Vi.
SKT T1 had found their answer to the Bullets' strategy. By pairing an assassin mid with Vi, SKT T1 could create picks against the Bullets team and prevent Ryu's team from swiftly securing objectives. Suddenly, Ryu's selfless playstyle to prioritize objectives over himself didn't work. This clever adaptation allowed Faker's team to quickly bring the score to 2–2. SKT T1 had come back from match point to the final, decisive game. With the Bullets' strategy finally countered, they had to win based on pure skill, communication, and teamwork while also overcoming the momentum from back to back losses.
As the blind plick menu appeared on Ryu's screen, he locked in Zed, and entered the most important match of his career. It was all or nothing now.
While the match was initially quite close, SKT T1 eventually built a large enough lead to make their victory inevitable. In one last ditch attempt to stall out the game, Ryu attacked Faker in a Zed mirror match to prevent him from taking the Bullets' middle inhibitor turret. In one of the most profound displays of mechanical ability, Faker's Zed defeated Ryu's.
And with that the Champions trophy was snatched out of Ryu's hands. Ryu removed his glasses and gazed at his computer screen one last time.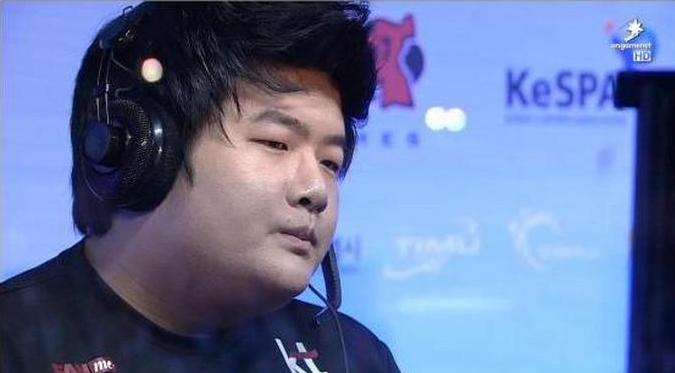 Ryu did not smile.
By virtue of their previous strong performance, the KT Rolster Bullets were given a berth to the Korean Regional Qualifiers and they took their frustrations from their Championship finals out on all who dared stand in their way. Ryu stormed through both CJ Entus teams 3–0 with incredible performances on Gragas, Ahri, and most notably Fizz. But once again, Faker and SKT T1 would stand in front of the speeding Bullet. The ascendency of Faker and SK Telecom signalled the demise of Ryu and KT Rolster.
With a 3–1 loss in the finals of the Regional Qualifiers, Ryu's season was over, once again. First the Champions trophy had been snatched out of his hands when he had struggled and come closer to it than ever before. And now, his ticket to the World Championships had been shredded before his eyes. And Faker, not Ryu, would go ascend to become known as not only the best player in Korea, but the best player in the world.
The KT Collapse
Ryu once again picked himself up and looked towards OGN Winter 2013–14. But with KT's mediocre performance in WCG Korea, a difficult group in OGN, and the hype around Samsung Blue, NaJin Black Sword, and Incredible Miracle 2, it was possible that the Bullets would not make it out of the group stage. Ryu's competition was fierce. NaJin Black Sword's Nagne had previously performed well at the Season 3 World Championships on Gragas, and shown he could stand toe to toe with Faker. Similarly, PawN of Samsung Blue had obliterated Faker at WCG Korea with an exemplary Fizz and Nidalee. While KurO did not look as strong as Nagne or PawN, his performance in solo queue was quite strong and made good plays on Orianna and Syndra. It was once again a test to whether Ryu could finally live his dream of being known as one of the best Korean mid laners.
Although suffering a shaky start in the beginning of the season, dropping a game to Samsung Blue, the Bullets shot through the rest of their group in quite dominating fashion. They once again were displaying their intelligent strategy of focusing on global objectives and maintaining fantastic communication. After dominating their group 5–1, it looked like the Bullets were back in form. During the bracket selection stage, KT B's Score picked a bracket containing the newly developed CJ Blaze for the quarterfinal, with either SK Telecom T1 (now called SK Telecom T1 K) or Samsung Blue for the semifinals. The run would without a doubt be difficult, but if anyone were to challenge SKT T1 K in winning Champions Winter, it was the Bullets.
In the quarterfinals, even though CJ Blaze was able to finish out a close Game 1, Ryu and his team still had Blaze's number and went on to defeat them 3–1. But while Ryu's mid lane opponents had all been quite talented, they were just a warm-up for his rematch against Faker. SK Telecom T1 K had utterly destroyed their group, exiting 6–0 and followed that up by immediately crushing Samsung Blue 3–0, silencing all claims that the team's skill had stagnated. But if Ryu was to make his dream a reality, he had to face this monster head on.
It was not to be.
The semifinals were a disappointment for KT Rolster fans, as the Bullets were swept 3–0 by SKT T1 K. Despite being arguably the second best team in the world, it meant nothing when faced with the best team in the world. SKT T1 K would eventually going on to win the entire tournament undefeated. Ryu and the Bullets once again took their frustrations out on the next poor team to get in their path, this time NaJin White Shield, pummeling them 3–1 to take 3rd place. But once again, Ryu had been denied his Champions trophy.
As SKT T1 K closed out the season looking like the undisputed kings of the world, it seemed like SKT T1 K would forever be the insurmountable mountain Ryu could never climb. But suddenly, it was announced that the team's expert support, PoohManDu, was taking a break from competitive LoL. With doubts now swirling about whether SKT T1 K would maintain their form, the future powerhouse of the Samsung teams still in their infancy, and CJ Entus still struggling to put together an elite tier team, it suddenly seemed like Ryu had been given his redemption.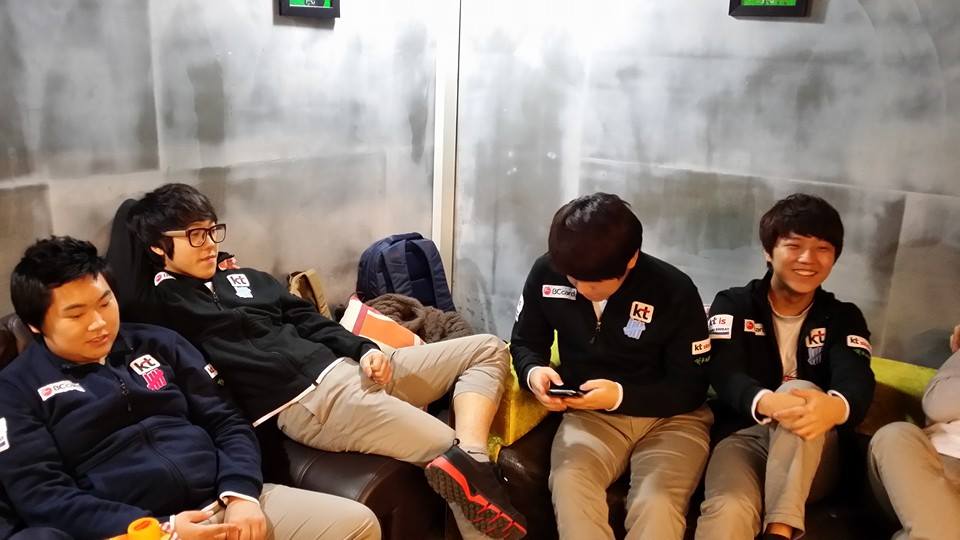 But fate had already been shown to be a fickle mistress. A picture was released revealing KaKAO wearing a KT Rolster Arrows uniform. Suddenly, all was not well. While the KT Rolster organisation could have made several swaps that made sense such as moving inSec back into the jungle and using the battle ready Leopard in the top lane, this made far too much sense. No, fate had no intention of giving Ryu a break. Instead, former KT Arrows mid laner Zero would be placed in the jungle.
The team immediately became a former shadow of itself in all aspects. The clever dragon calls and ingenious Baron sneaks? Gone. The incredibly strong jungle pressure? Gone. The impenetrable, unchanging bot lane? All gone. And against this backdrop, Ryu himself would begin to crumble. In the SK Telecom LTE-A LoL Masters 2014, while his staple champions such as his Orianna were still top notch, his attempt to learn new meta picks such as Leblanc proved to be futile, contributing just as much to KT B's losses as he did to their previous victories.
After continually embarrassing performances in Masters, the organization finally decided to make the change they should have made in the first place, and moved inSec back to the jungle while keeping Leopard (now known as Duke) in the top lane. While such a move at first seemed meaningless as their losses continued to pile up in Masters, the team finally gained an ounce of hope by going undefeated in the IEM Season VIII World Championship. There Ryu once again showed his talent, holding his own against top European mids Alex Ich and xPeke. With new life being breathed into the KT Bullets, it was perhaps finally their season for Champions. KT Bullets' group stage performance was decent, swapping sets with Samsung Blue and NaJin Black Sword, while destroying the Jin Air Green Wings Falcons. Ryu displayed solid Orianna and Gragas performances, while also introducing a strong mid Lulu.
Unfortunately, memories of their Summer performance were brought to the forefront as NaJin White Shield pulled off a reverse all-kill, ending their run short in Champions Spring. inSec left the team in search of greener pastures in China, leading Zero to take the role of jungler once again. The Bullets' run in NLB was also disappointing, as the team fell 3–0 to SKT T1 K, finishing fourth. Champions Summer 2014 was the worst of Ryu's career, as he was made to fill in as Jungle, a decision that never ended up working. The KT Bullets had their worst season ever, dropping out in the group stage, and falling out of NLB in the platinum league to the Falcons. Ryu stayed as a substitute for a very brief period of time before ultimately being released by the KT Rolster organization. The KT Rolster Bullets had been shattered.
For Ryu, his career, his dreams, and his life as a Korean mid laner were now over.
The European Enigma
An outcast from his homeland, Ryu moved to Europe to try and rebuild his career and perhaps one day relive the dream of become a world-class mid laner. He played with Millenium for a short amount of time before the team lost to GIANTS! Gaming in the EU LCS expansion tournament. After an unimpressive stint on ROCCAT, losing to CLG at IEM Cologne, Ryu ultimately ended up on H2k-Gaming. His performance on H2k has so far been mixed, with a mixture of poor games and decent games. His mechanics do not appear to be near that of his prime, showcasing games on his once signature champions completely different what he once showed. However, a flash of the original brilliance Ryu possessed has recently arose, achieving in insane 5‒1‒12 KDA on Orianna against the considerably strong Unicorns of Love.
But mechanics aside, the main goal for Ryu right now is to improve his communication. It is difficult for a player whose main role is to be a play maker find themselves nerfed by virtue of being Korean. But it is definitely possible for this issue to disappear as the split progresses. Whether Ryu will return to his original form is still a mystery – but every time Ryu has been torn down by fate, he has persevered and found a way to rebuild. While Korean imports brimming with potential such as Seraph and Ninja have been less than successful in competitive play, seasoned veterans like inSec and Lustboy have enjoyed massive success while playing in foreign countries. Considering Ryu's large experience playing professionally, it is certainly possible that he will be blessed with success while playing in Europe.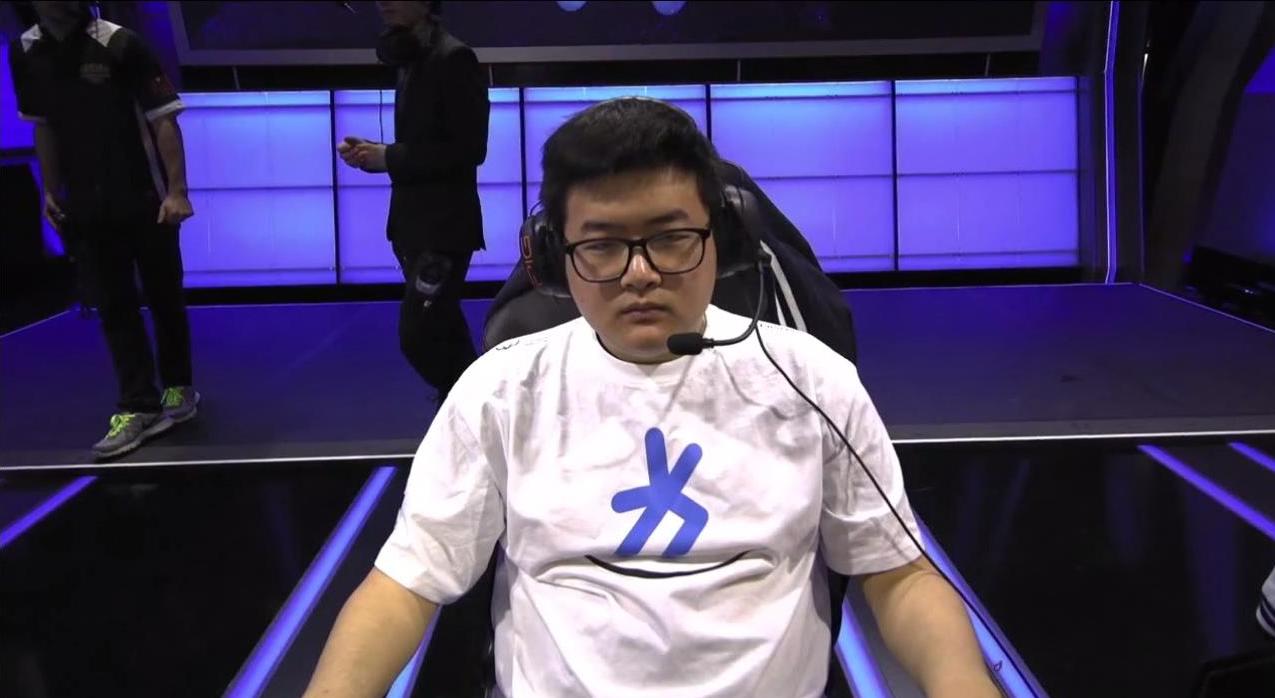 But even if he doesn't lead H2k to victory, Ryu is more than just another Korean player import. He is more than just a has-been from a bygone era that has now moved on. He is more than just that player who lost to Faker in a Zed mirror.
Ryu is a player who has not only performed well in Korea and internationally, but been a driving force in one of the most competitive regions in the World across multiple tournaments, something not many players can claim. Ryu is a player who has been a cornerstone of his team and shown a unique selfless playstyle that emphasized objectives over his own development. Additionally, Ryu displayed an incredible amount of intelligence, versatility, and mechanical ability that few players can match. Perhaps Ryu will never reach the same levels as players such as Faker and Dade. But Ryu is undoubtedly a player who has dared to stand amongst titans and stare them down the mid lane.
So the next time you hear someone talking about who the best Korean mid laners have been and all they can talk about is Faker and how he once styled some guy in a Zed mirror match, sit them down and ask them to stay awhile to listen.
"So let me tell you the story of a player named Ryu..."